Participants representing Local Government Units (LGUs) from the Visayas region came together for the Development of Public Sector Productivity Specialists-Foundation Course (DPSPS-FC) pitching session held online last 9 June 2023.
The session allowed this year's second batch of DPSPS-FC participants to present their Productivity Improvement Plans (PIPs). The participants presented their PIPs to their respective Local Chief Executives (LCEs). Productivity experts of the Development Academy of the Philippines (DAP) provided their insights and inputs as well. The PIPs were crafted to address specific areas of improvement and enhance productivity within their LGUs.
Participants from the Municipalities of Batad, Leganes, Mina, New Lucena, and Sara from the Province of Iloilo; Municipality of Hinoba-an from Negros Occidental Province; Municipality of Javier from Leyte Province; and Municipality of Maydolong from Eastern Samar Province joined this pitching session.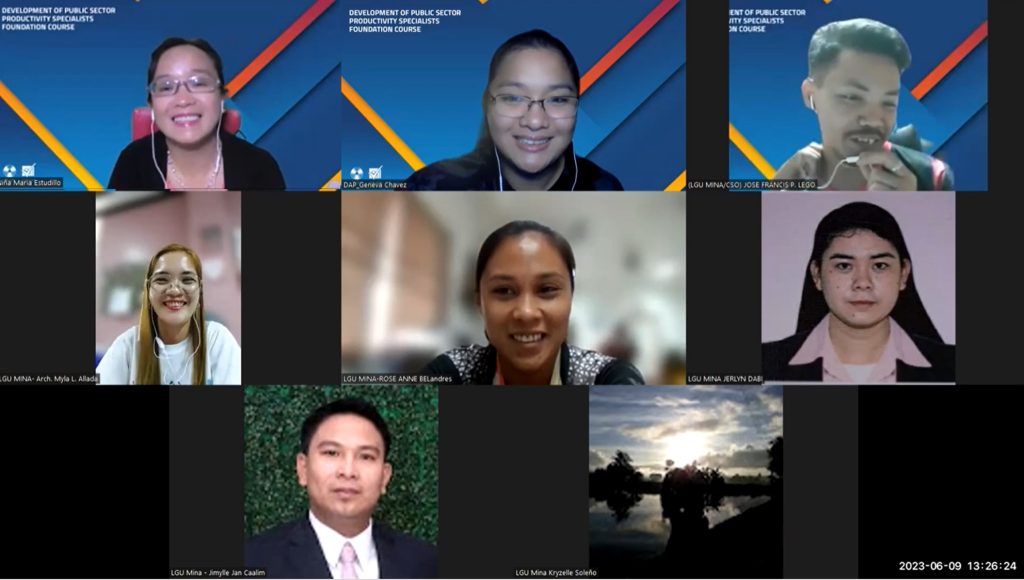 Each PIP demonstrated a comprehensive understanding of the challenges faced by the respective LGUs, offering unique approaches to overcome them. The plans encompassed a wide range of initiatives, such as streamlining administrative processes, optimizing resource allocation, and implementing technology-driven solutions.
Following the presentations, the LCEs expressed their appreciation for the hard work and dedication exhibited by the participants. They acknowledged the effort put into developing the PIPs and provided constructive feedback to refine the proposed strategies further. As a testament to the proposed plans' quality and feasibility, most LGUs received the go signal to proceed with the implementation of their PIPs. This validation from the LCEs served as a vote of confidence in the plans' potential to enhance productivity and promote sustainable development within their respective municipalities.
The LGUs that received approval will enter the pilot-testing and coaching phase. During this period, the PIPs will be implemented, allowing the LGUs to gauge their effectiveness in a real-world setting. Designated coaches will also provide guidance and support to ensure the successful execution of the PIPs.
The DPSP-FC aims to equip public sector organizations with the knowledge, skills, and tools to drive productivity and efficiency in the public sector.