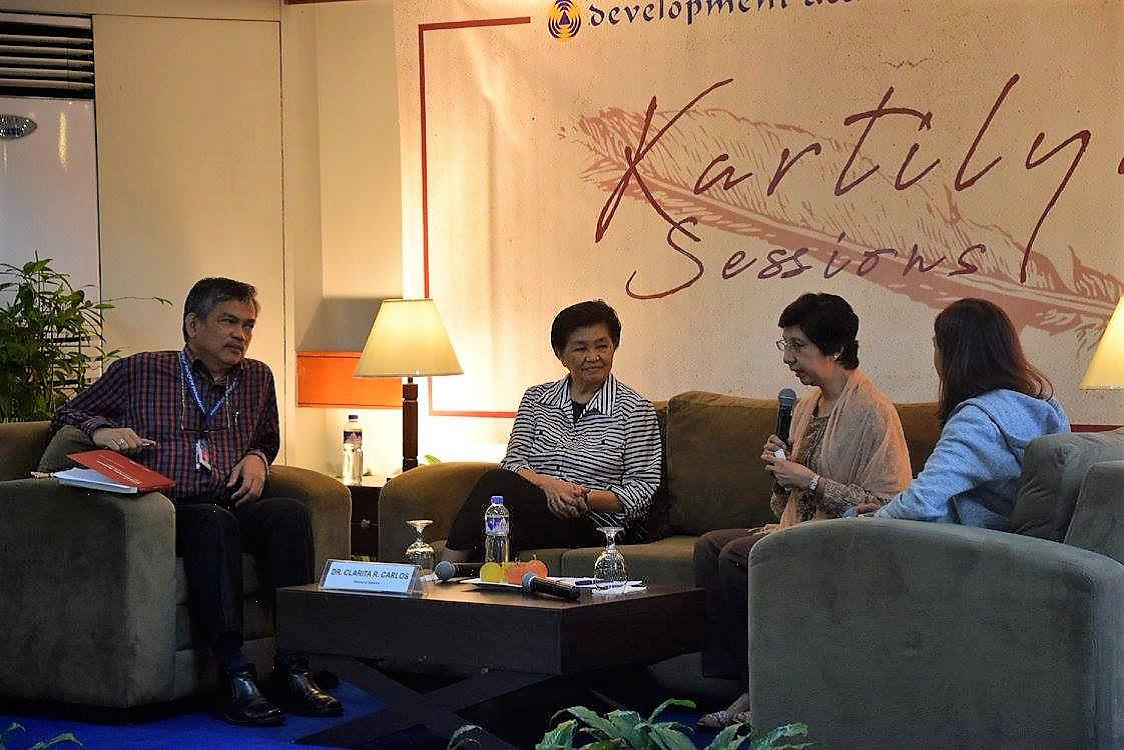 On October 27, 2017, the Center of Excellence on Public Sector Productivity in partnership with the Office of Institutional Partnerships conducted a KARTILYA Session titled, "Rightsizing the Government and its Impact on Productivity." The resource speaker was a renowned political scientist in the country – Dr. Clarita Carlos of the University of the Philippines – Diliman. This is the effort of the Development Academy of the Philippines to provide an avenue where government agencies, the academe, and other sectors are gathered to discuss relevant issues and concerns affecting national development and productivity such as rightsizing.
The Main Point. Anchoring on the pending legislation: namely, House Bill 5707 and Senate Bill 1395, Dr. Carlos asserted that bureaucratic reform has to be pursued and implemented by the government in the entire bureaucracy by either streamlining or re-engineering government agencies along three areas: structural reform, process and procedures, and human resources. But such a step for Dr. Carlos has to be based on a national strategy framework since such bureaucracy cannot happen as a stand-alone but has to serve as a handmaiden of that strategy.
Things to Remember. Dr. Carlos continued to argue that bureaucratic reform has to be underpinned by a philosophy of good life. The streamlining and re-engineering efforts are made to regulate the entire institution in order to promote the common good; in effect providing good (or better) services to the people. She underscored that together with political commitment, our leaders should also have the political courage to do bureaucratic reform.
Some Rejoinders. Assistant Secretary Myrna Chua of the Department of Budget and Management shared that they are asking the Congress to grant authority to the President of the Philippines to right-size all departments and agencies under the Executive Branch and those created by laws. Dr. Carlos suggested that the best way to fast track rightsizing is for the President to create a Presidential Commission that is apart from the bureaucracy to do the reform. Ms. Angelica Ramirez of the Department of the Interior and Local Government commented that one best way to reform is through international standardization, which according to Dr. Carlos is where the ASEAN is actually going i.e. ISO Certification. The forum revolved on possible ways to realize the reform implying that participating agencies do recognize the need for rightsizing the government.
Participating Agencies. There were 88 participants coming from the following agencies: the Civil Service Commission, Department of Education, Ateneo de Manila University, City Council of Manila, Presidential Commission on Good Government, City of Malabon University, Department of Science and Technology, San Sebastian College, Polytechnic University of the Philippines, Development Academy of the Philippines, Department of the Interior and Local Government, and Department of Budget and Management. _ "Rightsizing the Government and its Impact on Productivity" is the third installment of the eight KARTILYA Sessions dubbed as 'The Productivity Series.'