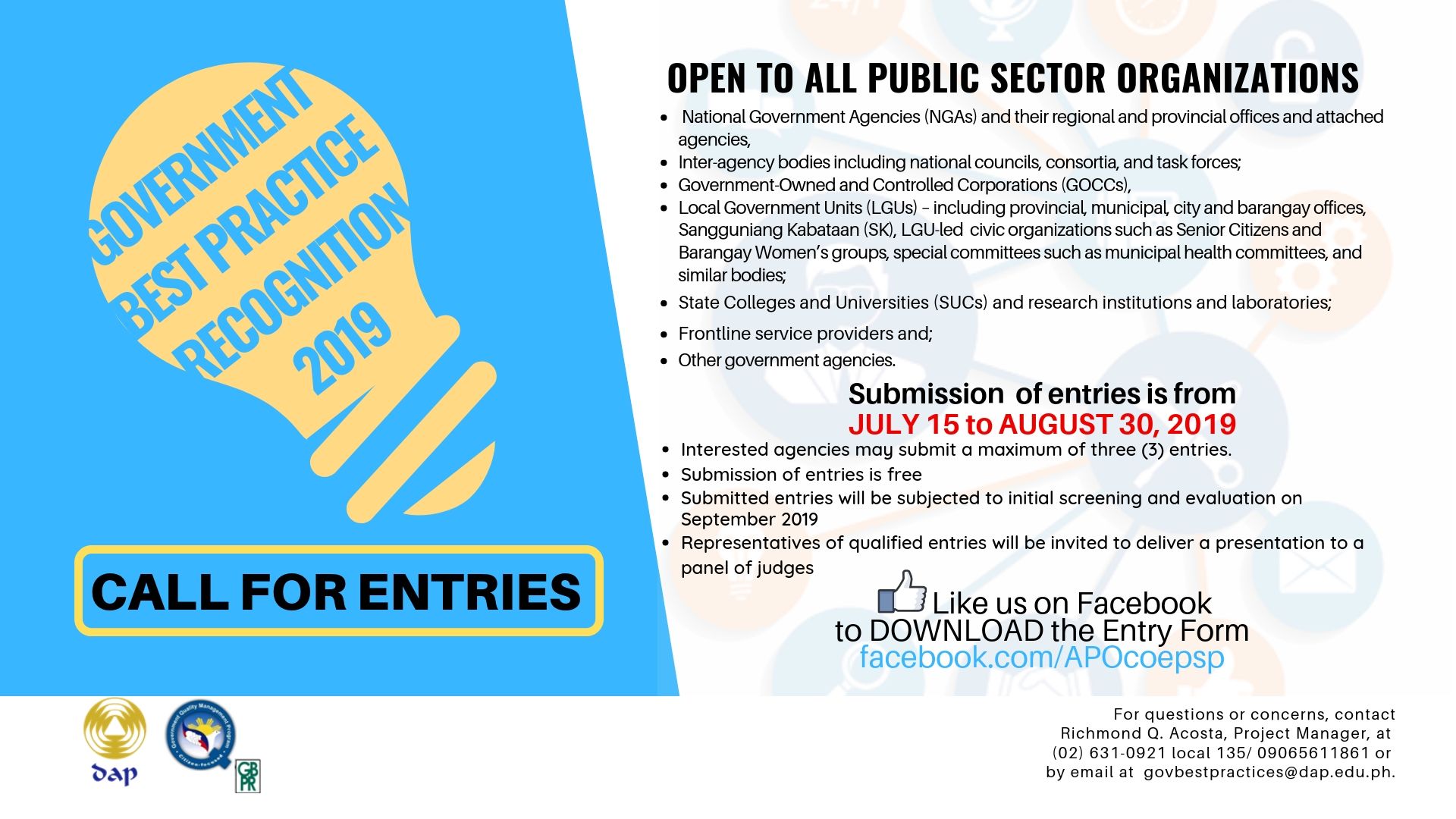 BACKGROUND
The Government Best Practice Recognition (GBPR) is an initiative of the Development Academy of the Philippines (DAP) to promote and showcase outstanding and innovative practices demonstrated by the public sector organizations. It is one of the Academy's strategy responses to the rising call for public sector organizations to further enhance the quality of service delivery.
The GBPR annually recognizes successful and validated practices demonstrated by public sector organizations. Government institutions at all levels of governance and all fields of practices are invited every year to submit their institutions' best practice.
As one of the components of the Academy's Business Excellence Program, which also include the Philippine Quality Award (PQA) and the Government Excellence Class (GEC), the GBPR supplements and complements the Academy's efforts to improve organizational productivity and performance in the public sector by recognizing innovative best practices of government institutions and organizations.
The Academy has developed a set of criteria for evaluating remarkable government practices. Entries from government organizations are assessed based on these criteria to select the government institutions that will participate in the presentation and have the chance to be recognized for the year.
OBJECTIVES
The GBPR seeks to recognize successful and validated practices demonstrated by all public sector organizations. It provides a platform to showcase and promote best practices as a way to foster knowledge sharing and to contribute in sustaining performance results in the entire bureaucracy. Ultimately, this collaborative learning mechanism envisions improving the quality of service and competitiveness of government institutions.
The GBPR serves as a harmonizing strategy to attain the objective of the APO's designation to the Philippines, with DAP as the implementing arm, as the Center of Excellence on Public Sector Productivity (PSP), "to advance the public sector productivity movement" among APO member countries.
The GBPR complements the Public Sector Innovation Laboratory under the Government Quality Management Program (GQMP). Through the GBPR, public sector organizations will be able to capture innovative and transformative ideas, approaches and solutions which have been proven effective and helpful by other government agencies in improving the quality and impact of their respective services to the public.
Working closely with the Academy's Center of Excellence for Public Sector Productivity (COE-PSP), the GBPR fosters innovation and futures thinking in the public sector and widens access to quality by integrating the COE-PSP's knowledge management. GBPR is a direct resource of COE-PSP Knowledge Bank for content.
Eligibility and Entrant Qualifications
The competition is open to ALL public sector organizations:

National Government Agencies (NGAs) and their regional and provincial offices and attached agencies,
Interagency bodies including national councils, consortia, and task forces;
Government-Owned and Controlled Corporations (GOCCs),
Local Government Units (LGUs) – including provincial, municipal, city and barangay offices, Sangguniang Kabataan (SK), LGU-led civic organizations such as Senior Citizens and Barangay Women's groups, special committees such as municipal health committees, and similar bodies;
State Colleges and Universities (SUCs) and research institutions and laboratories, and,
Other government agencies.

Each participating agency may submit a maximum of three (3) entries.
The applicant needs to fill-out the Government Best Practice Recognition 2019 Entry Form and describe their best practice related to a managerial practice, a process, a system or an initiative within the organization (please refer to the detailed questions on the Entry Form).
By joining this activity, it is understood that applicants signify their willingness to make the necessary travel arrangements in time for the scheduled presentation to the judges of the best practice entries.
Winners are not allowed to join the competition again for the same or similar best practice for a period of 3 years.
Please sign the attached Certification and Authorization of Release of Information.
NOTE: Avoid submitting an entire program or an end-product/service as best practice entry. As much as possible, focus only on a single aspect that has made that program or service delivery successful, for example, Leadership Commitment Scheme, Stakeholder Communication and Building of Relationship, Staff Meeting Policy, Using a Work Environment Survey Tool, and Core Values Reinforcement System, etc.
Round 1: Submission of Entries
The entry form must not contain graphs or pictures, only TEXT. Graphs and pictures can be submitted as attachments to the Entry Form.
Relevant documents that could show related results attributable to the implementation of the best practice entry must also be submitted together with the entry form. These may include but are not limited to the documentary requirements being submitted to oversight agencies (e.g. DBM, DILG, CHED, GCG, COA), as applicable.
Submission of entries starts on July 15, 2019 and ends on August 30, 2019. Applicants may send entries to govbestpractices@dap.edu.ph and/or acostar@dap.edu.ph with Subject: GBPR2019_Name of Organization and Unit/Division/Department.
You may download the Entry Form by clicking this link: DAP – GBPR 2019 entry form
Submitted entries received after the deadline will no longer be accepted, unless extension of submission will be announced.
Submitted entries will be subjected to initial screening and evaluation on September 2019.
Round 2: Presentation to the Panel of Judges
Representatives of selected entries will be invited to deliver a video or a PowerPoint Presentation (minimum of 5 minutes and maximum of 8 minutes) to a panel of judges to any of the following schedule of regional legs of the Best Practice Forum for the Public Sector:

October 2019 for Visayas entries
1st week of November for Mindanao entries
Last week of November for Luzon 2019 entries

Entries will be screened by a panel to be formed by the Academy.
Instructions on the presentation format will be provided separately, upon qualifying for the next round.
At most two representatives (presenter and assistant staff) from each participating organization are allowed to attend the presentation to the judges.
Entry Fee
There is no entry fee requirement.
Submission of entries is completely free of charge.
Awarding and Prizes
A Certificate of Participation will be issued to all participating organizations.
Best Practice trophies will be awarded to the winners during the awarding ceremony.
The awarding will be done at the end of the the Luzon leg of Best Practice Forum for the Public Sector on the last week of November 2019.
Decisions of the panel of judges are final.
Summary of dates to remember
Submission of entries starts on July 15, 2019 and ends on August 30, 2019
Presentation to the Panel of Judges:

October 2019 in Visayas
1st week of November in Mindanao
last week of November in Luzon
For the full details and information of the Government Best Practice Recognition 2019, you may refer to the pdf document below.
For clarifications, please get in touch with Mr. Richmond Q. Acosta, Project Manager, at (02) 631-0921 local 135/ (02) 631-2156 / 09065611861 or email at acostar@dap.edu.ph / govbestpractices@dap.edu.ph.