The Development Academy of the Philippines (DAP), through its Productivity and Development Center (PDC), in cooperation with the Asian Productivity Organization (APO), successfully hosted the Conference on Urban Agroecology and Food Security last 9 September 2021, via Zoom and YouTube Live.
Attended by 55 participants from Bangladesh, China, India, Iran, Japan, Pakistan, Sri Lanka, Thailand, and Philippines, and viewed by 75 YouTube observers, the virtual conference was graced by esteemed guest speakers including the Philippine's Agriculture Chief, Secretary William D. Dar, and the new APO Director for the Philippines, NEDA Undersecretary Jose Miguel R. De La Rosa. The DAP Officials also took part in the virtual event including its President and CEO, Atty. Engelbert C. Caronan, Jr., Senior Vice President for Programs, Ms. Magdalena L. Mendoza, and Vice President and PDC Managing Director, Mr. Arnel D. Abanto.
The APO Director for the Philippines, Usec. Jose Miguel R. De La Rosa, in his welcome remarks, pointed out that efforts to ensure food security must be complemented with building a resilient and sustainable urban food production system, and while urban agriculture may not solve the complex and interconnected dilemmas in the food system, it has the potential to contribute to food security among urban dwellers.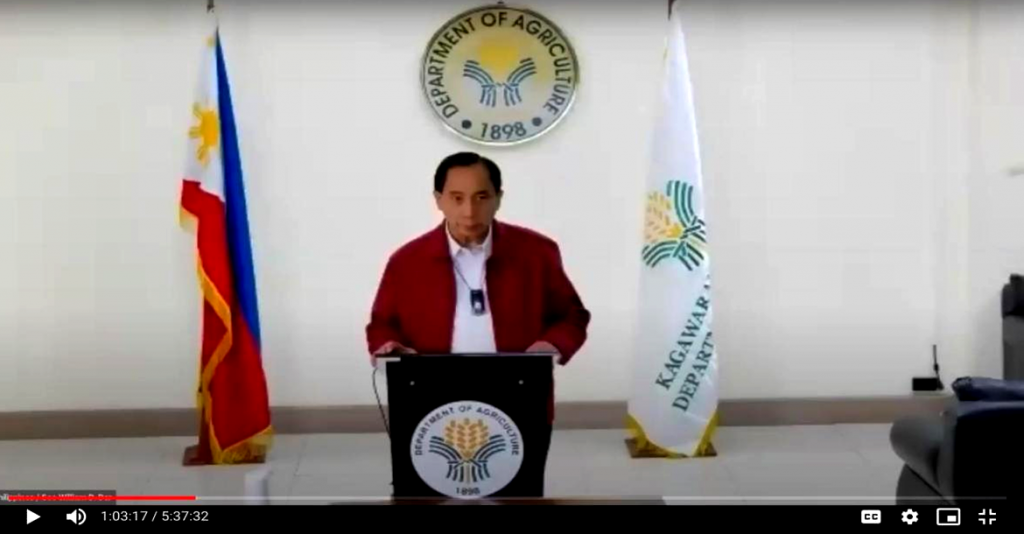 In the keynote presentation of Secretary William D. Dar, he underscored the global impacts of COVID-19 to the agriculture sector including disruptions in food supply, labor shortages, reduction in job quality, food wastage, affected livelihoods, price spikes, and increased price volatility, among others. While the global health crisis may have sparked an enthusiasm in urban agriculture, it has become increasingly clear that sustaining it is just as important. He also encouraged the attendees to consider the online conference as an excellent opportunity to exchange views, collaborate, and reforest the existing knowledge base about the sustainability of urban ecology.
Aside from the valuable insights of the esteemed guest speakers, brilliant and adept international and local resource persons provided the participants with informative presentations.
Food Security and the Role of Urban Agroecology/Agriculture in a Global Context was presented by Mr. Kit Chan of K-Farm Sendirian Berhad Malaysia. He emphasized that in order to address food emergencies and food security crises, there should be short-term and long-term measures. Short-term interventions entail a) providing fiscal support to lower food import tariffs and taxes, b) reviving rural financial systems, and c) declaring food production, marketing, and distribution as essential services to keep trade corridors open, among others; while long-term measures involve a) regenerating and increasing food system incomes, b) building early warning systems, and c) promoting climate-resilient productivity growth, to name a few.
Next to present was Dr. Hironori Yagi of the University of Tokyo, who discussed the Sustainability of Urban Agriculture for Post-Pandemic Society, the Sustainability and Persistence Theory, as well as, the urban agriculture-related empirical researches and the impact of the pandemic on the sector. Dr. Yagi stressed the importance of drastic policy changes especially during the "new normal", and inter-linkage of normative sustainability evaluation and empirical persistence investigation to validate multiple information, enhance resource base, and further facilitate an interdisciplinary approach towards sustainable urban agriculture.
The third topic discussed by Ms. Diah Meidiantie of PT. Hydrofarm Indonesia was Policies and Resources Support to Help Urban Agriculture. It underscored the important references for agriculture policy-making which include sufficient needs-based community assessment guided by availability, access, and safety as primary attributes towards improving the quality of the environment and empowering the community to achieve its goals in relation to food security.
The last topic on Best Practices of Urban Agriculture and Strategies for Implementation was presented by Dr. Rosana P. Mula of the Agricultural Training Institute. She shared the best practices of urban and peri-urban (UPU) agriculture. These involve establishment of UPU community/school gardens, capability development activities, provision of urban agriculture starter kits, information, knowledge sharing and communication services, market linkages, and partnerships and collaborations.
The high-level presentations were followed by a Panel Discussion which was facilitated by Dir. Gerald Glenn F. Panganiban of the DA's Urban Agriculture Program. Trigger questions from the resource persons ultimately spurred the interest of the participants and viewers to raise discerning questions that were acknowledged accordingly during the discussion.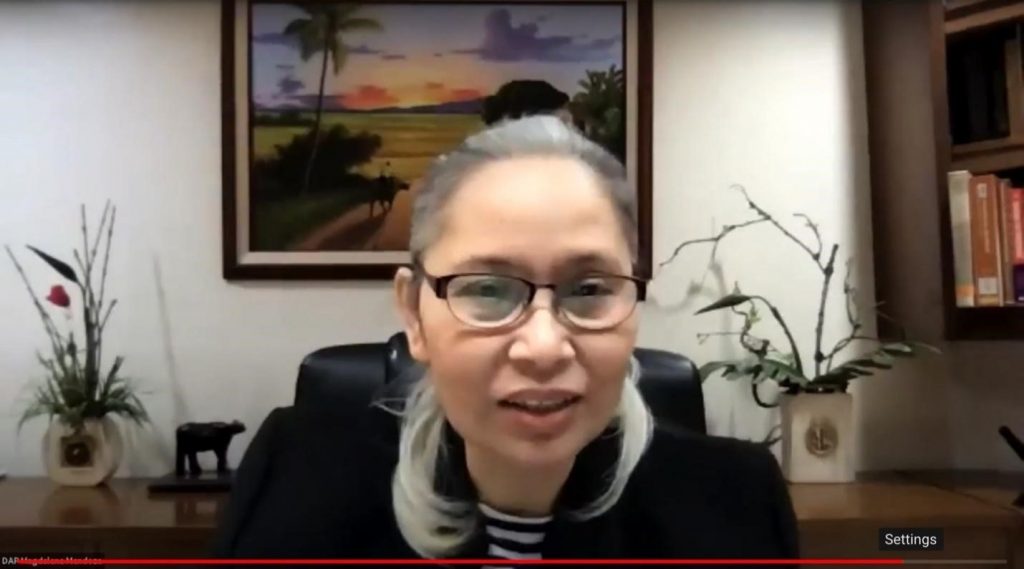 DAP Senior Vice President Ms. Magdalena L. Mendoza highlighted in her closing remarks that amid the health crisis and natural calamities, it is even more timely to collaborate and strengthen support to farmers and consumers while promoting self-reliance among people in producing foods that can be grown at home. She also mentioned the significance of exemplifying urban agriculture through a variety of technologies that may be adopted in the community or at home such as hydroponics, vertical gardening, green alley, and UPU agriculture.
The sought-after conference is one of the 2021 virtual programs of the APO assigned to the DAP-PDC Productivity Development Research Office anchored on the goal of promoting innovative approaches across all sectors of the economy and bolstering the institutional infrastructure crucial to sustained productivity improvement especially amid the pandemic. For more information, visit www.dap.edu.ph, or email pdc.pdro@dap.edu.ph.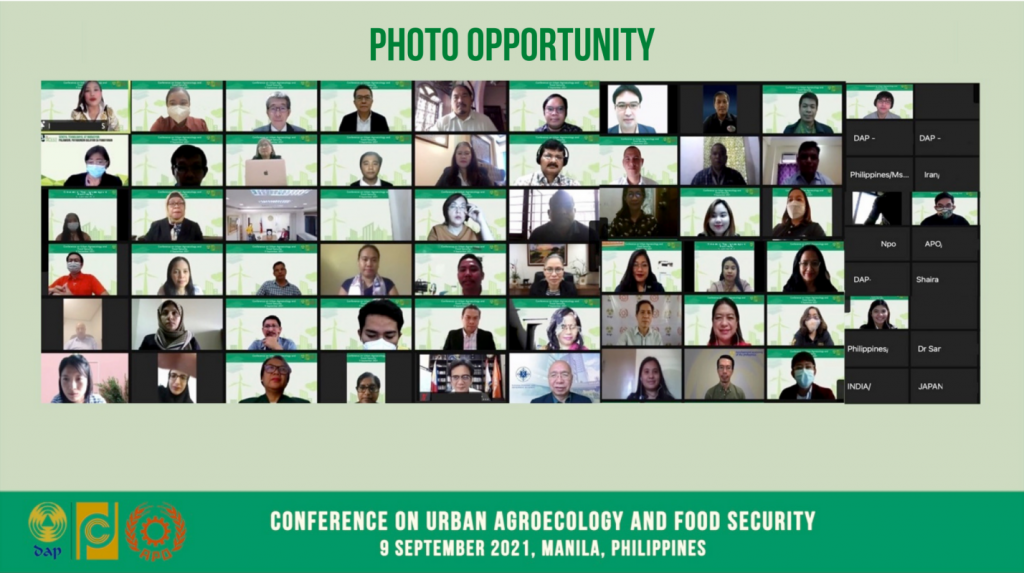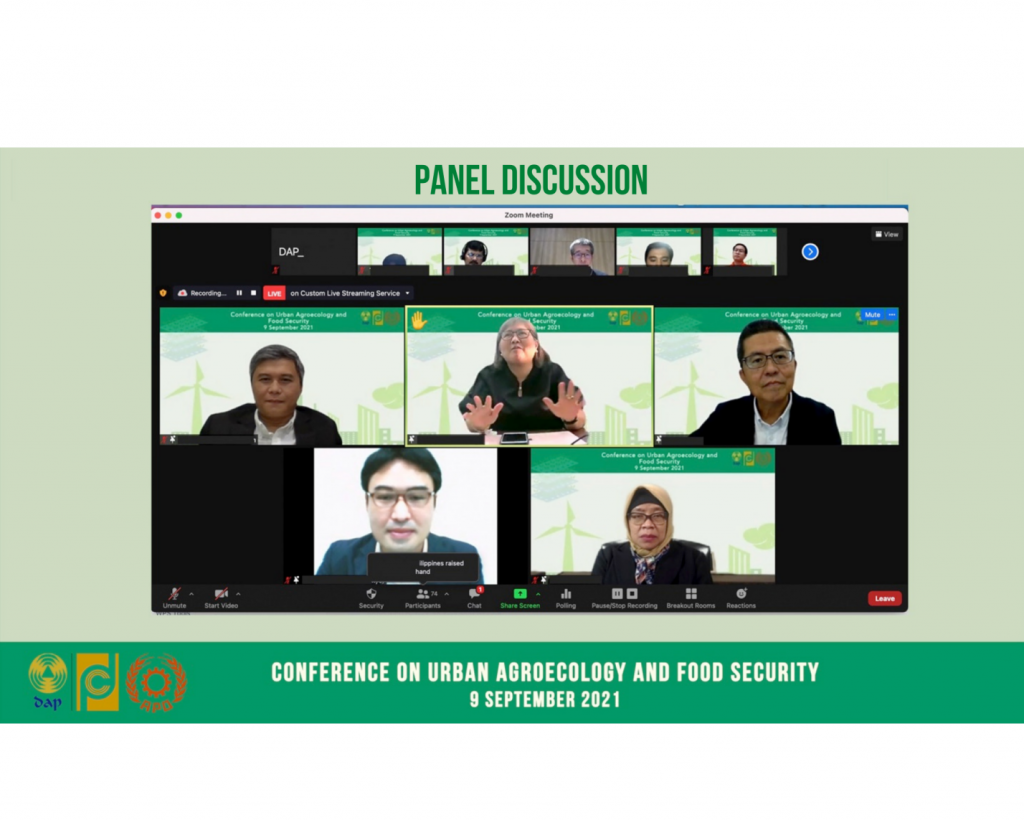 This articles was originally posted in http://pdc.dap.edu.ph/index.php/dap-and-apo-successfully-hosted-the-conference-on-urban-agroecology-and-food-security/