DAP holds third batch of the Development of Public Sector Productivity Specialists Foundation Course
The Development Academy of the Philippines (DAP) trained 29 participants during the Development of Public Sector Productivity Specialists Foundation Course (DPSPS-FC) held from 27 June to 1 July. Participants came from seven agencies:
Department of Science and Technology (DOST)
Office of the Provincial Prosecutor – Cebu (OPP Cebu)
Department of Foreign Affairs (DFA)
Culion Sanitarium and General Hospital
Civil Service Commission Regional Office II (CSC Region 2)
Department of Transportation (DOTr)
Department of Social Welfare and Development (DSWD).
Resource persons from the DAP discussed the basic concepts and strategies and guided the participants through workshops to draft a productivity improvement plan. Case presenters also shared their experiences in conceptualizing and implementing their own projects.
Basics of Public-Sector Productivity
The participants began with an introduction to public-sector productivity from AO25 Secretariat Director Ms. Maria Rosario A. Ablan. She highlighted how productive organizations could improve citizens' quality of life, restore public trust, and promote good governance. Ms. Ablan also presented the Plan-Do-Check-Act Cycle as a framework for productivity improvement.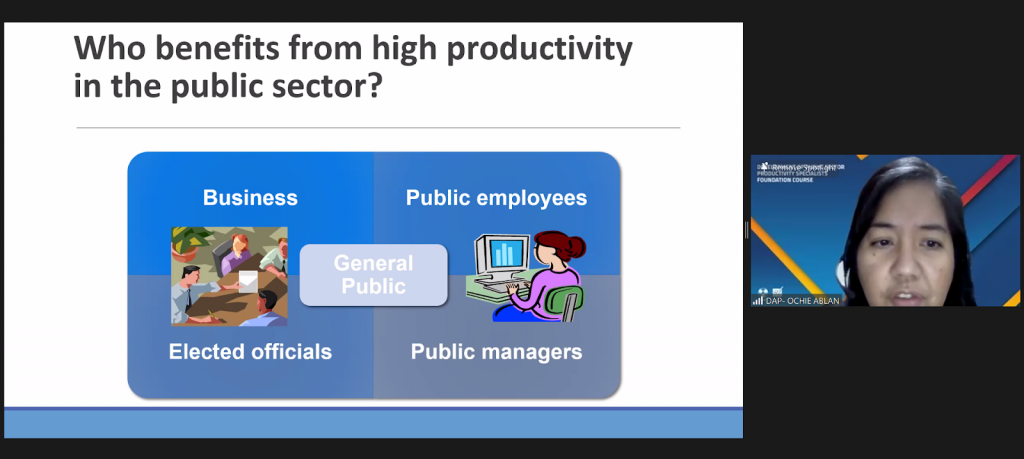 Ms. Ablan also led the discussion in the next session on the steps and key considerations in productivity measurement. After the lecture, the participants identified their inputs, outputs, and outcomes and applied the process of measurement in the context of their agencies. The following session on diagnosing and analyzing productivity problems showed how Lean Management concepts and tools such as Quick Assessment, Value Stream Mapping, and Identifying a Problem Statement may be used to deepen one's understanding of the potential causes of productivity issues and how best to address them.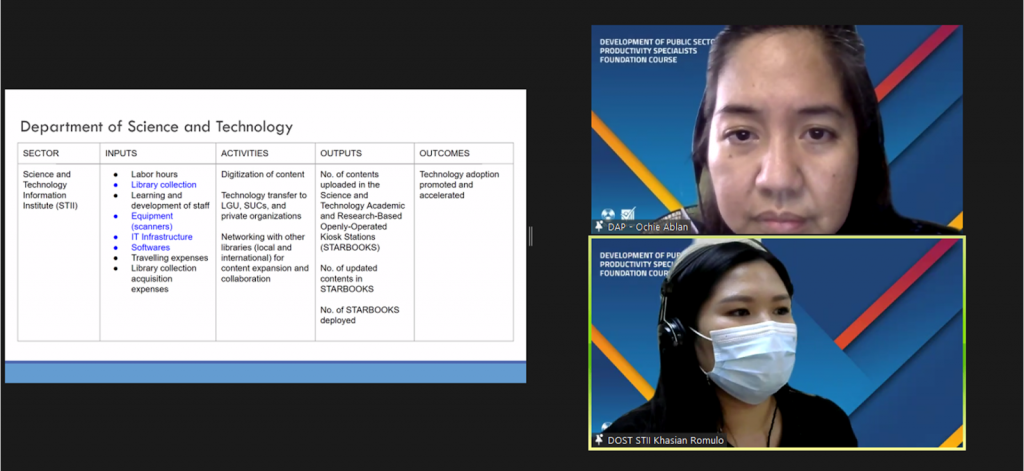 Productivity Improvement
Using insights from the third session, Ms. Niña Maria Estudillo introduced a number of productivity improvement tools and techniques, such as Fishbone Analysis, Root Cause Analysis, and Solutions Formulation Matrix, and guided the participants in their use.
The last day of the course was dedicated to tackling practical questions and strategies. DAP Project Officer Ms. Rocio Isabel Paloma shared tips for introducing and sustaining solutions. These were contextualized through presentations of previous innovation projects from Dr. Edward Baña of the Department of Education (DepEd) and Ms. Maria Luisa Khristina Oliveros from the Department of Labor and Employment (DOLE). Participants later presented their respective offices' initial Productivity Improvement Plan.
The course ended with a message from DAP President and CEO Atty. Engelbert C. Caronan Jr., MNSA, which emphasized how technology can transform internal and external processes to reduce the turnaround time and costs of services and encouraged the participants to continuously strengthen their organizations to improve sectoral and national productivity.