Government offices present citizen-centered improvement initiatives during DAP-hosted forum
On 7 December 2021, the Development Academy of the Philippines (DAP), as the Center of Excellence on Public Sector Productivity (COE-PSP), conducted a Sharing Session for participants from its Designing Citizen-Centered Public Service Improvements (DCCPSI) program from 2020 and 2021. The agencies who presented their projects during the event were the Department of Health (DOH), the Department of Tourism (DOT), the Department of Social Welfare and Development (DSWD), the Philippine Rice Research Institute (PhilRice), the Philippine Drug Enforcement Agency (PDEA), the Technical Education and Skills Development Authority (TESDA), the Bureau of Internal Revenue (BIR), and the Department of the Interior and Local Government (DILG).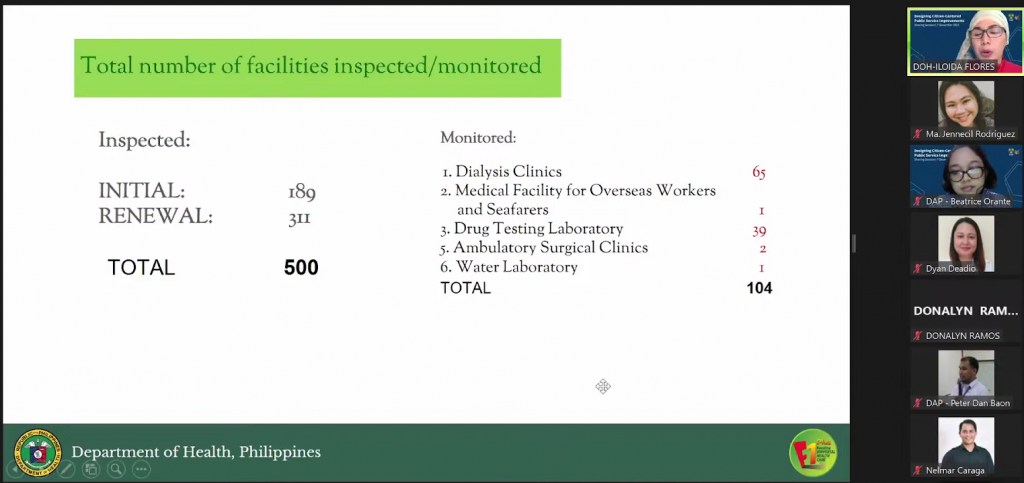 The DCCPSI program assists government agencies in developing means for their services to address their clients' needs and expectations and result in greater organizational productivity. It uses innovation methods and techniques to identify issues affecting service delivery and prepare proposed concepts for implementation. Despite the diversity in scope and mission among the participating agencies, the presented initiatives had similar strategies in working towards citizen-centered public service improvements. They mostly relied on technology-based improvements such as digitalizing processes and introducing online functionality in order to provide citizens with faster and more convenient transactions.
Technology as a driver for improving services
Many of the participating agencies found that technology has become the key driver for improving public services. Eloida Flores of DOH shared that this could be seen in the new process for accrediting health facilities implemented by the Health Facilities and Services Regulatory Bureau. This project uses communications technology to facilitate pre- and post-inspection coordination as well as conference calling tools as an alternative to walking through a facility. Their test runs using this new approach resulted in the inspection of 500 facilities and monitoring of 104 facilities. These results meant that the project led to improved compliance with the Ease of Doing Business and Efficient Government Service Delivery Act of 2018. The Bureau was also able to significantly reduce their backlog, reach their quota for the number of facilities to be monitored, and create venues for fast communication via a variety of mobile apps.
Charmane Dalisay of DOT shared a similar story, as their team created a system for accreditation of tourism enterprises where clients could submit their requirements online while also enabling employees to process these requirements online, along with other features for both clients and employees. The DOT launched this project last September 2021 and have since been able to register 14,287 accounts registered, receive 6,908 applications, and process 4,720 of applications received. Of these applications, 2,188 were still being processed and only 229 were disapproved. Public reception for the project has been excellent, with a reported average satisfaction rating of 100% based on a client satisfaction survey they conducted from January through September of 2021.
Citizens' Convenience at Heart
Although technology has been the driver for many of the projects, citizens' convenience has remained the goal above all else. Ivan Limjap of DSWD shared their plan to make the issuance of clearance for minors traveling abroad fully available online, which would reduce the need for face-to-face interaction and eliminate waiting time for applicants.
Their project is being developed in coordination with the Department of Science and Technology Advanced Science and Technology Institute (DOST-ASTI), and Bizooku, a private computer software developer. And even if it has not been fully implemented yet and is still in testing, it shows great promise for improving citizens' convenience, having already received positive feedback from clients. Another example was shared by Ida Miape of TESDA, who discussed the Program Registration Certification Office's planned online tracking of applications for registration of TVET programs. While this has not yet been implemented, the project will lessen the need for face-to-face customer interaction while making them easier and faster.
Janette Cruz of BIR presented another similar project, an online system that facilitates the end-to-end process of registering new corporations. With this new system, applicants will only have to take three steps to register as a corporate taxpayer, with the whole process only taking about half an hour to complete. Once the project is implemented, it will elevate taxpayers' registration experience which should hopefully lead to an improvement in the country's tax compliance. It would also completely remove the need for time-consuming face-to-face interaction with taxpayers, transforming a problematic process that has been problematic yet necessary into one that is convenient for both citizens and BIR staff.
Change Management Speed Bumps
Despite the great potential these improvements can bring, there are still some hurdles to implementing them. Lucita Dela Peña of DILG encountered several challenges with one of their projects aimed at reducing the processing time for authorizing local government units' purchases of motor vehicles. They changed their plan from focusing on policy changes to automating the process after initially consulting their stakeholders. But as of the sharing session, their team was still setting up meetings with regional focal persons to present their project and gather recommendations. In this case, they are demonstrating that there are still many people that must be involved before a change is made, and the reliance on technology for this change also presents as a major factor in this process.
Another example is evident from the sharing of Chona Suner-Narvadez of the PhilRice Business Development Division. Their e-Punla Rice Seed Information Systems project digitalizes and automates operations related to selling seeds such as fulfilling forms, conducting surveys, providing information to buyers, monitoring inventory, and many more. They started beta testing their project with their current buyers' last planting season. Through this project, they eliminated the need for seed growers and rice farmers to manually input their details through the use of QR codes, creating a database which facilitated the verification of their seed growers and ultimately removed the need for physical masterlists. However, some clients needed assistance using the kiosks because they were not as familiar with touch screen technology. In this case, the challenge came from people's adoption of new technology rather than problems with the organization or its internal processes.
Niña Deniña from the PDEA Compliance Service Division also encountered challenges in implementing their Regulatory Compliance System, which is designed to allow medical practitioners to electronically submit their applications for various PDEA services and enable employees to process these applications. Currently, the project still needs a final system check before testing it with their internal and external stakeholders and eventually launching it. The system's launch may also be delayed because of unstable internet connection. In this case, the challenge is with limitations to the available technology and technological infrastructure, particularly internet connection speed and reliability.
The progress displayed by the participating agencies show emerging patterns in the delivery of citizen-centered services in the country. Technological enhancements are at the forefront of most service improvements, and these are focused primarily on the convenience and user experience of citizens. Many of the projects aim to reduce processing times and the necessity of face-to-face interactions. However, it seems that there are many challenges to implementing changes in the way agencies operate, specifically with implementing technology-based improvements: limitations of pre-existing technology, reliability of partnerships, and administrative delays. Despite these speed bumps, the reports of the sharing session's attendees showed that there is great promise in the drive to introduce more and better citizen-centered improvements in the government as well as in the significant steps that their agencies have already taken since their participation in the DCCPSI program.