For two years, the Philippines 99th ranking in the Ease of Doing Business Survey remain unchanged. In the "starting a business" criterion, however, the country further slipped from 164th in 2016 to 171st in 2017. Red tape remains a pervasive issue despite continuous reforms in the government. In applying for business permits and licenses, an applicant is bound to encounter complicated and lengthy procedures, and incur high costs. To ease the burden to applicants, a Business Permits and License System (BPLS) Working group was created in 2010 to streamline the BPLS process. It is composed of the Department of Interior and Local Government (DILG) – the overall coordinator for the implementation of the Nationwide BPLS streamlining for local government units; Department of Trade and Industry (DTI) – agency to provide policy directions in the implementation of the revised BPLS standards nationwide; and, Department of Information and Communication Technology (DICT) – agency to provide capacity/training programs for the implementation and selection of LGUs for e-BPLS/automation projects. The group has since issued two joint memorandum circulars (JMC 2010 and JMC 2016) revising the standards in processing business permits and license systems (BPLS) in all cities and municipalities in the Philippines. Shown on the chart is the overview of the revised BPLS standards.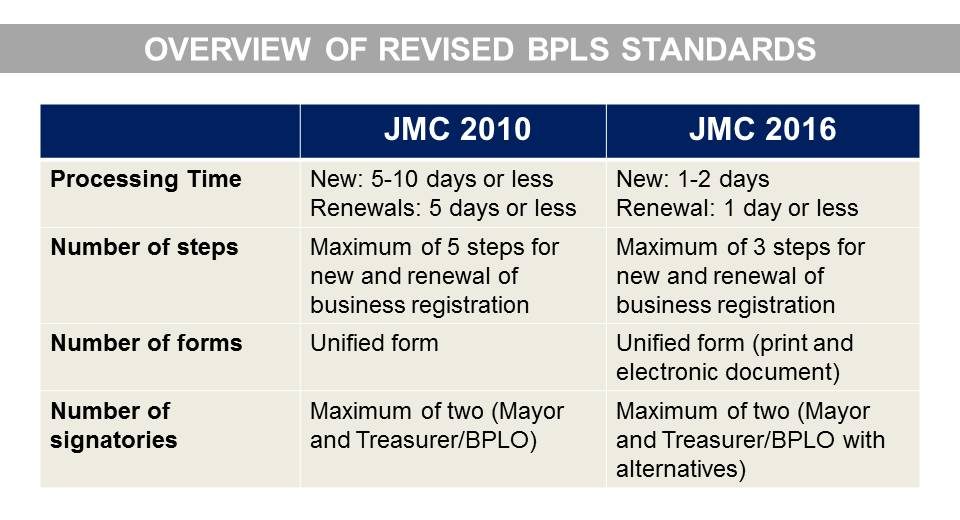 In compliance to JMC 2010, 1,017 out of 1,389 LGUs can currently process new business applications in less than 10 minutes to 2 days while 1,139 out 1,389 can process the renewal of business permits in less than 10 minutes to 1 day. In JMC 2016, LGUs are also encouraged to issue other permits such as sanitary permits, environmental, and agricultural clearances together with the business or Mayor's permits. They are also directed to employ queuing mechanisms to better manage the applications as well as to provide priority to senior citizens, pregnant women, and persons with disabilities.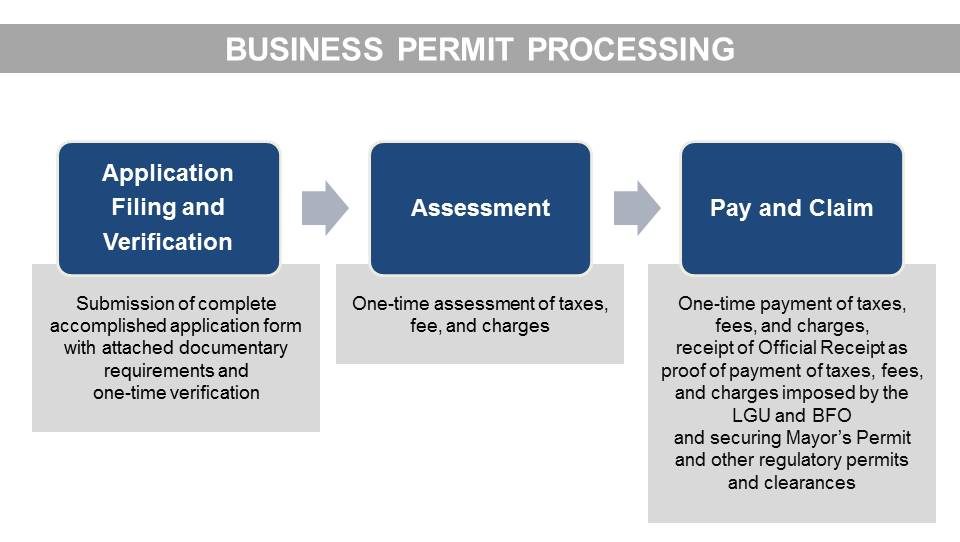 To support the revised BPLS standards, complementary reforms are being implemented such as streamlining the process of securing Fire Safety Inspection Certificates, establishing Business One-Stop-Shop (BOSS) facilities, and establishing an LGU-based joint inspection team. JMC 2016 also recommends LGUs to automate and computerize business transactions with the help of DICT to further streamline the delivery of frontline services. The automation allows the retrieval of previously submitted information to minimize required forms or fields; consolidation and retrieval of negative lists/positive findings for one-time verification; assessment of business tax, charges and fees; printing of tax order of payment; and, printing of business permit and other permits and clearances. To date, 577 out of 1,389 LGUs have automated their BPLS processes. In the long term, the BPLS working group is hoping to make the entire registration process online. This will significantly improve the speed and efficiency of rendering services and will make it possible for LGUs to process business registration in one day. It will also eliminate corruption, as it will reduce face-to-face interaction. These reforms are aimed to provide the public with quality services with least inconvenience and expense and ultimately, to improve the Philippines' competitiveness and attractiveness to investors.