At the heart of public service is the citizens' interest, and with resources in short supply, organizations must reassess their efficiency and productivity. The Development Academy of the Philippines (DAP), as the Asian Productivity Organization Center of Excellence on Public Sector Productivity, trains public sector agencies through the Designing Citizen-Centered Public Service Improvements (DCCPSI) Program to evaluate government service delivery, identify inefficiencies, and develop solutions to adequately address clients' needs and expectations using the approach on Service Design.
The second batch of the DCCPSI Program was conducted on September 13-15 for Phase I and on September 20-24 for Phase II. Participating agencies included the Department of Budget and Management (DBM), Department of Environment and Natural Resources (DENR), Department of Energy (DOE), National Wages Productivity Commission (NWPC), Overseas Workers Welfare Administration (OWWA), National Commission on Indigenous Peoples (NCIP), Bureau of Internal Revenue (BIR), Department of Science and Technology (DOST), Department of Social Welfare and Development (DSWD), Department of the Interior and Local Government (DILG), and the National Economic and Development Authority (NEDA). Participants could also avail of additional project incubation interventions to prepare for implementation.


Service delivery in the shoes of our citizens

The first phase, Citizen-Centered Service Design and Data Gathering, asks public sector agencies to consider their services from the perspective of a typical citizen. By having a picture of the client journey, agencies can empathize with the citizens on the end-to-end service experience. Mr. Peter Dan Baon, COE-PSP Program Manager, emphasizes the service design principle of human-centeredness because it gives "perspectives of the clients, their emotions and pain points when availing of the service." As a result, agencies are able to evaluate the efficiency of their services and redesign areas for improvement according to clients' insights.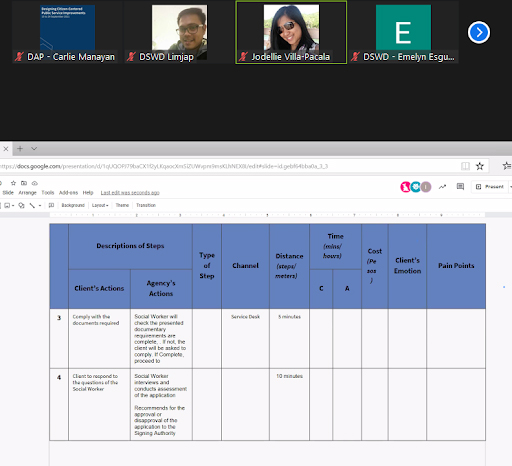 To further develop a citizen-centered design, agencies supplement their ideas with local examples of design initiatives. Agencies draw inspiration from concrete examples of local government units like Valenzuela's Paspas Permit and Pasig City's Ugnayan sa Pasig (UsaP) as good examples of public service despite the hindrances that come with battling the pandemic. They also look at design fails as caution for what to avoid when implementing citizen-centered services. With these observations on design initiatives, they paint together a picture of what citizen-centered design should look like.


Redesigning services to improve citizen satisfaction
Once agencies understand the principles of service design and use the same in empathizing with clients' perspectives, they engage in an ideation process to brainstorm solutions to their clients' pain points. The Design Sprints look into many angles of the problem and explore even the most radical ideas on how the agencies might resolve them. Using tools and strategies prepared by the program, agencies develop prototypes of potential solutions. Ms. Elizabeth Alladel of DOST appreciates the ideation process as "it is very useful especially when you want to modify or develop an improvement in the existing system or operations."

Following the development of their prototypes, agencies identify and invite users to test their solution. After days of analyzing problems and brainstorming solutions, they finally test their prototypes. Day 4 of the Design Sprints is an exciting stage for the agencies as they uncover hits and misses based on the experience and feedback of real live users.
One of BIR's test participants, Mr. Jalandoni, appreciates the prototype since "somehow, personnel are focused on the system because face-to-face transaction consumes time and prolongs queuing." He adds that "it's a big step for BIR to improve the business registration process since less stress for the frontliners, and saved time is diverted to other office work."

After their participation in the program, the agencies developed the following solutions:
OWWA – OFCs (Overseas Filipino Circles) as site inspectors of Balik Pinas, Balik Hanapbuhay Program for OFWs (Overseas Filipino Workers)
NWPC – Revision of evaluation forms to cater to clients' demands on learning sessions related to wages and productivity
NEDA – Web-based self-assessment tool on completeness of project proposal documents
DOST – User-friendly online submission of collaborative research proposals
BIR – Web-based system on end-to-end business registration process with collaborative interface with other government agencies
DOE – Online application of Notice To Proceed (NTP) for Downstream Natural Gas Facility
NCIP – Integration of an information system on the NCIP official website for tracking of application requests
DILG – Delegation of authority to regional offices in processing of multi-purpose vehicle requests
DMB – Tracking system for client agencies to access the status of requests
DENR – User-friendly online tree cutting permit application process
DSWD – Accessible online application of Minors Traveling Abroad (MTA)


Efficiency of iterative design
In a span of less than two weeks, agencies understand their unique inefficiencies, brainstorm possible solutions, develop prototypes, test their solutions with real users, and redesign their processes. The principles of service design help agencies respond to challenges in government service delivery with the least amount of time and least possible use of resources. The outcome is a noticeable improvement of critical government services. Ms. Yvette Batacandolo of NEDA said it best, "we have a tendency to create programs without asking users how it will affect them." With the help of the DCCPSI Program, agencies know better how to improve efficiency in government service delivery.
In closing, agencies are strongly encouraged to join project incubation interventions. In this phase, agencies relish opportunities for focused coaching and guided implementation from beginning till end. Ms. Lucita dela Pena of DILG shares her realization, "this is the reason why there is alpha, beta, gamma in product testing, to keep on remodeling until we reach an ideal model where issues are resolved."