The Development Academy of the Philippines, through its Productivity and Development Center's Modernizing Government Regulations (MGR) Program, has released regulatory reform publications as part of its initiatives to increase awareness and contribute to the adoption of good regulatory practices (GRPs).
The MGR Program is a comprehensive national regulatory reform program that aims to improve the ease of doing business in the Philippines through examining the existing regulatory environments affecting focus sectors or industries, determining how they affect the growth and operations of businesses in these industries, and developing proposals that would make regulations more relevant and coherent. In its advocacy of promoting GRPs, the MGR Program completed the following publications: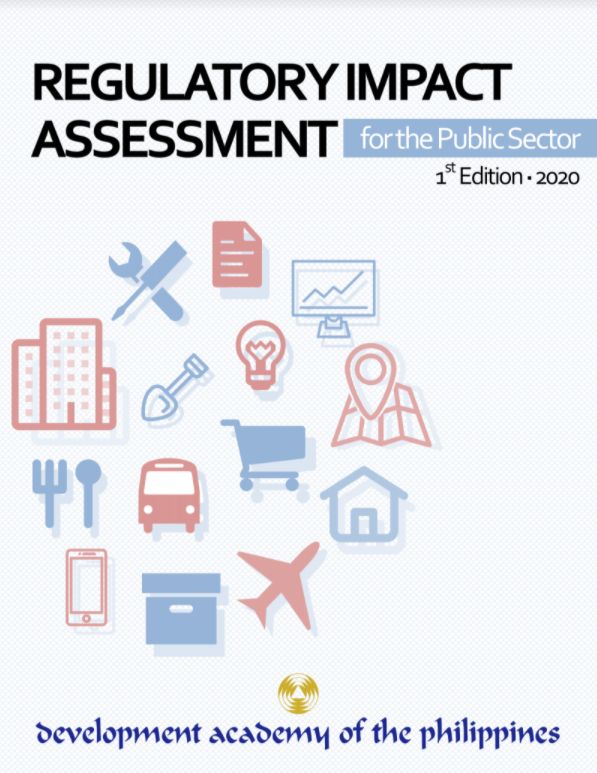 DAP Guidebook on Regulatory Impact Assessment for the Public Sector
The Regulatory Impact Assessment (RIA) for the Public Sector 1st Edition was primarily developed for the use of regulation authorities tasked to create, develop, and manage regulations. RIA ensures the quality of regulatory proposals by critically measuring their positive and negative effects through a rigorous, well-defined, and evidence-based analysis.
There are five (5) modules included in the guidebook which are:
1. Regulation and its Rationale
2. The Need for Regulatory Reform
3. Good Regulatory Practices
4. RIA
5. Steps in Conducting RIA
DAP Guide on Stakeholder Consultation
Effective stakeholder consultation is fundamental in removing obstacles to improve regulation, for instance, in establishing Regulatory Management Systems (RMS) and conducting RIA. Gaining a wider perspective can lead to better solutions and pathways to regulatory reform and development.
In various endeavors towards progress, stakeholder consultation promotes good governance, transparency, citizenship, and accountability. The publication of this guidebook seeks to enhance current government efforts in engaging its stakeholders. The Guide on Stakeholder Consultation, as a first of its kind, puts together international best practices and principles that can be considered by those who value the interconnectedness of everyone.
DAP Guidance Note on Regulatory Cost Model on Compliance Costs
Estimation of regulatory compliance costs is a significant component of RIA as it provides key inputs in the assessment of regulatory options. Thus, the DAP, as part of its MGR Program, initiated the development of the Regulatory Cost Model (RCM). The model facilitates a systematic approach in estimating regulatory costs of compliance and helps Philippine regulatory agencies be more informed in their formulation of regulations.
As the Philippine government endeavors towards the streamlining of its processes, the publication of this guidance note seeks to enhance current efforts in formulating simpler, smarter, and better regulations that ultimately benefit the economy.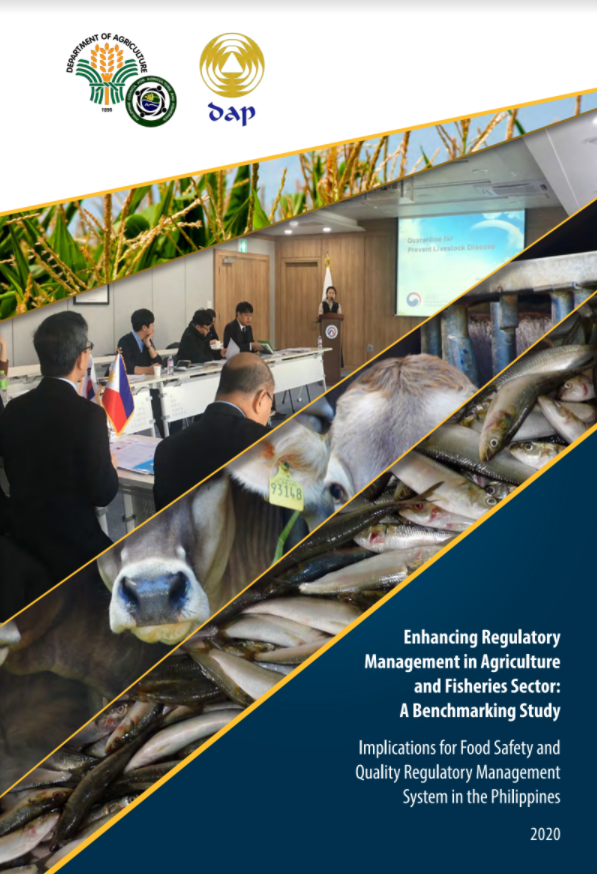 DAP Benchmarking Study on Regulatory Management in Agri-Fisheries Sector
Food safety is a primary concern of every economy, Philippines included. In fact, food safety together with consumer welfare and protection are the primary bases for the regulatory processes imposed at each stage of the business development cycle for agri-food enterprises. However, no matter how good the intents may be, the manner, with which these regulatory processes are implemented and enforced may lead to unintended outcomes, defeating the very purpose of their formulation.
Performance assessment of the Philippines' food systems regulation through participatory action research and benchmarking with more advanced food systems regulatory regimes yielded valuable recommendations to improve the overall regulatory management system in the agriculture and fisheries sector.
To get a free copy of these regulatory reform publications, visit https://mgr.dap.edu.ph/download/
This article was originally posted in http://pdc.dap.edu.ph/index.php/dap-modernizing-government-regulations-program-releases-regulatory-reform-publications/