Overview
The Province of Laguna Employment and Information System (PLEIS) is an online job-matching platform designed to efficiently connect job seekers and employers. PESO successfully implemented PLEIS, offering a wide array of job vacancies and speeding up the hiring process for employers, which helps alleviate financial restrictions around job searching. The employment portal was also one of the instruments used to aid the constituents during the pandemic job loss and unemployment. PLEIS addressed this by providing an accessible, cost-effective, and paperless job application process, allowing job seekers to explore endless job opportunities from the comfort of their homes. The system's success stems from its proficiency in matching qualified candidates to job postings while serving as a dependable data source for monitoring labor market trends, which is why it was recognized by the 2021 DICT Digital Governance Awards as 2nd Place in Best in Government Internal Operations (G2I).
Challenge
The primary challenge that the Province of Laguna Employment and Information System (PLEIS) effectively addresses is optimizing the allocation of public resources to enhance the delivery of quality employment services for constituents. Traditional job search methods, like walk-in applications and physical job fairs, exert a substantial demand on the Provincial Government of Laguna's resources. These conventional approaches incur expenses related to transportation, food, venue rental, and manpower. Furthermore, the COVID-19 pandemic introduced physical limitations and restrictions on large gatherings. Additionally, PESO staff is burdened with managing voluminous documents from applicants across the province, hampering the swift matching with potential employers. Emphasizing the significance of continuous improvement and data-driven decision-making, Provincial Employment Service Officer-in-Charge Mary Jane T. Banasihan-Corcuera underscores the importance of enhancing service delivery.
Solution
The Province of Laguna Employment and Information System (PLEIS) addresses the challenge of efficient delivery of employment services through several innovative features:
Enhanced Online Job Matching: PLEIS offers an advanced online job-matching platform that allows job seekers to post their applications and apply for job vacancies suitable to their career track. This feature provides a vast pool of opportunities accessible from the comfort of their homes, reducing the need for costly and time-consuming walk-in applications.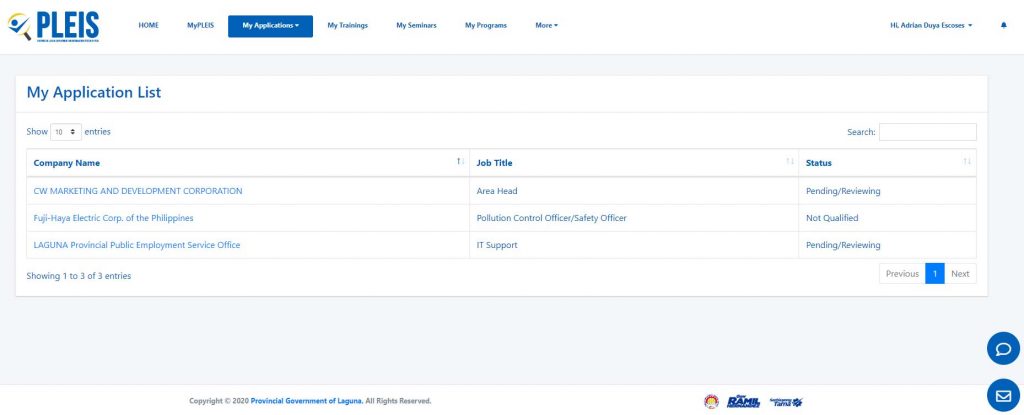 Paperless Process: By transitioning to a paperless application process, PLEIS optimizes the use of public resources, minimizing the need for physical paperwork and manual processing. This saves time, effort, and costs for both the Employment Service Office and the job seekers.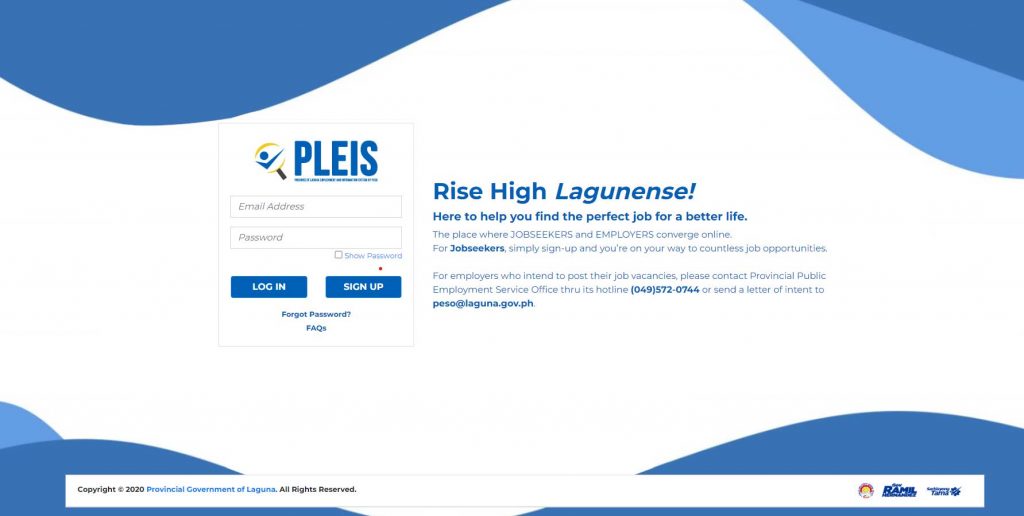 Virtual Job Fairs and Recruitment Activities: PLEIS hosts virtual job fairs and recruitment activities, providing a safe and convenient environment for job seekers and employers to interact. This innovative approach ensures continuity in job placements, even during pandemic restrictions, without compromising public health.
Data-Driven Labor Market Trends: PLEIS serves as a reliable and efficient source of data in monitoring labor market trends. By analyzing the data on job applications, vacancies, and hiring trends, PLEIS assists policymakers and employers in making informed decisions, optimizing the allocation of public resources.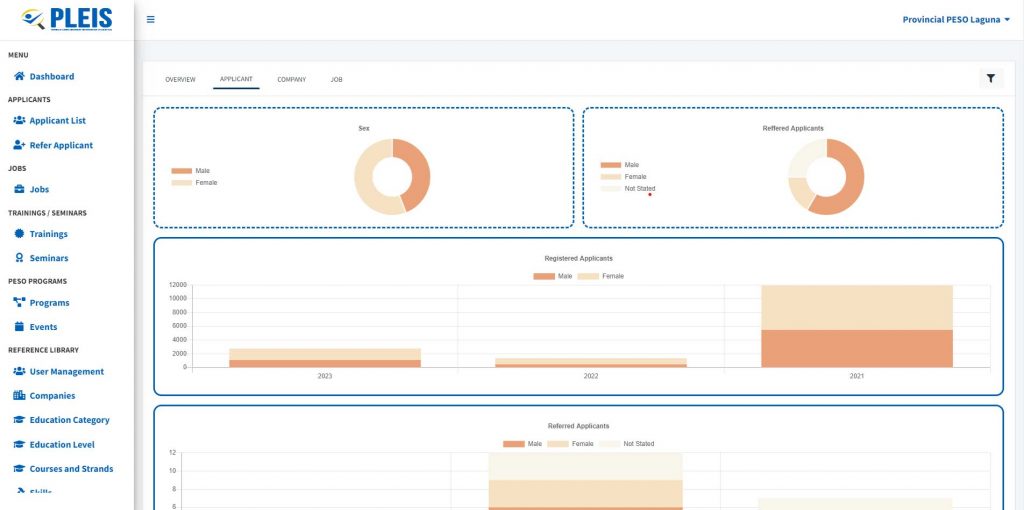 Messaging Mechanism: The platform incorporates a messaging mechanism, enabling timely and efficient communication between job seekers and employers. This innovative feature enhances the application process and promotes direct interaction, improving the overall efficiency of employment services.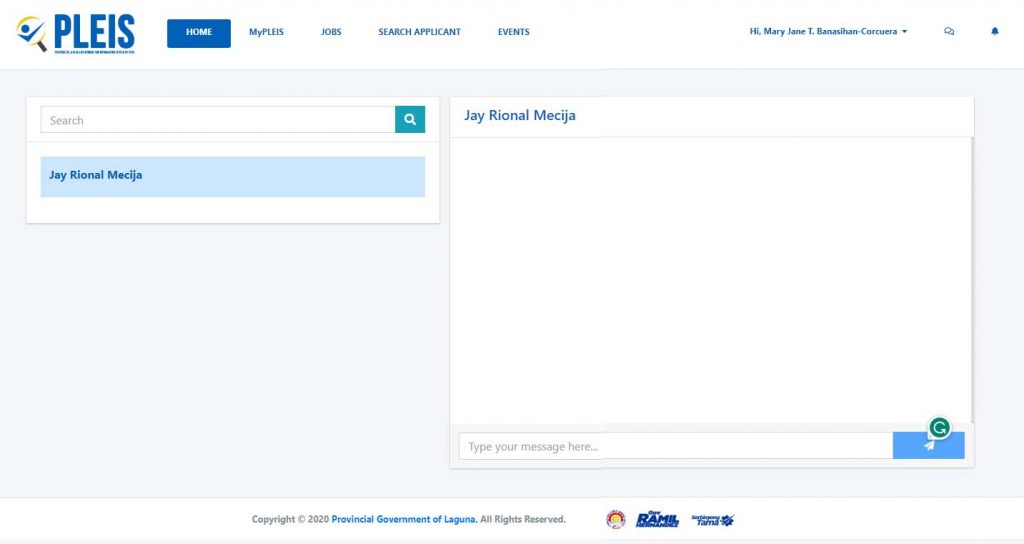 Applicant Statistics Map: A powerful and intuitive tool that provides comprehensive insights into job seekers' data and geographical distribution. This feature is part of the administrative backend accessible to the Provincial Employment Service Office (PESO) staff and authorized personnel. The dashboard showcases a visual representation of applicant statistics across different municipalities and cities within the Province of Laguna, allowing administrators to assess the distribution of job seekers throughout the region.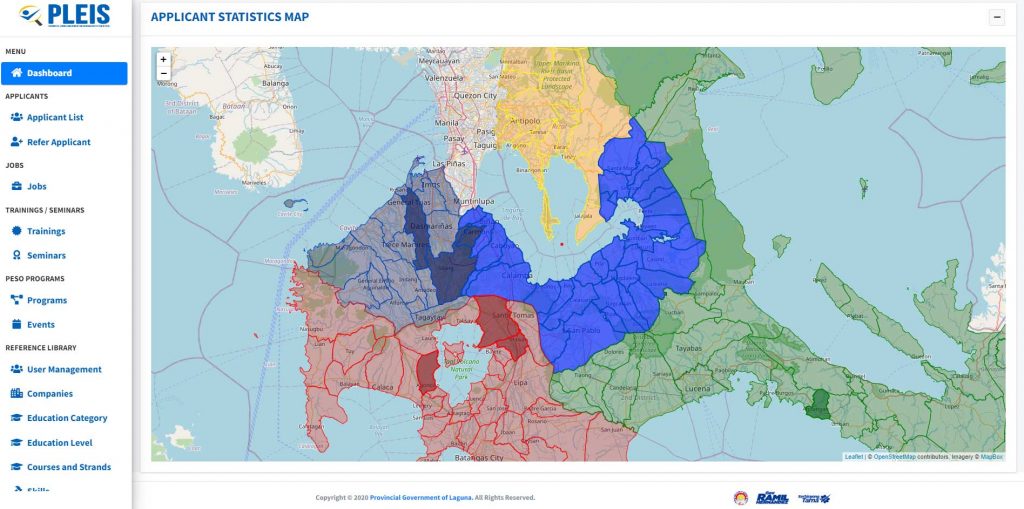 Partnerships with Stakeholders: PLEIS fosters partnerships with various stakeholders, including educational institutions and agencies, to offer additional training and upscaling opportunities for job seekers. This innovative collaboration strengthens the workforce and enhances employability, aligning job seekers' skills with industry demands.
What makes these features innovative is their integration of modern technology and data-driven approaches to optimize public sector productivity in employment services. PLEIS leverages digital platforms to provide cost-effective and accessible job-matching solutions, resulting in large-scale job placements, economic impact, and increased efficiency in the labor market.
Productivity Gains, Outcomes, and Impact
PLEIS has demonstrated significant measurable gains in public sector productivity, positively impacting the Provincial Government of Laguna and its citizens.
One of the key outcomes of PLEIS is the increase in the number of registered job seekers, partner companies, and job postings. PLEIS currently has 24,564 registered job seekers, 138 partner companies, and 386 active job postings. This data reflects the system's success in efficiently connecting job seekers with potential employers, contributing to enhanced productivity in the labor market.
Furthermore, the successful implementation of 16 Virtual Job Fairs and 7 Virtual Local Recruitment Activities illustrates the system's adaptability and efficiency in organizing virtual events. This approach not only ensures the safety of citizens during the pandemic but also demonstrates a forward-thinking strategy to improve public sector productivity by incorporating modern technology in service delivery.
The data-driven approach of PLEIS has also proven to be beneficial in monitoring labor market trends, providing valuable insights for policymakers and employers. By analyzing the data on job applications, vacancies, and hiring trends, the Provincial Government of Laguna can make informed decisions on workforce development and resource allocation, further optimizing productivity in the public sector.
For job seekers like Zeline Peria, PLEIS has made the job search process more accessible and convenient, eliminating the need for costly and time-consuming physical applications.
The system's efficiency allowed her to secure employment within a short period. Additionally, employers like Concentrix Philippines Talent Delivery Leader Alejandro U. Pagulayan praised PLEIS for its large-scale job placements and significant cost savings, reflecting the positive impact on businesses and the economy.
Overall, PLEIS has improved the productivity performance of the Provincial Government of Laguna by efficiently utilizing public resources to provide quality employment services. Through its innovative features, data-driven approach, and partnerships with stakeholders, PLEIS has become a successful model for other local governments. The measurable outcomes, including increased job seeker and partner company registrations, successful virtual events, and data-driven labor market insights, reflect the tangible benefits that PLEIS brings to the citizens of the Province of Laguna.
Lessons Learned and Challenges in Implementing the Intervention
The Province of Laguna Employment and Information System (PLEIS) has undoubtedly achieved significant success in improving employment services and public sector productivity. However, there are valuable lessons learned and potential areas of improvement that can further enhance its impact.
Adaptability: PLEIS demonstrated the importance of being adaptable to changing circumstances, as seen in its successful transition to virtual job fairs during the pandemic. This lesson highlights the need to continuously update and refine the system to meet the evolving needs of job seekers and employers.
Stakeholder Collaboration: The success of PLEIS is attributed to its strong collaboration with stakeholders, including educational institutions and partner companies. The lesson here is that continued partnership and engagement with various stakeholders are crucial for sustained success and innovative enhancements.
The following highlights potential areas of improvement for PLEIS, drawn from the experiences and recommendations shared by various individuals involved in its implementation:
Bug Resolution: The experience shared by PESO IT Support Lexter Jay R. Mecija regarding the challenges faced during the pandemic emphasized the importance of promptly resolving bugs and technical issues. Continuously monitoring and improving the system's performance will ensure a smooth user experience.
Training and Upscaling: Concentrix Philippines Talent Delivery Leader Alejandro U. Pagulayan suggested the inclusion of training and upscaling features, particularly micro-learning, to address the specific needs of job seekers and help them meet industry demands. This addition would enhance employability and job match potential.
User Experience: PLEIS Focal Person Adrian D. Escoses highlighted the significance of incorporating a new landing page and enhancing the user experience. Improving the platform's aesthetics and user interface will attract more users and make it easier for them to navigate and utilize its features.
By incorporating these lessons learned and addressing potential areas of improvement, the Province of Laguna can further optimize the efficiency and impact of PLEIS, fostering good governance and positively impacting the citizens by providing quality employment services.
Resources
BMPlus. (2021, July 26). Laguna to launch centralized hotline number for easy access to service and faster government response: Bmplus. BusinessMirror. https://businessmirror.com.ph/2021/07/26/laguna-to-launch-centralized-hotline-number-for-easy-access-to-service-and-faster-government-response/
Manila, R. (2022, October 4). Pagbisita ng Dzxl 558 Radyo Trabaho sa peso Navotas, Tuloy Na Ngayong Araw. RMN Networks. https://rmn.ph/pagbisita-ng-dzxl-558-radyo-trabaho-sa-peso-navotas-tuloy-na-ngayong-araw/