Overview
Singapore SupplyAlly, a mobile app developed by GovTech's Government Digital Services team, has helped promote efficiency in managing distribution of items on a large scale. Created in response to the urgent logistical challenges caused by the COVID-19 pandemic, SupplyAlly digitalizes the distribution operation that allows organizations to define eligible recipients and maximum items in the system. Distribution is managed via various channels, such as vending machines or the SupplyAlly app. SupplyAlly is now the centralized distribution system for whole-of-government and organizations to issue items that improve the lives of Singaporeans.
Challenge
The COVID-19 pandemic has highlighted the importance of having a flexible and efficient distribution system. The app was instrumental in helping distribute reusable face masks to all Singapore residents, particularly in tracking collection quotas and managing a flexible pool of volunteers. Automating the logistics distributions prevents the wastage of resources that can occur because of a lapse in the distribution system, ensuring that eligible recipients receive the items they need promptly and efficiently. This prevents duplicated distributions and optimizes volunteers' efforts.
Moreover, SupplyAlly provides convenience to citizens by enabling them to access the distribution system through various channels, such as vending machines or the SupplyAlly app. This ensures that eligible recipients can receive items from different points and modes of distribution, allowing them to choose the most convenient option. SupplyAlly has certainly helped streamline the logistics distribution process.
Solutions
Some of the innovations that can be replicated by others with the same productivity challenge addressed by SupplyAlly include:
Generating QR codes for the privacy of the volunteers. It is not the ordinary sign up process. Volunteers are issued with a QR code instead that is permanently affiliated with their device. This ensures secure access to the app and prevents unauthorized logins. SupplyAlly also supports various redemption methods, enabling eligible individuals to collect items on their household's behalf.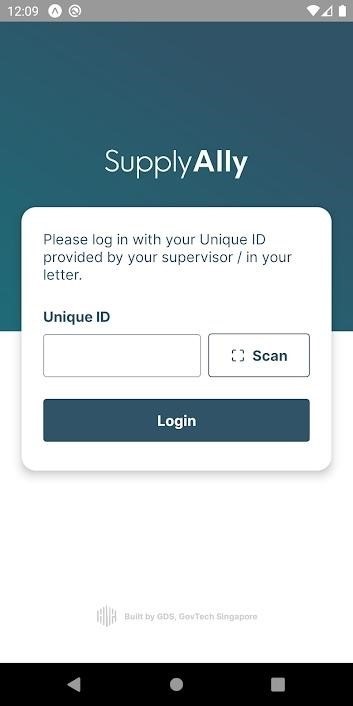 Lightweight build and minimal integrations allow it to process transactions quickly, up to 4,500 transactions per second with a 50-millisecond response latency. This makes it possible to keep up with the needs of an evolving 21st-century pandemic such as COVID-19. With over-the-air updates and continuous integration setups, the app's development agility enables the team to push fully developed features to users within 30 minutes.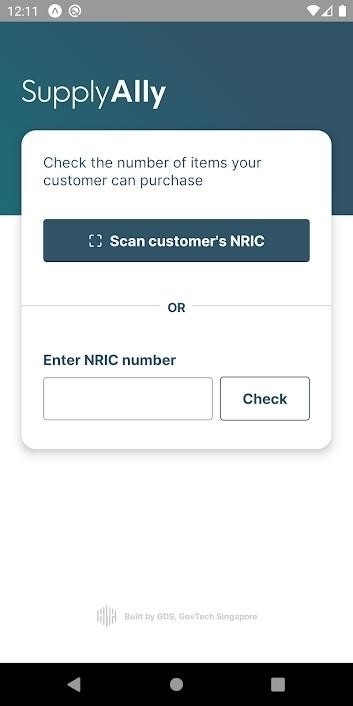 Productivity Gains, Outcomes, and Impact
Singapore SupplyAlly has had a significant impact on productivity gains and outcomes since its launch in April 2020. It has improved the distribution process by automating logistics, preventing resource wastage, and optimizing volunteers' efforts. SupplyAlly has also provided convenience to citizens while maintaining operational flexibility to different points and modes of distribution.
SupplyAlly has facilitated the distribution of 4.2 million reusable masks and over $20 million in physical credit vouchers for low-income households have been delivered through the app. It has also been used to provide refurbished laptops to underprivileged children for home-based learning programs.
Currently, SupplyAlly is deployed at Food from the Heart's community food pack program, where volunteers use the app to distribute 9,000 food packs to needy households every month efficiently. The Community Development Council (CDC) has also digitized its distribution of CDC vouchers with SupplyAlly.
SupplyAlly has been used in partnership with charities to allocate food packs and meal credit redemptions, which has helped alleviate the burden of low-income households. In addition, SupplyAlly has been used to distribute TraceTogether Tokens during the COVID-19 pandemic, helping to curb the spread of the virus. To prevent further COVID-19 transmission, SupplyAlly partnered with the Ministry of Health (MOH) to distribute free DIY COVID-19 test kits to the Bukit Merah and Redhill residents in 2021. This was subsequently rolled out to residents in other areas, and when the free test kits distribution ended in August 2021, more than 106,000 free test kits were given out to residents.
SupplyAlly has increased the productivity performance of the Government of Singapore and positively impacted the intended beneficiaries. The app has reduced the turnaround time of distribution, increased operational efficiency, and prevented duplicated distributions. It has also reduced the workload of volunteers and allowed for better tracking and monitoring of distribution. The measurable outcomes of SupplyAlly are reflected in the numbers, with over 8,000 users onboarded onto the app and millions of masks, vouchers, and test kits distributed efficiently and effectively.
Lessons Learned and Challenges in Implementing the Intervention
Singapore SupplyAlly has been successful in its efforts to automate logistics distribution and improve efficiency in resource allocation, as evidenced by its widespread adoption and the positive outcomes achieved. However, there are still potential areas of improvement for the platform. One lesson learned is that while the app has been successful in onboarding volunteers and users, it could benefit from increased outreach and awareness campaigns to expand its user base further.
Another potential area of improvement is the app's design and user interface. While the lightweight build and minimal integrations allow for fast processing speeds, some users have reported difficulties with navigation and understanding how to use certain features. Providing a more intuitive and user-friendly design could help mitigate these issues and ensure the app is accessible to users of all technological backgrounds.
Additionally, there may be potential for SupplyAlly to expand its partnerships and collaborations with other organizations, particularly those focused on social welfare and community outreach. By expanding its reach and working with a broader range of stakeholders, SupplyAlly could further improve its impact and reach more beneficiaries in need.
Overall, the success of SupplyAlly demonstrates the value of using technology to improve logistics and resource allocation in community programs. While there are potential areas for improvement, the platform has already achieved significant positive outcomes and has the potential to continue to do so in the future.
Resources
Supplyally – distribution made simple. Singapore Government Developer Portal. (2023, March 6). Retrieved March 7, 2023, from https://www.developer.tech.gov.sg/products/categories/digital-solutions-to-address-covid-19/supplyally/overview.html
Supplyally. SupplyAlly. (n.d.). Retrieved March 7, 2023, from https://www.supplyally.gov.sg/