Name of the Organization
Quezon City Government
Name of the Office/Unit that leads the implementation of this best practice entry
Quezon City Health Department
Focus Area of the Best Practice
Strategy, Citizens / Customers
Date the best practice was first implemented
06 November 2017 – up to present
Summary of the Best Practice
The Community-Based Mental Health Program (CBMHP) of Quezon City is an integrated and comprehensive approach to delivering appropriate services to promote mental health in the community and provide services to those with mental illness. The program aims to promote a shift from hospital-based care to a community-based mental health care delivery system. This can be achieved by integrating mental health care in primary health care services; prevention, control, and treatment of mental illness at all levels; and promotion of mental wellness in the community.
The CBMHP ensures that mental health services are delivered by primary mental health care facilities that support or treat people with mental disorders in a home rather than a psychiatric hospital.
Community services:
Mental health services integrated with primary health care in all the health centers of QC
Diagnosis and initiation of treatment by specialists either in the hospital setting or in community outreach activities.
Psychiatric wards of general hospitals (for scale-up)
Program Strategies:
Capacity building of health center staff and community leaders
Promoting mental health in the workplace and the community includes the Young Healthy Mind interactive learning for adolescents integrated with the Teen Walk To Health.
Decentralization of patients from QCGH through the Mental Wellness Access Hubs (MWAH) facilities to provide psychotropic drugs in health centers.
Outreach 'mentoring' sessions in the community for diagnosis and treatment of patients with mental disorders.
Provision of Psychosocial support in HOPE Facilities and the community in lockdown areas.
Because of this initiative, Quezon City may yet be the only LGU wherein all the health centers can integrate mental health services in primary care. Thousands have already been reached through community activities in all city districts. At the moment, there are over 180 patients registered and receiving free medicines in barangay health centers.
The Challenge
The Philippine World Health Organization (WHO) Special Initiative for Mental Health conducted in 2020 shows that at least 3.6 million Filipinos are encountering mental health issues as the Philippines continues to face the COVID-19 pandemic. According to the Department of Health (DOH) Disease Prevention and Control Bureau, about 1.14 million Filipinos have depression, 847,000 are battling alcohol-use disorders, and 520,000 others were diagnosed with bipolar disorder.
Amid the increasing burden of mental illness, the country has limited human resources and mental health facilities. Furthermore, even fewer general practitioners are trained in managing common mental health problems. In addition, to support from healthcare services, people with mental illness require social support and care to enable them to be active community members.
Mental health care gaps between the supply and the demand for services always existed and were further magnified by the COVID-19 pandemic. Feelings of vulnerability, uncertainty, fear of death, stress, and isolation were experienced by most people, especially those who were quarantined.
In the Philippines, there needs to be a mental health registry that localizes patients. The exact burden of the disease in Quezon City can only be estimated. The Quezon City General Hospital (QCGH) reported 1,083 cases of accessing the OPS from June 2017-March 2018. Hospitals like the National Center for Mental Health (NCMH), East Avenue Medical Center (EAMC), Quirino Memorial Medical Center (QMMC), Veterans Memorial Medical Center (VMMC), UERM Medical Center, and Armed Forces of the Philippines Medical Center (AFPMC) have difficulty in identifying and reporting cases involving QC residents.
Mental health services in Quezon City have been highly specialized and institutionalized, but patient care has to continue beyond institutional facilities. Barangay Health Workers (BHWs) have identified mentally ill patients discharged from the hospitals with recurrence of symptoms because of lack of follow-up and inability to purchase maintenance medicines. Mental health services were not within reach of the residents, especially the poor and underserved. Hence, the need for a community-based mental health program–to make services within reach of the people.
Solution and Impact
The Quezon City CBMHP, was developed to integrate mental health into primary care and to make mental health services accessible in the community. The CBMHP Ordinance of the city was passed in 2015, way ahead of the Mental Health Act of 2018.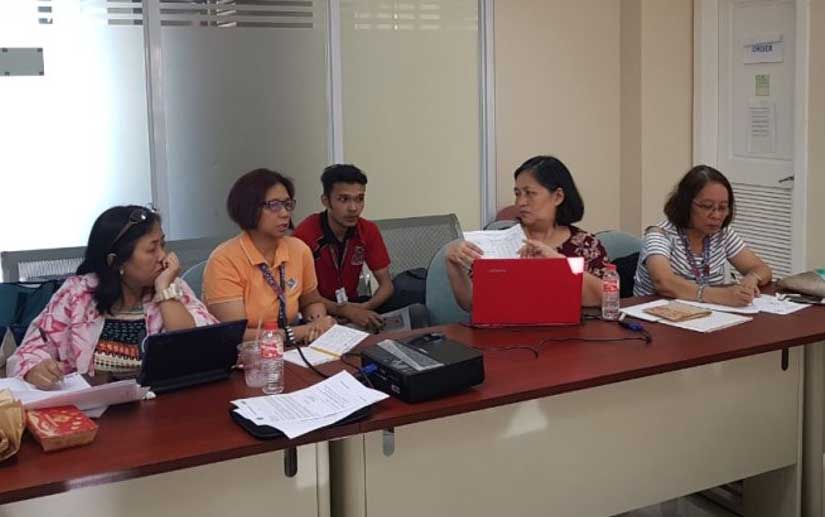 Innovative strategies cited in the city's CBMHP ordinance include:
Capacitating health center staff and community leaders

Training of BHWs and Barangay leaders on "Kalusugang Pangkaisipan," a module developed by the Philippine Mental Health Association (PMHA) for community lectures on promoting mental health and erasing the stigma of mental illness.
Training of health staff on the Mental Health Gap Action Program (mhGAP) of the WHO.

Health Promotion

Workplace – conduct of the Mental Health Summit, which is the "All is well" series in 2018 and 2019 for the Quezon City Health Department (QCHD) staff.
Community – "Kalusugang Pangkaisipan" lectures in health centers using flip-tarps reproduced by the city; Community-based Mental Health Handbook for Community Health Workers (CHWs)
Young Healthy Mind interactive learning for adolescents integrated with the Teen Walk To Health.
Decentralization of patients from QCGH.

Mental Wellness Access Hubs (MWAH) were identified per district where psychotropic drugs are stored. MWAH doctors were assigned as coordinators for districts to facilitate patient referrals and care.MWAH facilities keep an inventory of medicines and maintain a Mental Health Registry.
There are currently six functional MWAH facilities (one in each of the six districts of Quezon City).
Mentoring sessions – outreach activities for patients with symptoms of mental illness conducted by health center staff in partnership with UNILAB, PMHA, and QCGH.
Provision of Psychosocial Support in HOPE Facilities and lockdown areas, including services like Basic Services and Security (shelter, vaccines, food), Community and Family Support (inquiry desk), Focused Non-specialized services (psychological first aid, 112 helpline access), and Specialized services(referrals, MWAH psychotropic drugs, and teleconsultation)
Replicability
Mental disorders are prevalent in all societies and create economic and social difficulties for the community. In the Philippines, the Mental Health Act was passed in 2018 – ensuring access of patients to mental health services at all levels of the national healthcare system.
In Quezon City, the program has been initiated ahead of the national law, and the city has been investing in its implementation for the past five years. Other communities must also prioritize mental health concerns and develop programs to address them. Here are the reasons we invest in integrating mental health services in primary care:
Mental health disorders can lead to high psychosocial and economic costs for the community.
Early diagnosis and treatment can decrease the disease burden of MH disorders*
The treatment gap for mental disorders is big.
Primary mental health care services are less expensive than psychiatric hospitals.
Mental and physical health problems are interwoven
Mental health care is important to address the needs of those with mental disorders and promote the mental health of all people.
The risk for mental illness spares no one, as experienced during the pandemic. An effective program must be tailor-made and focused on meeting the needs of a specific community. Barangays all over the country have health facilities where mental health services can be integrated with proper training of health workers. To improve health-seeking behavior and prevent stigma, residents must be taught to see mental illness as important as any other disease being treated in health centers.
The DOH and other agencies can be engaged to provide technical and funding support for training, health promotion materials, and medicines. The initiative, though, has to come from the community creating an opportunity to strengthen health governance.
Review/Next Steps Planned
While the CBMHP of QC is focused on promoting MH in the community, other sectors of society also have mental health needs that must be addressed.
In scaling up, there are plans to expand the CBMHP services:

Expand and institutionalize the outreach 'mentoring' activities through the "Adopt a District" project by hospitals in Quezon City, wherein a regular quarterly activity will be conducted per district. This project will eventually expand the network of facilities included in the decentralization of patients for integration into the community.
While there are challenges to the limited outreach schedules on community lectures, online materials must be developed to increase reach in integrating MH promotion in health centers.
For continuity of care, an acute inpatient service can be established in any of the LGU hospitals, providing pediatric psychiatric services.
Organize a community support group to be an advocate for promoting mental health in the community. This may be composed of but not limited to family members of patients with mental illness.
Screening for anxiety and depression in the health facility aligned with the risk assessment of adults 20 years old and above.
The challenge in reporting is that MH services in institutions are available to all, not only to Quezon City residents. A policy must be developed with the institutions to facilitate more comprehensive and accurate data collection.

Adopting other provisions of the Mental Health Health Act:

Workplace – The MH program developed by CSC needed to be implemented in public offices and will be piloted in QCHD. Currently, QCHD is being assisted by a psychologist and will be utilizing a screening tool for depression and anxiety for health workers returning from quarantine.
Schools – There needs to be an improvement in the capacity of the Schools Division Office to implement the "We care for your Mental Health" program in all the public schools in the city. This is being piloted in District 4 before its full implementation.
Suicide Prevention Strategy – A crisis management program framework needs to be developed in the city, including setting up a crisis hotline in collaboration with DOH and NCMH.
Milestones
The CBMHP of QC has achieved the following since its implementation:
Training of 51 doctors, 83 nurses, and 14 midwives on WHO Mental Health Gap Action Program – with all health centers having at least one trained staff. All health centers in QC may integrate MH services in primary care. Training of 300 Barangay Health Workers on "Kalusugang Pangkaisipan" of PMHA so they may conduct lectures on MH care and recognize symptoms of mental illness.
Health Promotion activities:

For the Staff:

"All is Well" series for QCHD staff – 600 attendees on lectures on depression and stress management.
Online webinar series on self-care and stress management – 221 frontline health workers attended at least one session.
Psychosocial counseling group session for health responders. 13 sessions with 118 participants, including doctors, nurses, contact tracers, sanitation staff, and BHERT members.

For the Community:

Regular monthly pre-clinic lectures on "Kalusugang Pangkaisipan" were conducted in health centers with approximately 20 participants per session.
'Young Healthy Mind' interactive learning for adolescents participating in Teen Walk to Health activities. Fifty-two sessions were conducted from 2017 to Q1 of 2020, reaching 6,488 adolescents. An online version was piloted in the Teen Health Quarter (THQ), and four sessions were conducted with 49 participants.

Conducted 4 "Mentoring" Outreach activities, where 71 patients were seen and continuing medications
Hospitals, especially the LGU-owned QCGH, were engaged in integrating MH care in the community through coordination with MWAH facilities. A total of 182 patients are registered in the city and receiving free maintenance medicines.
During the pandemic, psychosocial support was provided to 38,440 patients in 12 HOPE facilities, with basic services like temporary shelter and food. Affected lockdown areas, with 20,995 families and 60,362 individuals given community and family support through the provision of inquiry desks, access to medical services, and vaccines.
Testimonials
Patients with mental illness in the community for care and maintenance of medicines. One patient in a Mental Wellness Access Hub verbalized that:

"Mas mabilis akong gumaling dito kasi kasama ko ang aking pamilya at meron akong gamot…importante yung gamot…Malaking bagay po na hindi natitigil (ang gamot)… di na po ako irritable… di na natatakot at nakaka-imagine ng nakakatakot."

With health workers in the field, the program started with the "All is well" series. The conduct of this activity was not pushed through during the lockdown. The program opted to provide online psychosocial services in partnership with Philippine Mental Health Association (PMHA). Health workers were able to avail of these services. Feedback was positive:

"I had simple expectations from the counseling with psychologists, and it was just to have some simple quality time to listen to a pep talk with experts. But I gained a lot more. Though I came late because of a work conflict, it was a spontaneous unloading of pent-up emotions and uncertainties since the pandemic changed our world and work scenario. It was cathartic to speak about what I valued more while in the midst of the pandemic. Though, as a public health worker, doing service was the call of duty, it was also a time to love myself (self-preservation), and I learned from the counseling team that it was alright to cry and be sad, to stop and rest awhile and to speak up for oneself when our mental stability was being threatened. It was also a time to be reminded that nothing on earth is permanent, that change would bring in the new normal, and that, as human beings, we should move forward to adopt a post-pandemic defense mechanism. I would like to commend them for coming in at the most opportune time, as we need strangers to just listen to our thoughts on the challenges of the pandemic. Thank you, as it cleared many unnecessary burdens from my mind."
"Group session was very welcoming and intimate with a feeling of privacy; thus, participants could express their present feelings well. I connected my personal experience to how everyone felt and was happy to have shared it. Time seemed short because sharing was fun and helpful."
Since Quezon City is the first LGU in NCR that enacted an ordinance and implemented strategies, this is being benchmarked by the regional DOH Mental Health Program.