Overview
The experience of Puerto Princesa City Jail highlights the main challenge of limited access to education and skills training for persons deprived of liberty (PDLs). The lack of resources and infrastructure hindered the PDLs' ability to acquire knowledge and improve their chances of successful reintegration into society. To address this challenge, the city jail implemented the Technology for Education, Employment, Entrepreneurs, and Economic Development (Tech4ED) Project. By providing a digital learning platform with various educational modules and vocational courses, PDLs are able to learn new skills and acquire certifications, which enhance their employability upon release. The Tech4Ed program empowers PDLs with education and training opportunities that positively impact their lives and increase their chances of rehabilitation.
Challenge
Puerto Princesa City Jail's Tech4Ed e-Services aims to tackle not only the limited access to education and skills training but also the availability of various services for PDLs. Persons deprived of liberty often face barriers of acquiring knowledge, developing skills, and accessing essential services. The Tech4Ed program aims to overcome these challenges by providing a comprehensive digital platform that offers a range of services to PDLs.
In addition to educational modules and vocational courses, Tech4Ed e-Services also provide access to health information, legal aid resources, livelihood training, and communication facilities for connecting with their families. By leveraging technology, PDLs can access a wide array of resources and support, enabling them to improve their well-being, acquire new skills, and enhance their chances of successful reintegration into society.
By addressing the challenge of limited access to education and a lack of essential services, Tech4Ed e-Services contribute to the holistic development and rehabilitation of PDLs. It empowers them with valuable knowledge, practical skills, and necessary support systems, ultimately increasing their chances of rehabilitation and reducing the likelihood of recidivism. Moreover, by equipping PDLs with the tools they need to succeed, the program aligns with the broader goal of a citizen-centered public sector and creating a more inclusive and resilient society.
Solutions
The Puerto Princesa City Jail Tech4Ed e-Services address the challenge of limited access to education, skills training, and essential services for PDLs in several innovative ways. The program leverages technology to provide a comprehensive digital platform that offers a range of services, empowering PDLs with the necessary tools for personal growth, rehabilitation, and successful reintegration into society.

Here are the key features of this program:
Digital Platform: The Tech4Ed e-Services utilize the Department of Information and Communication Technology or DICT's digital platform, which serves as the hub for accessing educational modules, vocational courses, health information, legal aid resources, and livelihood training materials. The platform, aligned with DICT's mandate and vision for ICT development, provides a shared facility for eGovernment services, ICT-enabled services, and relevant content. It leverages technology to deliver content in a convenient and accessible manner, enabling PDLs to acquire knowledge and skills at their own pace. JO3 Peter M Tumanon highlights the importance of the Tech4ED program in providing education and training for PDLs.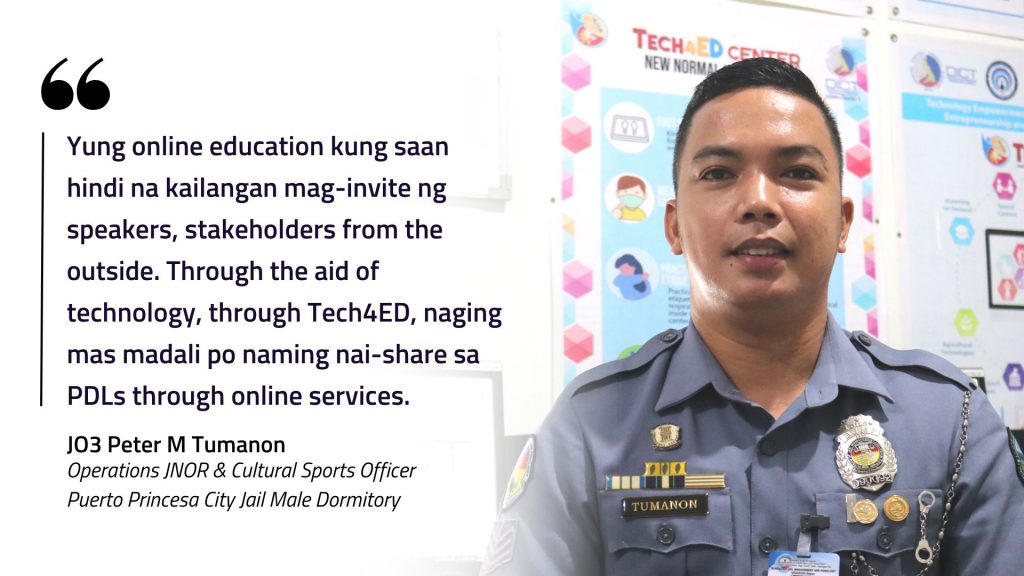 Learning and Skills Development: One of the key features, E-Learning/Webinars, has opened up a world of knowledge and growth for the PDLs. It offers access to Alternative Learning System (ALS) classes, skills training, and a wide range of downloaded educational clips. This platform enables the PDLs to engage in continuous learning, acquire new skills, and broaden their horizons, all within the confines of the correctional facility. In addition to educational opportunities, the Tech4Ed e-Services have also paved the way for the promotion of livelihood products through the E-Livelihood feature. This innovative component supports the entrepreneurial endeavors of the PDLs by facilitating live selling and promoting their products through dedicated Facebook posts. By harnessing the power of social media and e-commerce, the platform allows PDLs to showcase their talents, skills, and handmade goods to a wider audience. This not only provides them with a source of income but also instills a sense of pride and accomplishment. As Livelihood Program Officer JO1 Kenneth L Fortusa describes, the Tech4ED program helped in the promotion of the products of the PDLs through social media.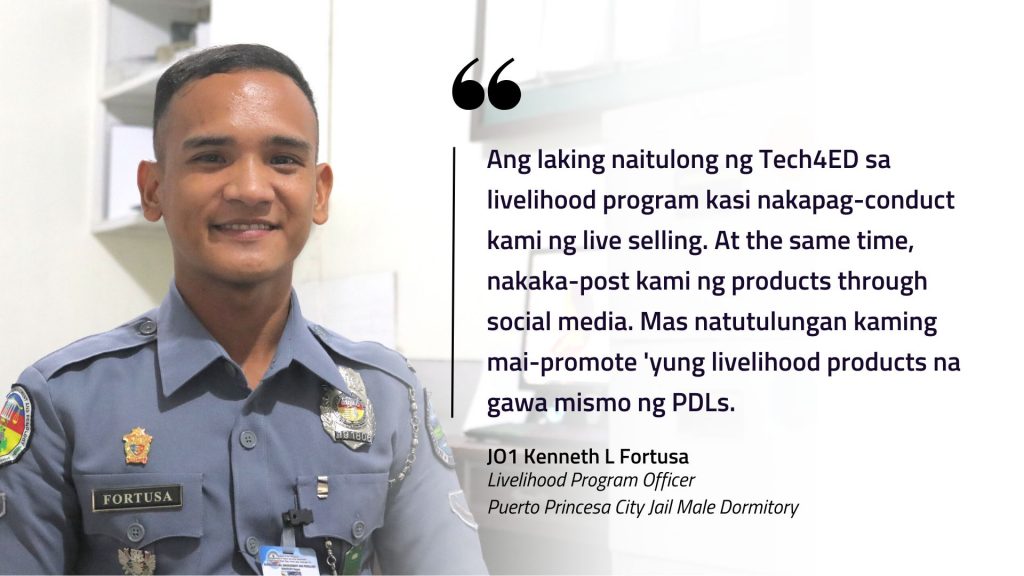 Communication and Connectivity: Through the innovative feature called E-Dalaw, a virtual visitation platform, prisoners can now connect with their families and loved ones via video calls. This technology has bridged the physical gap, bringing a sense of warmth and support to those incarcerated. Manika, a 34-year-old PDL, is thankful for this feature of the program as it allows them to connect to their families. Moreover, E-Worship has become a beacon of hope for the PDLs' spiritual well-being. Through recorded live sessions or Facebook broadcasts, they can actively participate in religious activities, finding solace and strength in their faith. This feature has not only nurtured their spiritual connection but has also provided a sense of belonging to a larger community. In times of mourning, when the loss of a loved one weighs heavily on the hearts of the prisoners, E-Burol, also known as Cyber Burol, offers a unique opportunity for closure. Through this feature, PDLs can view the remains of their departed family members online, paying their respects and finding solace in the grieving process. This digital platform has provided a compassionate way for PDLs to say their final goodbyes and find support during times of mourning.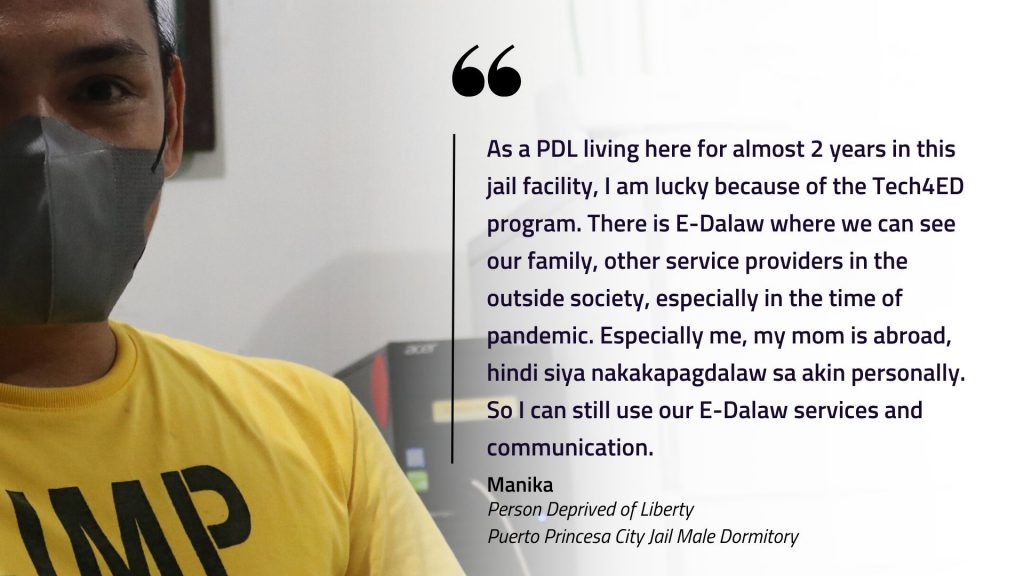 Legal and Judicial Services: E-Hearing has transformed the way court hearings are conducted for prisoners. Through the utilization of video conferencing technology, PDLs can now attend their court hearings remotely, eliminating the need for physical transportation and reducing logistical challenges. This innovative approach not only saves time and resources but also ensures that legal proceedings can proceed without unnecessary delays. In addition to E-Hearing, the Tech4Ed e-Services also provide a crucial resource for legal support through the E-Legal Consultation feature. This feature enables PDLs and their legal counsel to stay updated on the status of their cases and access legal information. Glen, a 49-year-old PDL, shares his experience with e-hearings. It provides dedicated time for discussions, clarifications, and guidance, ensuring that PDLs are well-informed about their rights and legal options. By facilitating access to legal support, the Tech4Ed e-Services empower the PDLs to navigate the legal system effectively and make informed decisions.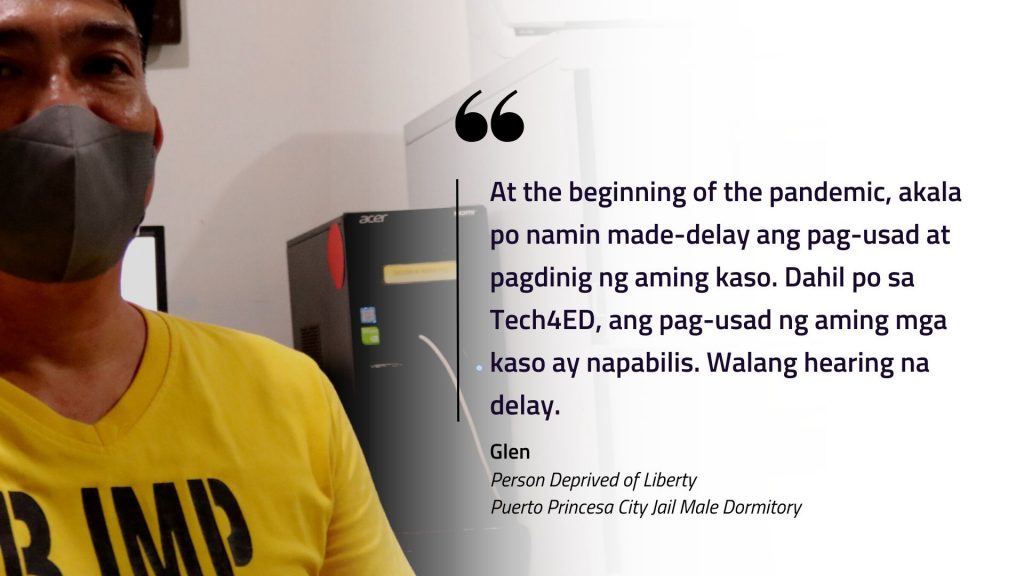 Healthcare and Well-being: The implementation of E-Medicine within the Tech4Ed e-Services has had a profound impact on the overall health and well-being of PDLs. By providing access to medical consultations, the program enables early detection and management of health issues, contributes to preventive care, and supports ongoing treatment for chronic conditions. The convenience and timeliness of telemedicine consultations reduce the need for physical transportation to healthcare facilities and minimize potential risks associated with in-person visits. Moreover, it allows PDLs to receive medical advice and prescriptions, ensuring continuity of care. The E-Community Service program recognizes the importance of maintaining connections and strengthening bonds between PDLs and their families, even during their time of confinement. By organizing gift-giving events, Jail Officers aim to bring joy and support to the families of PDLs, creating a positive impact within the community. These acts of kindness and generosity not only provide tangible assistance but also serve as a symbol of empathy and care, reminding the families that they are not alone in their journey.
Monitoring and Evaluation Tools: The Tech4Ed e-Services utilize monitoring and evaluation tools such as the TCMS v1.5 (Client/Server App and Web Portal), ODK Tool (Android-based M&E App), and Center Monitoring Database (Online Data Sheet). These tools facilitate the tracking of progress, performance, and impact of the program, allowing for data-driven decision-making and continuous improvement.
The proponents of Puerto Princesa City Jail Tech4Ed e-Services successfully implemented their project by following key steps:
Conducted a comprehensive needs assessment: The proponents conducted a thorough evaluation of the education, skills training, healthcare, legal aid, and livelihood needs of the PDLs in Puerto Princesa City Jail. This assessment helped identify the specific areas where the Tech4Ed e-Services could make a meaningful impact.
Established partnerships: The proponents forged partnerships with various stakeholders, such as educational institutions, healthcare providers, legal aid organizations, and industry experts. These partnerships allowed them to access additional resources, expertise, and support necessary for the successful implementation of the Tech4Ed e-Services. This collaborative approach promotes knowledge sharing, resource pooling, and a holistic approach to addressing the challenges faced by PDLs.
Monitored and evaluated the program: The proponents implemented a monitoring and evaluation system to assess the effectiveness and impact of the Tech4Ed e-Services. They collected feedback from PDLs, tracked their progress, and analyzed the outcomes to make necessary improvements and adjustments to the program.
Expanded access and sustainability: As the project progressed, the proponents worked on expanding access to the Tech4Ed e-Services, ensuring that more PDLs could benefit from the platform. The program provides livelihood training, equipping PDLs with skills and knowledge related to entrepreneurship and income-generating activities. This feature empowers PDLs to explore economic opportunities and prepares them for a successful transition into the workforce upon release. They also explored strategies for long-term project sustainability, including securing funding, engaging with local authorities, and promoting the program's value and impact. According to JO1 George Michael B Cagas, paralegal and human rights action officer, their goal is to prepare PDLs for their reintegration into society.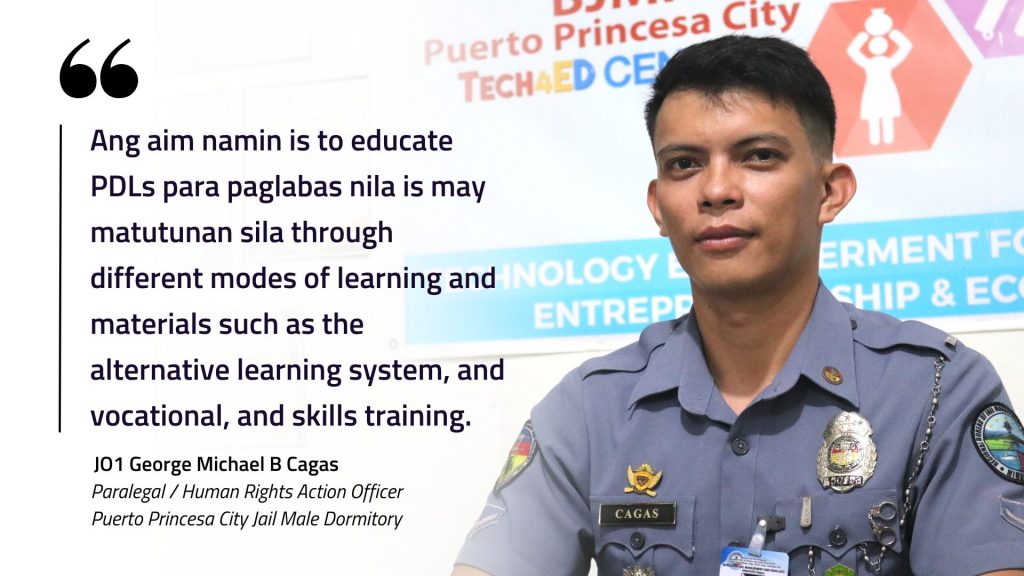 The innovative nature of Tech4Ed e-Services lies in its holistic approach, combining education, health, legal aid, and livelihood training into a single digital platform. By consolidating these services, the program maximizes efficiency and accessibility, making it easier for PDLs to access the resources they need for personal and professional development. The integration of technology also enables scalability and reach, ensuring that a larger number of PDLs can benefit from the program.
Productivity Gains, Outcomes, and Impact
By providing PDLs with access to a digital learning platform, the jail has effectively utilized available resources to enhance educational and skills training opportunities. This has led to increased engagement and constructive use of time by PDLs, fostering a more disciplined and purpose-driven environment within the correctional facility. The provision of education and vocational training has also contributed to the successful rehabilitation and reintegration of PDLs, reducing the likelihood of recidivism and creating safer communities.
Furthermore, the positive impacts of the Tech4Ed e-Services extend beyond the jail's premises. By equipping PDLs with education and skills, the intervention has enhanced their employability, positively impacting their families and reducing reliance on social support systems. The intervention aligns with the broader goals of public sector productivity, as it promotes the efficient use of public funds to deliver services that improve the quality of life for citizens.
The Tech4Ed e-Services initiative demonstrates innovative and effective use of information and communication technology (ICT) to address the productivity challenge of limited access to education and skills training in the public sector. By leveraging ICT-enabled learning modules and vocational courses, the intervention optimizes resource utilization and enhances service delivery. The digital learning platform also facilitates monitoring and evaluation of the program's impact, enabling data-driven decision-making and continuous improvement.
According to available data, since 2019, there have been 145 PDL and ALS students who have participated in the Digital Literacy Program. Additionally, there have been a total of 1,970 E-Dalaw sessions conducted from 2019 to the present. The E-Hearing feature has benefited 2,586 PDLs since 2020, ensuring timely and efficient court hearings. Other Tech4Ed features have also made a significant impact, with 1,845 PDL beneficiaries accessing legal consultations, 250 PDL beneficiaries participating in probation interviews, and various cultural, sports, seminar, and webinar activities benefiting a significant number of PDLs and personnel. The online activities related to medical and mental health, cyber burol/libing, interfaith activities, and skills training have reached hundreds of PDLs and personnel, with 670, 50, 1,380, and 1,020 beneficiaries, respectively.
These numbers highlight the reach and effectiveness of the Tech4Ed e-Services in providing comprehensive support to PDLs and promoting their successful rehabilitation and reintegration into society. The utilization of technology has proven instrumental in overcoming barriers and creating opportunities for personal and professional growth within the correctional facility. The data reflects the positive outcomes and the transformative impact of the Tech4Ed initiative, reinforcing its role in equipping PDLs with the necessary skills and knowledge for a brighter future. J/C Insp Darwin I. Motilla shares his insights on how the Tech4Ed Program improves the quality of the life of PDLs: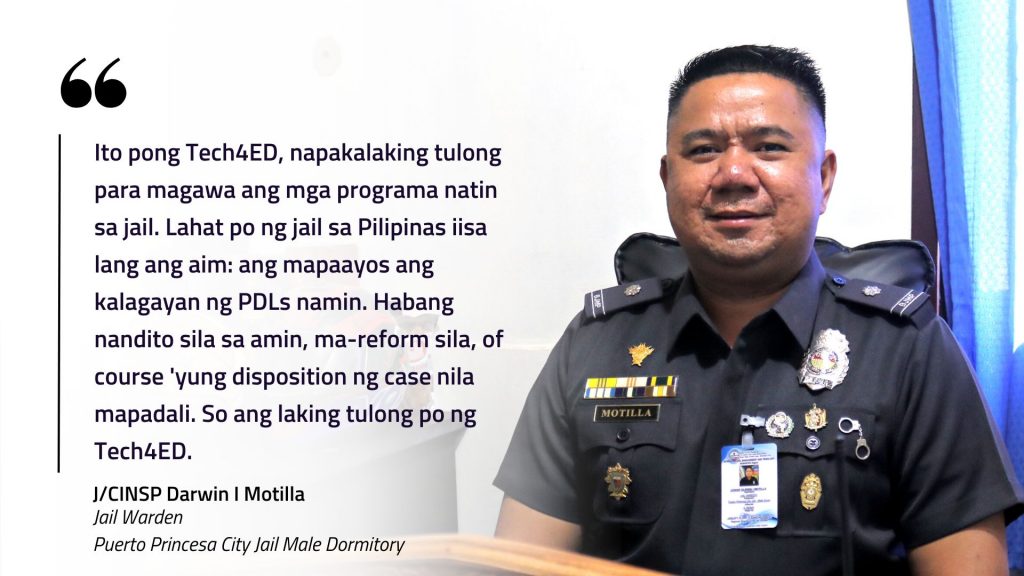 Lessons Learned/Challenges in Implementing the Intervention
The implementation of Puerto Princesa City Jail's Tech4Ed e-Services has provided valuable lessons and identified potential areas of improvement. These insights can guide future endeavors and enhance the effectiveness of similar initiatives. One significant lesson learned is the importance of addressing infrastructure challenges. Limited access to computers, internet connectivity, and technological resources posed obstacles to the smooth operation of the Tech4Ed e-Services. To overcome this, it is crucial to invest in and upgrade the correctional facility's technological capabilities, ensuring sufficient infrastructure to support the initiative. JO1 Arjay H Aguda states the current challenges and future plans of the Tech4Ed Program.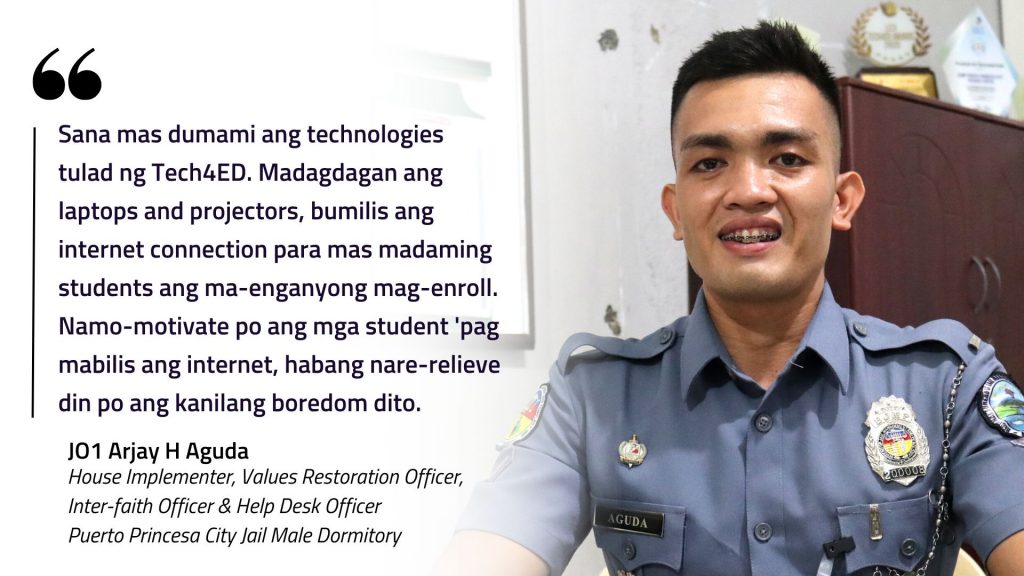 Another lesson is the need for comprehensive training and capacity building. Enhancing digital literacy skills among PDLs and staff, improving center management capabilities, and providing technical proficiency training can significantly improve the efficiency and impact of the Tech4Ed e-Services. Continuous training programs are essential to maximize the benefits of the digital learning platform and other services provided.
Sustainable funding emerged as a critical area of improvement. To sustain and expand the Tech4Ed e-Services, reliable and long-term funding sources must be identified. Exploring partnerships with government agencies, non-governmental organizations, or private entities, and integrating the initiative into broader funding strategies can ensure its continued operation and growth.
Monitoring and evaluation play a vital role in understanding the program's progress and impact. Establishing a robust monitoring and evaluation framework, including regular assessments of outcomes, the effectiveness of training programs, and feedback from PDLs and staff, can provide valuable insights for making adjustments and improvements.
Resources
Sugay, J. J. (2023, January 13). Tech4Ed Champions sa rehiyon, kinilala. Ugnayan ng DICT at mga stakeholders, higit na palalakasin. Philippine Information Agency. https://pia.gov.ph/news/2023/01/13/tech4ed-champions-sa-rehiyon-kinilala-ugnayan-ng-dict-at-mga-stakeholders-higit-na-palalakasin
Taboada, J. J. (2020, March 16). Jail visits replaced by supervised video conferencing among PDLs. Palawan News. https://palawan-news.com/jail-visits-replaced-by-supervised-video-conferencing-among-inmates/