Overview
Project TEACH is an innovative program in Mandaluyong City that provides therapy, education, and assimilation for children with disabilities. The program has served over 1,200 children since its inception in 2007, with a variety of disabilities ranging from autism to cerebral palsy. One of the main challenges faced by the program was the integration of mainstreamed students into regular schools. However, through the years, Project TEACH has been able to achieve significant progress in mainstreaming students, with over 900 students mainstreamed since 2011. The program's success can be attributed to its holistic approach, providing therapy and education for the children, as well as support for their families. The program has received numerous awards and recognitions, including the United Nations Public Service Awards, Galing Pook Awards, and the People Program of the Year Award by the People Management Association of the Philippines.
Challenge
Before the program's implementation, children with disabilities in Mandaluyong City were not receiving the specialized attention and care they needed to develop academically and socially, which limited their ability to participate fully in society. This issue was further compounded by the stigma associated with disabilities in the Philippines, which made it difficult for families to access appropriate resources and services.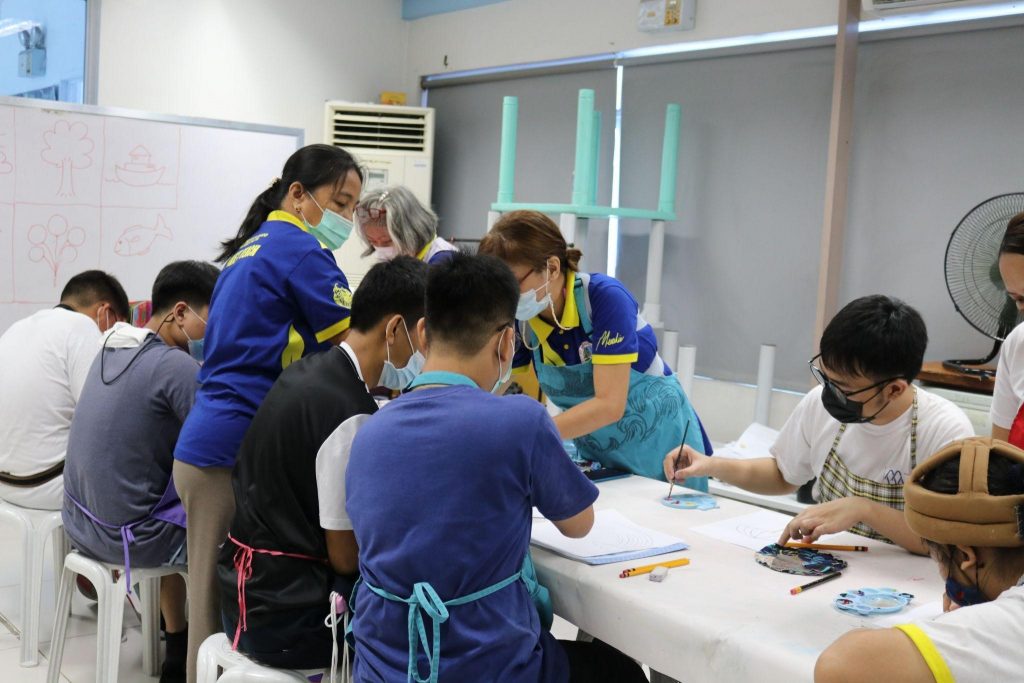 Project TEACH was designed to address these challenges by providing a comprehensive program that integrates education, therapy, and community support for children with disabilities. By doing so, the program has helped to improve the productivity and quality of life for children with disabilities, enabling them to develop their skills, talents, and interests, and to participate more fully in society. This has also helped to break down some of the social and cultural barriers that previously existed, promoting greater understanding and acceptance of individuals with disabilities in the Philippines.
Solution
Project TEACH addresses the challenge by investing in the development of children with disabilities. The program recognizes that by providing specialized support services, these children will be able to reach their full potential, become productive members of society, and contribute to the overall productivity of the community.
By providing access to a network of free medical, rehabilitative, educational, and related services, Project TEACH promotes good governance and restores public trust by ensuring that even the most vulnerable members of the community are taken care of. Proactively collaborating with stakeholders such as private sector organizations, relevant government agencies, and beneficiaries, the project team is minimizing the waste of resources as the interventions are tailored according to the needs of the children and their families. By doing so, the project proponents can maximize resources and do more with less, benefitting the entire community.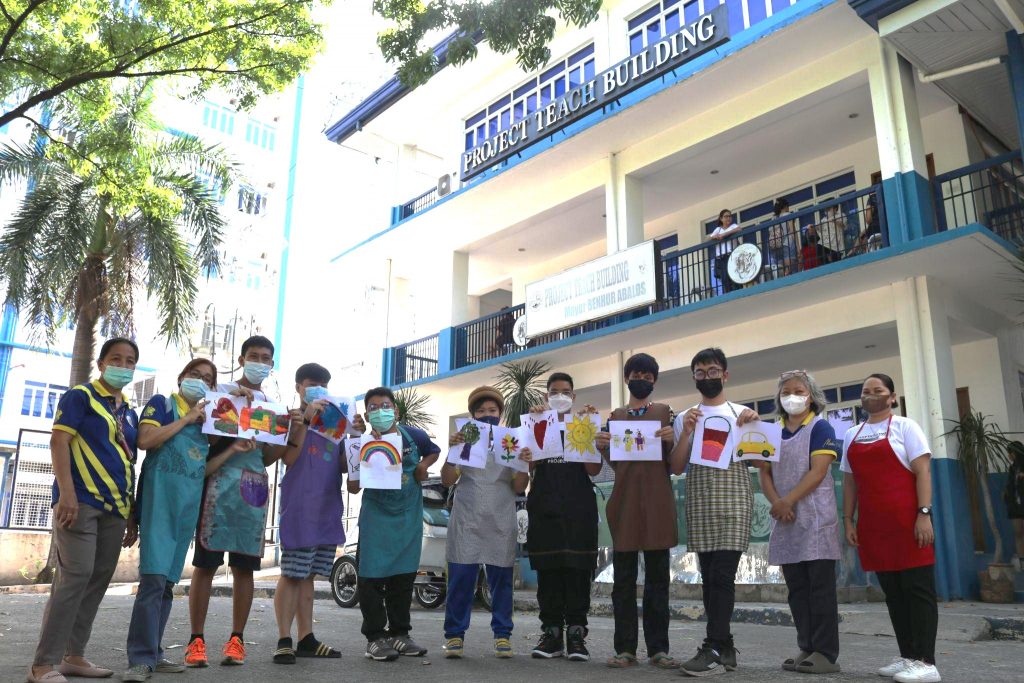 According to Jeanne Marie Angelica T. Nahial, a teacher at Project TEACH, one of the program's innovative features is its focus on bringing diagnostic and therapy services closer to Mandaleños.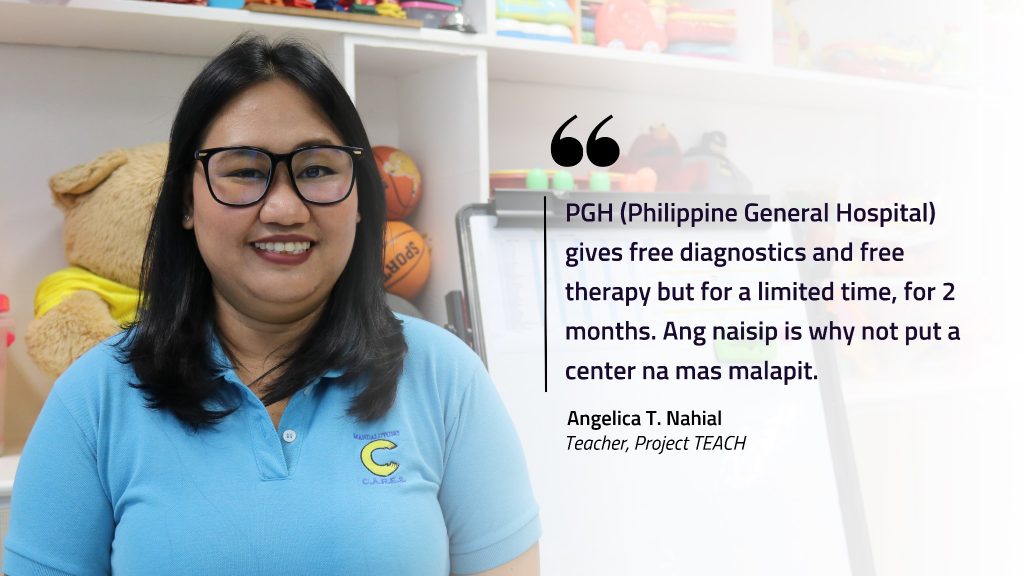 Project TEACH has implemented several innovations to promote the education and well-being of children with special needs in the Philippines. These innovations include:
Mandaluyong Center for Alternative Rehabilitation and Education Services (Mandaluyong CARES). Mandaluyong CARES is a non-profit facility that provides physical, occupational, speech therapy, and special education (SpEd) services to indigent special children in Mandaluyong City. The center advocates early intervention to promote the optimum functioning of the child and is rooted in the Community-Based Model, which promotes the empowerment of the client and the family toward community integration. This center serves as a hub for early intervention and provides a comprehensive range of services including physical, occupational, speech therapy, and SpEd services to special children from indigent families in Mandaluyong City. The key components and activities of this facility are as follows:

User needs assessment: The proponents of Project TEACH assessed the local community and identified the need for a center that catered to the rehabilitation and education needs of special children from indigent families.
Fundraising: They sought financial support from local government units, non-profit organizations, and other stakeholders to establish and sustain the center. They secured necessary resources such as therapy equipment, educational materials, and qualified staff.
Partnerships: The proponents collaborated with relevant organizations, such as hospitals, schools, and community groups, to ensure a holistic approach to rehabilitation and education services. They built partnerships that provided expertise, referrals, and support.
Purpose-built building: They constructed a building that is conducive to providing therapy and educational services. The facility is a child-friendly infrastructure that is accessible both to the children and their families.
Human resources: The proponents hired skilled professionals such as therapists, SpEd teachers, and support staff who are passionate about working with special children. They provided training and continuous professional development opportunities to enhance their skills and knowledge.
Program development: They tailored therapy and educational programs to meet the unique needs of each child. They conducted assessments to identify areas of improvement and developed personalized plans to maximize their potential. This helps ensure that project resources are optimally utilized.
Early intervention strategy: The proponents emphasized the importance of early intervention by providing services to children as early as possible. They offered screenings, evaluations, and interventions that focused on early developmental milestones.
Community and family engagement: They involved families and communities in the rehabilitation and education process. They provided support, education, and training to parents and caregivers to empower them in assisting their children's progress.
Monitoring and evaluation: The proponents established a system to monitor the progress of children and evaluate the effectiveness of the services provided. They used outcome measures and feedback from families to continuously improve the programs.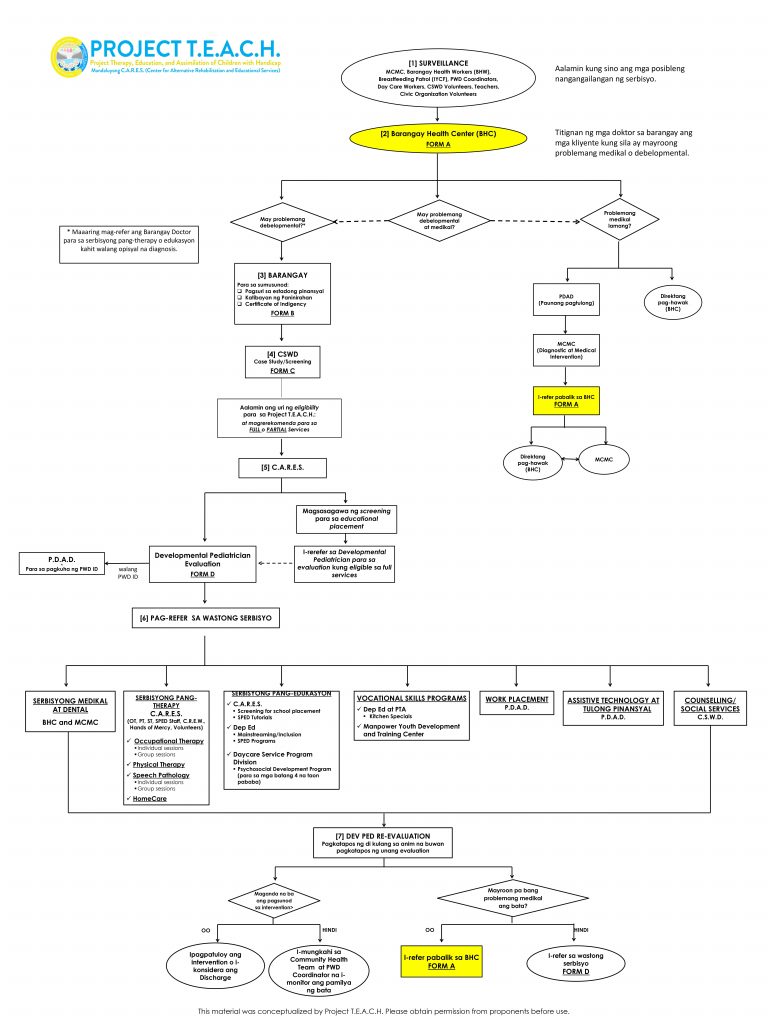 Clustering Scheme. As part of Project TEACH, a clustering scheme was implemented to enhance the delivery of Special Education (SpEd) programs. The scheme involved regrouping students in SpEd programs into more homogenous sections and assigning specialty or focus curricula/programs to each public school in the city with SpEd programs. By implementing this scheme, schools were able to specialize in addressing the specific needs of each disability, ensuring that students receive targeted support tailored to their requirements. This cost-effective approach enabled schools with limited resources to accommodate a greater number of students in need of these specialized services. The key activities of the clustering scheme included the following:

SpEd Program Assessment: The proponents of Project TEACH evaluated the current SpEd programs in their city or region to understand the capacity and resources available in each school. They identified schools that could benefit from a clustering scheme to optimize resources and accommodate more students with special needs.
Identification of homogenous sections: They analyzed the demographics, learning needs, and abilities of the students in SpEd programs. Based on this information, they regrouped the students into more homogenous sections to facilitate targeted instruction and support.
Assignment of specialty curricula/programs: They developed specialty or focus curricula/programs that aligned with each group of students' specific needs and strengths of each group of students. This involved partnering with experts in the field, adapting existing programs, or creating new materials tailored to the identified areas of focus.
Collaboration with schools: The proponents engaged with public schools in the city to establish partnerships and secure their commitment to implementing the clustering scheme. They discussed the benefits of the approach, emphasizing how it could help schools better allocate resources and enhance support for students with special needs.
Capability development and support: They conducted training sessions for teachers and staff involved in the SpEd programs to ensure they understood the objectives and strategies of the clustering scheme. They offered ongoing support and professional development opportunities to enhance their capacity to deliver effective instruction and support to the students.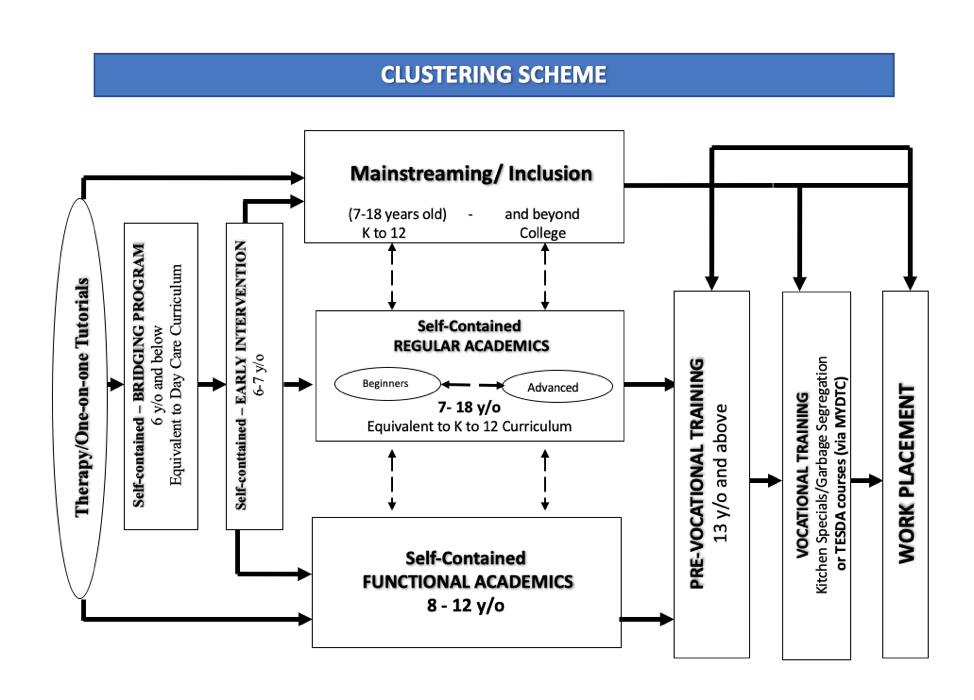 SpEd Educational Placement. This is an annual evaluation of children with special needs to determine the appropriate educational program that best suits their skills, performed by the SpEd Teacher and Mainstreaming and Inclusion Coordinator.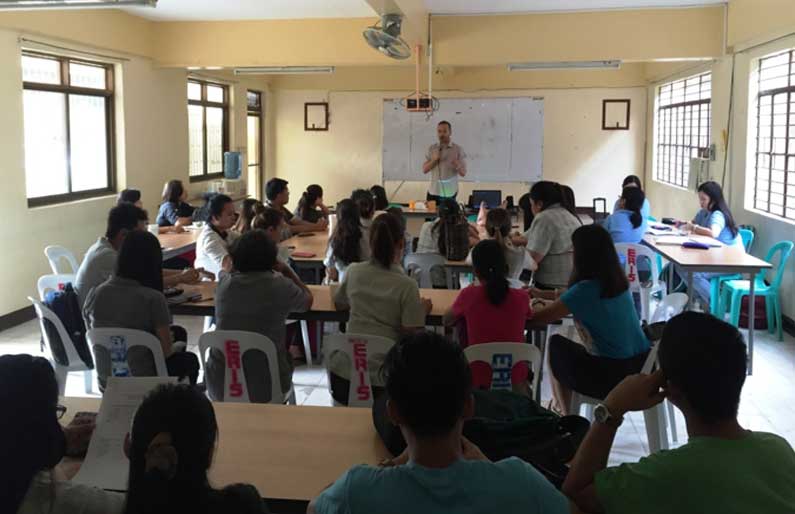 High School for the Hearing Impaired. This was established to cater to teenagers for proper accommodation and placement located in Eulogio Rodriguez Integrated School, one of the partner public schools of Project TEACH.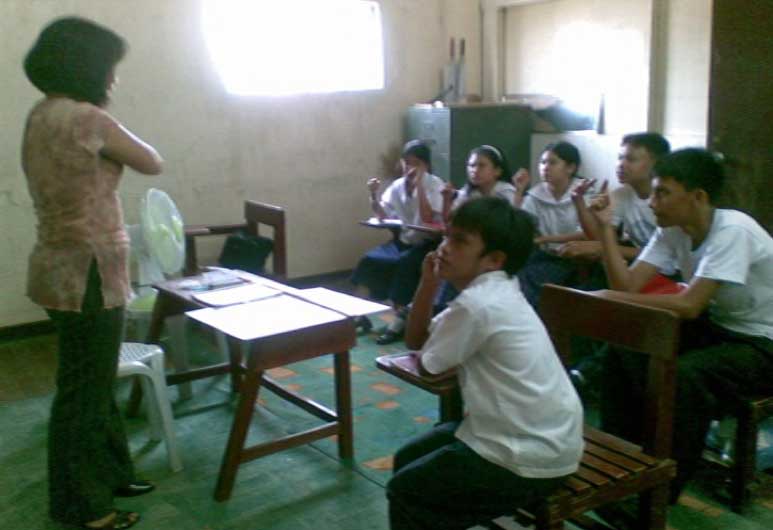 Kitchen Specials (KS). KS is a vocational program that addresses young adult beneficiaries' need for vocational training of young adult beneficiaries. Through the program, public school canteens are now being supplied with healthy and affordable snacks prepared by individuals with special needs. Part of the sales derived from these goods is given to the beneficiaries-students to help augment their family's income.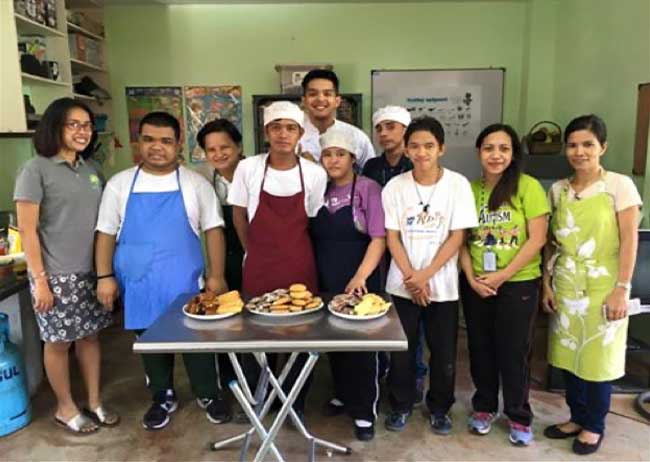 Online/Alternative Learning. As a response to the abrupt and profound changes brought about by the COVID-19 pandemic, online and alternative modes of learning were also rolled out. Infographics, modular programs, therapeutic exercises, and fitness videos were utilized, as well as online monitoring, video feedback, and teletherapy sessions. Printed handouts and learning materials were also distributed, and instructional videos were saved on on-the-go flash drives and distributed to those without internet access.
Electronic Health Records. This has streamlined data collection and analysis processes, significantly improving efficiency and benefiting the evaluation of children's progress and the program's effectiveness. This enables healthcare professionals involved in Project TEACH to access patient records seamlessly, regardless of their location. This is advantageous for children receiving therapy in multiple locations or those unable to visit the clinic regularly. EHR ensures that healthcare professionals have instant access to comprehensive patient information, including medical history, therapy plans, and progress reports, fostering continuity of care. The digitized nature of records eliminates the need for physical storage and minimizes the risk of misplaced or lost files. This enhances data security and safeguards sensitive information, adhering to privacy regulations and ensuring confidentiality. Moreover, EHR facilitates seamless collaboration between healthcare professionals by allowing easy sharing of patient information. This collaboration ensures that treatment plans are well-coordinated and tailored to each child's needs. By eliminating the need for manual data transfer or relying on fragmented information, EHR promotes effective communication and informed decision-making among healthcare providers and optimizes workflow, and saves valuable time for healthcare professionals.
These innovative programs and services have helped provide better opportunities for children with special needs in Mandaluyong City, promoting their independence, improving their quality of life, and helping them reach their full potential.
Productivity Gains, Outcomes, and Impact
Project TEACH has received several awards and recognitions, including the Development Academy of the Philippines' Government Best Practice Recognition in 2019, for its success in addressing the needs of children with disabilities and their families. Venus Pedro, a parent volunteer, hopes other LGUs will replicate this program to help those with special needs.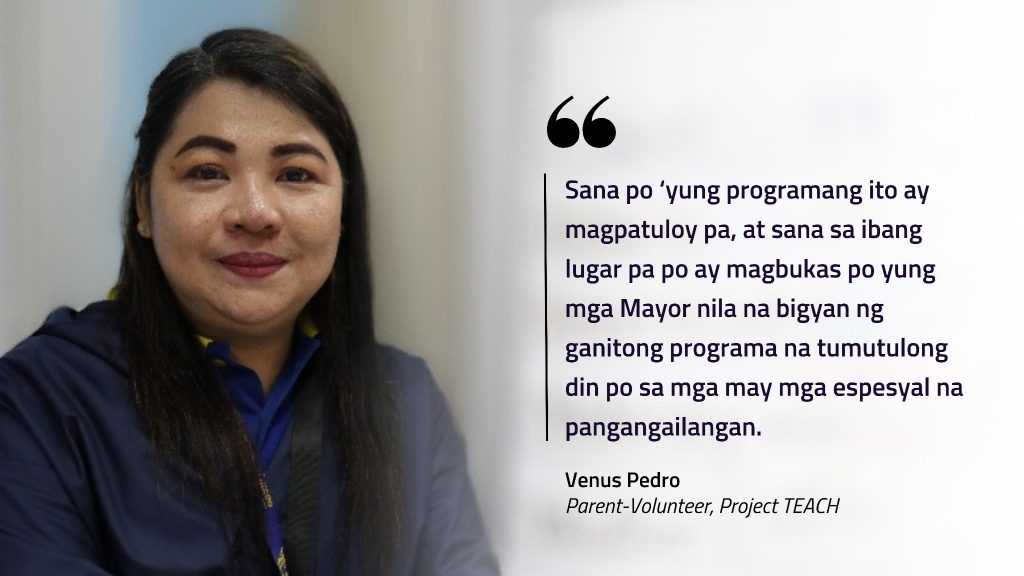 The program has also helped students like Jerico Pedro, who aspire to join the workforce as office clerk. He said he had learned important skills such as encoding and wanted to be an office clerk someday.
Abelardo Apollo I. David, Jr., founder of REACH Foundation and co-proponent of Project TEACH, stresses the importance of documenting the progress to demonstrate success and motivate supporters.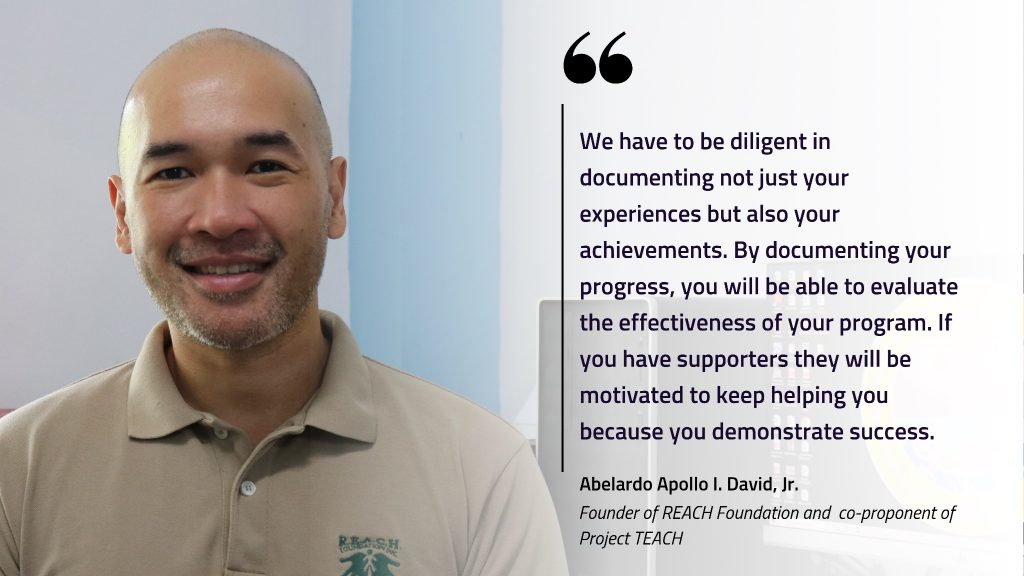 One of the primary outcomes of Project TEACH is the mainstreaming of children with disabilities into regular schools. The number of mainstreamed students has increased steadily over the years, with 186 students mainstreamed in the 2021-2022 school year. The Parent Report on Patient's Progress also revealed that as of April 2023, 92% of the children who received support from Project TEACH have shown improvement.
The program was able to come up with a citizen-centered approach to the provision of specialized services to children with disabilities by offering a range of interventions tailored to the specific needs of each child. The data shows that the most common disabilities served by the program are Autism Spectrum Disorder (21%) and Intellectual Disability (19%), with Attention-Deficit Hyperactivity Disorder (14%), Global Developmental Delay (12%), Communication Disorder (9%), Cerebral Palsy (7%), and other disabilities making up the remaining 28%.
Project TEACH has demonstrated its effectiveness in improving the productivity performance of the City Government of Mandaluyong by addressing the needs of children with disabilities and their families. The program's measurable outcomes, including the number of mainstreamed students and the Parent Report on Patient's Progress, show that it is positively impacting the lives of its intended beneficiaries. The program's innovative features, such as its holistic approach and active involvement of parents and caregivers, make it a model for other programs seeking to improve the lives of children with disabilities.
Lessons Learned and Challenges in Implementing the Intervention
The project's success is largely attributed to the partnerships between the local government, non-government organizations, and other external stakeholders. These partnerships allowed for the pooling of resources, sharing of knowledge and expertise, and better coordination of services.
Another important lesson is the need for ongoing evaluation and monitoring of the project's impact. By regularly assessing the project's outcomes and making adjustments as necessary, the team can ensure that the project meets its objectives and produces measurable results.
One area of improvement for Project TEACH is the need to address the issue of sustainability. The project relies heavily on external funding, making it difficult to maintain the project's services over the long term. The team may need to explore alternative funding sources or develop strategies to generate income to ensure the project's sustainability.
Another potential area for improvement is the need for greater community engagement and participation. The project could involve the families of the beneficiaries more in the planning and implementation of the project. This helps ensure that the project is better aligned with the needs and priorities of the community and that it is more effective in achieving its goals.
Overall, Project TEACH is a testament that innovation in the public sector can rely on something other than high-level technology. By actively involving stakeholders such as the children's parents and offering fit-for-purpose solutions, the Mandaluyong City Government and REACH Foundation are effectively and efficiently using their available resources for the welfare of their beneficiaries.
Resources
Business Mirror. (2021, September 21). Mandaluyong LGU bags PMAP 2021 National Exemplar-People Program of the Year (PPY) in Public Sector Award. Business Mirror. https://businessmirror.com.ph/2021/09/21/mandaluyong-lgu-bags-pmap-2021-national-exemplar-people-program-of-the-year-ppy-in-public-sector-award/
Project Therapy, Education and Assimilation of Children with Handicap (TEACH). Galing Pook Awards. (2012, December 1). https://www.galingpook.org/what-we-do/awards/awardees/project-therapy-education-and-assimilation-of-children-with-handicap-teach/
United Nations. (2015). Project TEACH. United Nations Public Service Innovation Hub. https://publicadministration.un.org/unpsa/database/Winners/2015-Winners/Project-TEACH