Organization
City Government of Parañaque
Best Practice Focus Area/s
Strategy, Citizens / Customers, Operations
Year Implemented
19 March 2019
This is a Recognized Best Practice
Summary
The City Government of Parañaque implemented the Project Express Lane Operation (ELO) as part of the reform strategies to address the current pressing issues and concerns on local permits and licenses while improving the City's responsiveness to increase business and consumer confidence delivery of public services. The Project successfully simplified and integrated all concerned departments and office processes into three procedures: application, payment, and releasing. The Project was institutionalized with Executive Order 18-14 dated 24 May 2018, 4 days before RA 11032 was enacted.
Background and Problem
The Government of the Philippines has been advocating for reducing red tape in both national and local governments since 2001. The government issued a directive to reduce the number of procedures and requirements in every government transaction to achieve a business-friendly and investor climate following the country's performance in various global competitiveness reports. The issuance of Executive Memorandum Order No. 117, series of 2003, served as the preliminary legal basis of the local government to simplify and rationalize the distribution of local permits and clearances such as business permits, building permits, certificates of occupancy, and other clearances in terms of documentary requirements, procedures, processing time, signatories, and costs.
Following the directive of the national government to further streamline regulatory processes and requirements in local permits and licenses and improve the country's competitiveness ranking, the Project ELO Team has identified the following challenges: 1) process complexity, i.e., multiple forms/documentary requirements/signatories, redundancy in requirements, 2) high cost of doing business, 3) the number of unregistered business establishments, 4) inter-department collaboration/coordination, 5) harmonization of policies and regulations at the national and local level, 6) building trust and confidence between local government and customers/taxpayers.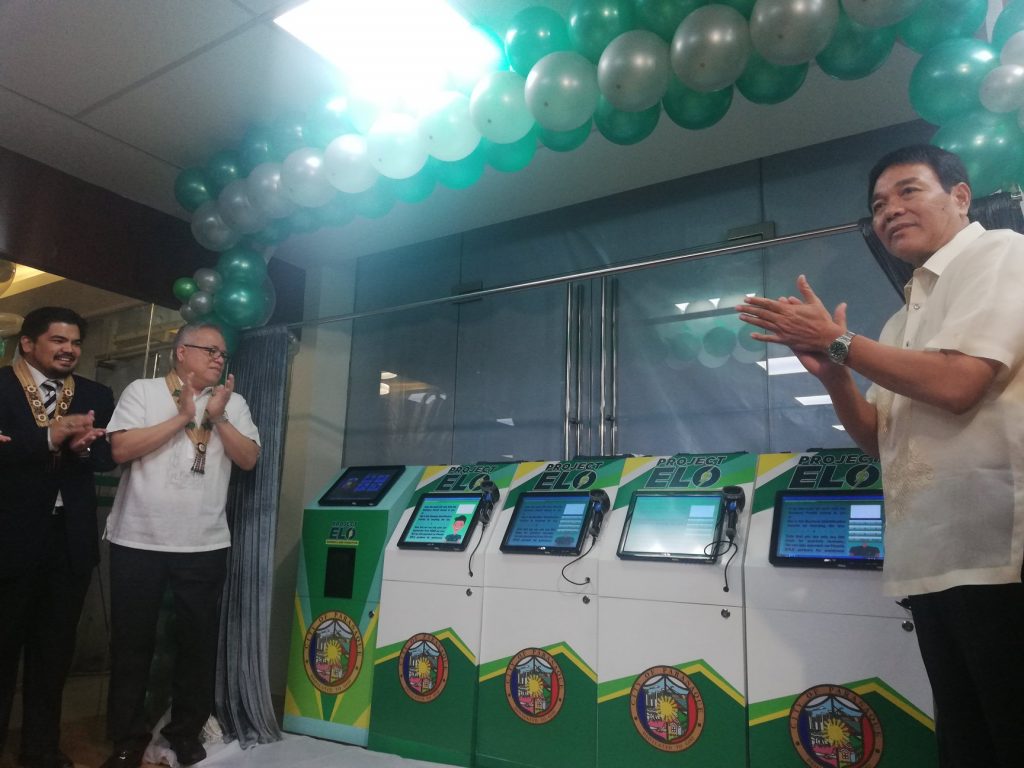 Solution and Impact
The City Government of Parañaque, through the Business Permits and Licensing Office (BPLO), conducted a series of consultations and workshops to understand and map out the process and requirements relative to the business permitting process. A detailed Department Analysis Process Observation and Action Plan were presented to the local chief executive (LCE).
Project ELO 2.0 was launched as an enhanced system to integrate the occupational permit process and use technology-enabled applications and systems to promote the digital economy at the local level. The Project also introduced innovative features on unified application forms and requirements, co-locating all departments/offices, including BFP, integration of barangay clearance, one-time assessment, payment, smart kiosk machine, document management system, and application tracking system.
Reduction of procedures and time from 19 steps, seven days in 2013 to 3 steps, one day in 2019
Increase in business tax and fees collection from 1.041B in 2013 to 3.023B in 2019
Increase in business registrations: From 23,447 to 26,945 or increase of 15% or 3,498 new business registrations in 2019.
Milestones/Next Steps
The City Government implemented Executive Order No. 018, series of 2013, to create an interdepartmental task force that will manage, execute, and enforce business-related reforms to reduce the number of procedures from 19 to 4, processing time from 7 to 3 days, and signatories from 3 to 1
By 2016, the administration's 10 Point Socio-Economic Agenda emphasized the need "to increase competitiveness and ease of doing business" by addressing bottlenecks in business registration at the national and local governments.
Institutionalization of the BPLO under Ordinance No. 17-43 dated 14 December 2017
Institutionalization of the Project ELO under Executive Order No. Order 18-14 dated 24 May 2018
This was followed by the passage of RA 11032 or the "Ease of Doing Business and Efficient Government Service Delivery Act of 2018".
Development of new features such as Online Appointment System, Online Business Application, Use of Online Courier and Delivery Services, Adoption of e-Payment Facilities, and e-Receipts for local government transactions.