Title of Productivity and Innovation Initiative
Mauban eLearningVille
Implementing Agency
Municipal Government of Mauban, Quezon
Year Implemented
2011
Theme/s
Digitization & New Technologies
General Description
Mauban eLearningVille is the Technology for Economic Development (Tech4Ed) Center of the Municipal Government of Mauban, Quezon. It was established on September 22, 2011, through Sangguniang Bayan Resolution No. 08-2011, as a Public-Private Partnership Program of the Mauban LGU, Quezon Power Philippines Limited. Co., PLDT, the Department of Science and Technology-Information and Communications Technology Office (DOST-ICTO), National Computer Center (NCC), University of the Philippines Open University (UPOU), the Representative of Quezon Province's first congressional district, and the Philippine Community eCenter Network, Inc.
Background and Problem
Mauban is a first-class coastal municipality in the northeast section of Quezon Province composed of 40 barangays, 10 of which are located in urban areas. Although the municipal government offers various initiatives to provide quality education for all, ICT education was said to be very limited due to the absence of ICT facilities, equipped trainers, and the lack of access to the Internet. In 2011, several computer shops emerged in the municipality. However, these facilities were not conducive to learning given that most are set up primarily for online gaming. This paved the way for the introduction of the Mauban eLearningVille to address the digital divide and contribute to the digital literacy of residents in the municipality.
Solution and Impact
Mauban eLearningVille serves as the ICT hub in Mauban providing constituents with affordable Internet and computer access, ICT skills training opportunities, and free co-working space for webinars and virtual meetings. Most of the clients are barangay leaders, NGOs, and farmers who do not have access to the Internet. The center also conducts basic digital literacy training and various other skills training and seminars, such as English as a Second Language (ESL), MS Office Applications, Adobe Photoshop, and many others. It has helped individuals from different walks of life, including teachers, students, senior citizens, indigenous people, and persons with special needs. Mauban eLearningVille also supports the LGU in developing information, education, and communication (IEC) materials, such as emergency hotline stickers for all households within the municipality, brochures, manuals, and tarpaulin announcements among others.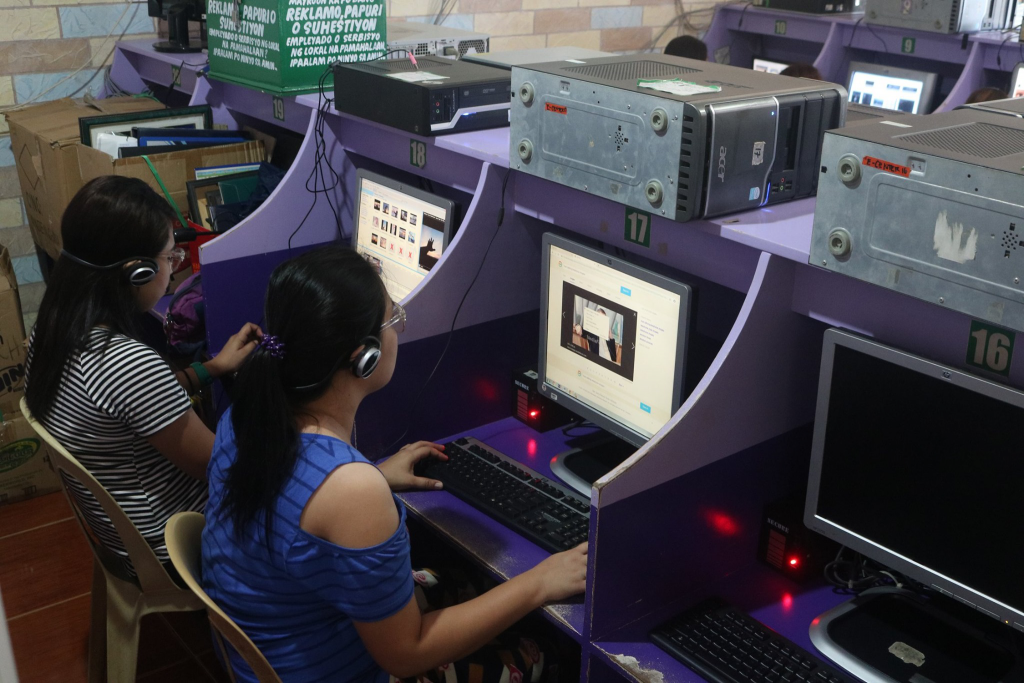 The Tech4Ed Center also renders other ICT-related services for the LGU. In partnership with the Municipal Agriculture Office (MAO), Mauban eLearningVille facilitates the encoding of application forms of over 1,000 fisherfolks and coconut farmers in the municipality for the Registry System for the Basic Sectors in Agriculture (RSBSA), which is a registry of farmers, fisherfolk, and farm laborers that serves as a basis for the identification of beneficiaries of Bayanihan Act II subsidy and other agriculture-related programs and services of the government.
In partnership with DSWD, the center also helped expedite the printing and distribution of the Social Amelioration Program (SAP) forms to over ten thousand families in the municipality during the pandemic. To enable efficient contact tracing, it also facilitated the processing and issuance of Authorized Person Outside Residence (APOR) IDs for teachers in Mauban who are residing outside the municipality. The center was also in charge of issuing travel clearances, Municipal Inter-Agency Task Force (MIATF) IDs, and BIR forms.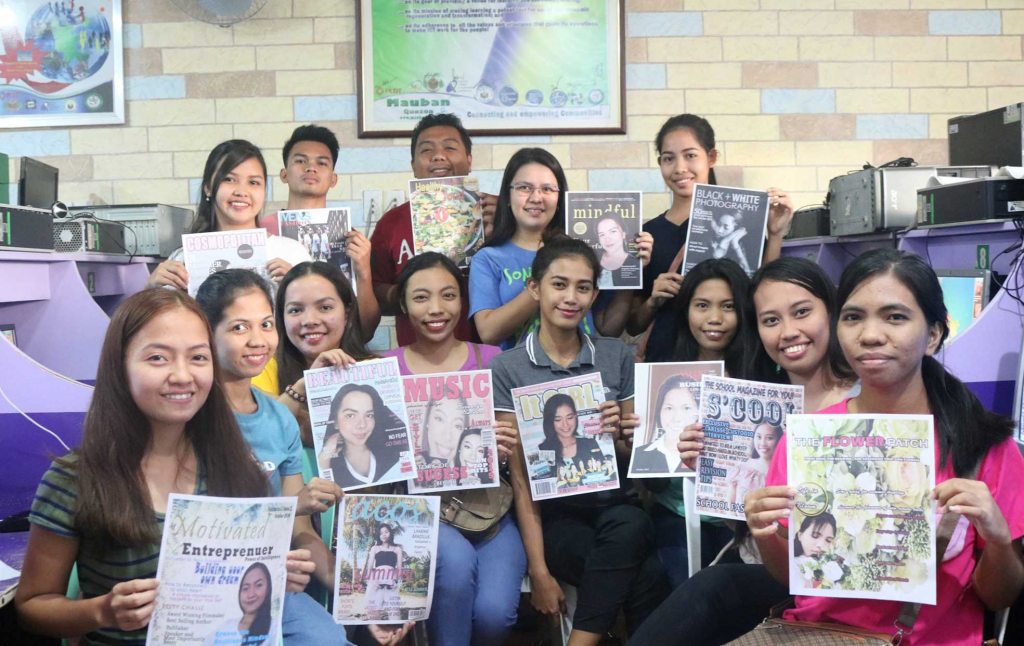 Mauban eLearningVille also supports the Teachers Development Program/En­hanced Continuing Education Program for Mauban (TDP/eCEP4Mauban) of the UPOU, in collaboration with Quezon Power Philippines Limited Co., the Department of Education Division of Quezon Province (DepEd-Quezon), and the UPOU Foundation Inc., which aims to improve the quality of education in Mauban by providing scholarship grants for public school teachers and government employees who desire to pursue graduate studies in UPOU. The center provides facilities for the ICT needs of the scholars and functions as their enrollment and examination center.
To date, Mauban eLearningVille continues to serve as the training arm of the LGU in equipping the unemployed members of the community with relevant ICT skills needed for employment. The ICT skills training in Mauban eLearningVille is recognized by DepEd-Quezon, hence many trainees who successfully completed the course were able to land a job in DepEd immediately, according to Conchita Marta Mirabueno, Tech4ED Center Manager of the Mauban eLearningVille. She explained, "At first, our aim was just to provide quality education among children in Mauban. [Moreover] this program has helped us a lot in the improvement of our livelihood and our career. There are [now] more empowered men and women in the municipality."
Milestones
Mauban eLearningVille was recognized as an outstanding Tech4Ed Center during the 12th Knowledge Exchange Conference of the Department of Information and Communication Technology in Pasay City in September 2017. In 2016, it received recognition for its more than five fruitful years in service during the 11th Knowledge Exchange Conference held in Quezon City. In 2015, it was awarded the Most Outstanding Community eCenter (CeC) Innovator for iLevel Up Pa More during the 10th Knowledge Exchange Conference in Bacolod. In the same year, the center won 2nd Place in the DigiBayani Award for Digital Literacy by Intel Philippines. In 2012, it became one of the finalists for the Most Outstanding Community eCenter during the 8th Knowledge Exchange Conference in Davao City. In 2013, it was a finalist in the 1st Global Telecentre Awards during the 9th Knowledge Exchange Conference at SMX Convention Center.
Testimonial
"Ang mga magulang ko po ay nangangalakal lamang ng basura, kung hindi po dahil sa eLearning, hindi ko po magagawa ang mga school projects ko dahil wala kaming pera pambayad sa internet shop, dahil po mura sa kanila at bukas araw araw kaya naipaasa ko po ang mga school requirements ko on time".

Ms. Zara Luma (2016), SHS student
"I had zero knowledge in [using] computer and I joined their 10 days digital literacy for teachers. I used it in my demo teaching when I applied for ranking at DepEd Quezon, luckily, I got a perfect score of 10 because of the knowledge I learned and used during the demo. Now I am a permanent secondary teacher at Dr. Maria D. Pastrana National High School."

Rhianne Carla M. Gandia (2016), Teacher applicant
"Wala po kaming computer at Internet sa bahay kaya malaking tulong po sa tulad kong estudyante ang eLearningVille. Nakakagawa po ako ng mga research at nakakapag-submit ng assignments and projects dahil open ang eCenter mula 8:00 AM hanggang 9:00 PM. Nabibigyan din po ako ng free access dahil sa madalas kong paggamit ng computer dito sa eCenter. Kaya naman lalong malaking tulong sa 'kin at sa pamilya ko."

Nicole Adriano Princess Jade Calleja, Student
References
Aman, J. (2018). (rep.). Mauban eLearningVille Nomination Form.
Mirabueno, C. (2018). Mauban eLearningVille. Quezon; Mauban.
Romualdo, A. (2018, May 2). Making ripples in Mauban. University of the Philippines. Retrieved from https://up.edu.ph/making-ripples-in-mauban/
Municipal Government of Mauban, Quezon. (2018). Mauban eLearningVille. Retrieved from https://www.youtube.com/watch?v=FdItsy5Fr4U&ab_channel=MaubaneLearningVille
Verena, R., & Gelisan, L. (2019, September 2). Teacher development program stakeholders renew partnership. University of the Philippines Open University. Retrieved from https://www.upou.edu.ph/news/teacher-development-program-stakeholders- renew-partnership/