Name of the Organization
Provincial Veterinary Office of Marinduque
Name of the Office/Unit that leads the implementation of this best practice entry
Provincial Veterinary Office of Marinduque
Focus Area of the Best Practice
Leadership, Strategy, Citizens / Customers
Date the best practice was first implemented
01 January 2004 – up to present
Summary of the Best Practice
The Marinduque Veterinary Field Hospital (MVFH) is an integral program that reinforces the Marinduque mobile veterinary services, which seeks to provide compassionate veterinary care to companion and farm animals in rural and small communities. It is the first innovative method of bringing veterinary service to the countryside.
The concept started way back in 2004 with continuous upgrading and innovation to meet the ever-changing needs of the time. The Veterinary Field Hospital provides multi-faceted services catering to the mandate of the Provincial Veterinary Office by providing animal health services such as the spay and neuter program, animal production services, information and dissemination campaigns, veterinary medical missions on calamity stricken areas not only in the province of Marinduque but also in other parts of the country that includes animal and wildlife rescue including marine mammal rescues and rehabilitation. The goal is to extend help to pet owners, livestock farmers, and all animal lovers to make them our leading partners in promoting responsible pet ownership and making them successful farmers and empowered citizens.
Objectives
Its main objective is to boost the office's mandate by bringing veterinary services right to the doorsteps of our constituents. Those mandates include the control and manage the outbreak of highly contagious and deadly animal diseases with economic and public health importance and in situations resulting in the depletion of animals for work and human consumption, and to enforce all laws and regulations for the prevention of cruelty to animals, to eradicate, prevent or cure all forms of animal diseases and to regulate the keeping of domestic animals and to protect wildlife.
Unique key features
The Marinduque Veterinary Field Hospital is equipped with proper tools, medicines, and basic facilities that provide proper veterinary services in aesthetic pleasure free of charge to rural and marginalized communities. The MVFH is deployed every Tuesday to Thursday, servicing all Barangays all year round through a systematic and highly coordinated manner to maintain its cooperation with local government partners and efficient and effective delivery of veterinary services to the community.
The Challenge
In the late 90s and early 2000s, an average of seven and a maximum of twelve human deaths due to rabies were a predominant occurrence in a 95,925 hectares island Province. A relatively high number on a small island. Factors observed contributing to the problem were:
While a high number of dog bite incidences occurred, only 576 in 2001 and 237 in 2010 were reported to local health facilities compared to 2155 in 2018. This means that in the late 90s and early 2000s, the community and dog bite victims had little knowledge of the correlation between the number of stray dogs, dog bites, rabies, anti-rabies programs, and health care programs against the dreaded disease.
Though fairly in the early 2000s, rabies vaccination reached approximately 7,000 dogs and cats vaccinated annually. But still, human deaths were prevalent, and many dog bite victims were not subjecting themselves to proper health programs to address the rabies incidence. This means that the community may have been participating less in the anti-rabies programs, information and dissemination campaigns, and other related veterinary services. The consequential effect of this low knowledge and awareness of the community was low citizen participation in the policies and programs related to addressing the rabies problem, relatively high numbers of contributory factors that cause the disease spread, and the consequential high human mortality rate.
Due to these factors, the Provincial Veterinarian was initially compelled to address the rabies problem radically by eliminating stray dogs accompanied by jabs of other mobile veterinary field services. The early stage of veterinary mobile field services in 2004 used traditional methods, medicines, newspaper drapes, and conducting spay and neuter surgeries and other treatment and surgical procedures for all animals under the waiting sheds. Only a few appreciated the services at that time yet had introduced the dynamics to the community. The radical approach brought instant and effective effects that eliminated rabies and ceased human deaths due to rabies in 2006, and the introduction of mobile veterinary services was clearly emphasized. However, the efforts still gained negative criticism and deterred measures against the skeptic community.
Fortunately, with continuous effort and innovation of the team leader and the introduction of external organizations such as the Japan International Cooperative Agency and Humane Society International, who extended their arms, helped reboot the methodologies and upgrade the technology conducted to maintain the hard-earned rabies-free status, preserve the momentum of delivering other veterinary services to other animals closer to their homes and increase the capability to respond the increasing number of wildlife animals brought for rescue and treatment. This resulted in innovation from essential mobile veterinary services to now as Marinduque Veterinary Field Hospital program incorporated with the creation of the Marinduque Animal and Wildlife Rescue Emergency Response Team.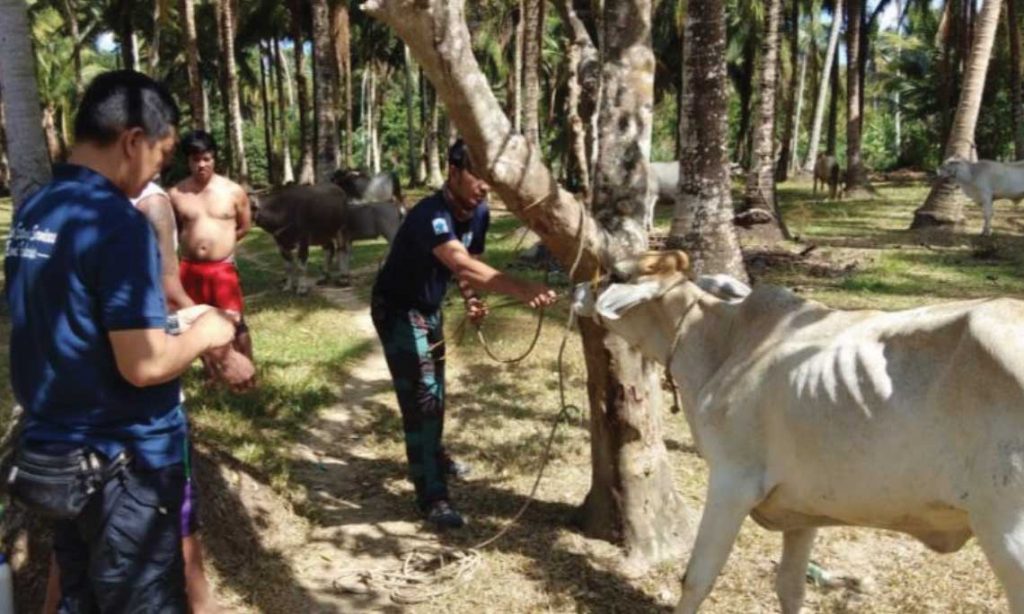 Solution and Impact
The early stage of veterinary mobile field services in 2004 used traditional methods, medicines, newspaper drapes, and basic equipment's while conducting spay and neuter surgeries and other treatment and surgical procedures for all animals under the waiting shed. The mobile veterinary field service, accompanied by the radical approach of stray dog elimination at that time, brought instant and bold results, specifically the cessation of human deaths due to rabies and the declaration of the rabies-free status of the province. Yet, it received tremendous negative and deterring criticism. Several outside organizations were contacted and supported to maintain its hard-earned results, resulting in upgrades and a dynamic shift of methodologies to continually deliver and sustain the significant intended impact on the community.
International foundations such as Japan International Cooperative Agency (JICA) and Humane Society International (HSI) provided support to alleviate the measures by providing technology transfer and equipping the Provincial Veterinary Office through modern spay and neuter programs. The program's main activity is the surgical removal of the reproductive organs of dogs and cats to prevent the birth of unwanted litters contributing to the overpopulation of unwanted animals that increases the transmission of rabies. The main concept and goal of the program are that the higher the number of dogs spayed and neutered will decrease the number of stray dogs that transmits the virus, resulting in a reduced transmission factor, which then increases the probability of eliminating the rabies virus in the ecology of the province. The equipping and technology transfer activity allows the PVO to provide spay and neuter programs to every barangay in the most efficient, effective, and aesthetic way. Though it was conducted in the early '90s under a waiting shed, the upgrade of technology and facilities gained traction in the community resulting in increased community participation and confidence in the program.
At first, technical skills were developed under the HSI and JICA training. Efficient and effective methodologies were transferred as well as latest medicines were provided. This is followed by providing basic to advanced surgical tools and equipment and immediately implementing the activities. Along the way of implementation and the consequential support of our impressed local government leaders', innovations were hasted, modern mobile tents and advanced medical tools were purchased and used, effective communication and coordination with local officials were strengthened, and intensification of information and dissemination efforts during daily deployment was instituted.
Up to now, the deployment of the Veterinary Field Hospital is every Tuesday to Thursday. Barangays were selected based on the number of dog bite incidents, the incidence of rabies deaths, dog and human population density, local initiatives, community requests, the number of stray dog population, geographical location, topography, and season. When barangays are selected, proper communication and coordination with local officials will follow. Methods of communication include official letters, radio announcements, house-to-house calls, and local postings to inform all community members to participate in the program. Follow-up phone calls and currently, online posts are also currently conducted. Upon arrival at the barangay, a strategic selection of field hospital sites in the barangays will be made. When the field hospital is established on-site, registration, surgical operation, medical treatments, and information dissemination are then conducted. Every animal brought will be served according to its needs, free of charge. This is conducted the whole year round in every barangay of the province.
As equipment and surgical procedure are eventually innovated and upgraded, the citizen's participation in the services and mandates of the office has also increased. This allows information and dissemination campaigns to become very effective to the point where many other animals with different diseases were brought to the facility extending the services from spay and neuter to multi-faceted mobile veterinary services. The eventual attention and impact on the community impressed our leaders, who then gave full support to the team initiatives extending the office budget allocation, allowing the program to be innovated more freely and obtain more upgrades. Along with the innovative development of the Marinduque Veterinary field hospital program is the creation and activation of the Marinduque Animal and Wildlife Emergency Response Team.
The mobile veterinary hospital caters to all animal health services, animal welfare services, animal disease diagnostic services, animal and wildlife rescues, and calamity veterinary missions.
With the effectiveness of the information dissemination campaign, the general community increases their awareness and becomes empowered regarding animal and wildlife health care and the related laws and regulations. The resultant effect is the increase in reports of animal diseases and wildlife medical and situational cases to be responded to, and as the response is conducted, the accomplishment of the mandates is achieved.
Performance and Result
Before the program was implemented, human deaths reached twelve in the late '90s. In 2001, a list of six deaths occurred, while making the radical approach, zero human deaths resulted starting 2006 up to now. The province was then officially declared rabies-free in 2010. While doing the mobile field hospital in 2004, dog bite incidence reported increases from 576 in 2001 and 237 in 2009; it now became 2171 in 2017 and 2115 in 2018. This data may appear bad, but this also says that dog bite victims are now subjecting themselves to local health units and avails health programs against the disease; even dog and catscratches were considered bite cases. The more dog bite victims subjecting themselves to health programs, the more lives are saved. The dog bite numbers addressed by the Local human health agencies indicate the success of the PVO information dissemination campaign.
Companion animals brought to spay, and castration programs also increased since the implementation of the field hospital. In 2012, only 150 dogs and cats were brought, which increased to 994 in 2013. In 2018 it peaked at 3157 until it was disrupted due to COVID. Right now, it further improves, as in 2018, a barangay operation averaged 20-50 for spaying and neutered, while last month's operation averaged 60-100 dogs and cats brought for spay and neutering with other animals brought for treatments and medical consultations.
In 2003 livestock animals undergoing prophylactic medication such as deworming were 2,694, and vitamin administration was 927, while animals subjected to treatment were 2.246 with zero wildlife rescued. There was a massive decline in 2004, where only 248 were dewormed, 137 were administered with vitamins, and only 728 were treated. When the MVFH program was launched to bolster animal health services in 2018, 5,059 livestock animals were dewormed and underwent prophylactic treatment, with 3,473 being administered with vitamins and 4,362 various animals treated, plus 14 wildlife rescued. Last year there were 17 wildlife animals rescued, rehabilitated and released, and this year, during the third quarter, there are already 56 wildlife animals rescued, rehabilitated and released.
Another significant indirect impact of the project is that even livestock animals and livestock animal farmers were reached and served aesthetically and effectively. Communities in rural areas also received a modern approach to veterinary services for their companion animals in their barangays. Providing such a class of service at their doorstep also eliminates the cost of transportation and precious time, which can now be converted to supplement other necessities and important day-to-day activities.
Increased awareness of the general community of wildlife also grows. Immediate reports from the general community to situational and medical cases of wildlife animals to be responded to increased. In the previous years, an average of 18 wildlife rescues, rehabilitations, and releases were conducted, while now 2022, third quarter, we have already responded to 59 animal wildlife cases. Mainstream media are now covering several of our rescue efforts, intensifying people's awareness. Now, the local community prefers reporting animal wildlife situational cases (even poisonous snakes) rather than killing them immediately. This means that wildlife is now truly protected through community awareness and empowerment as a result of the creation and efforts of the Marinduque Animal and Wildlife Rescue Emergency Response Team and the success of information dissemination campaigns during the deployment of the Marinduqueveterinary Field Hospital.
Innovation
The program was also highly admired and modeled by Veterinary Universities and other local government veterinary offices in cities and provinces. Due to these comments, Marinduque Mobile veterinary services has become a hub for veterinary student internships at different veterinary schools, such as Central Luzon University and Dela Salle Araneta University, and training areas for local government veterinarians of various cities and provinces in the country, such as Paranaque City, San Jose del Monte Bulacan City, San Juan City, Manila, Palayan City, Nueva Ecija, Puerto Princesa City and the Province and Municipalities of Palawan, Calapan city and the entire Province of Mindoro Oriental and Mindoro Occidental, and Province of Romblon. On several occasions, the Team and the Mobile Field Hospital Program became guests in these cities and provinces to provide veterinary services in those areas. Furthermore, animals and communities affected by calamities were also served, such as in the typhoon Yolanda, the Taal volcano eruption, and bird flu outbreak in Luzon, and operation saving laguna pit bull.
Replicability
As of now, several Local Government veterinary offices have adopted and replicated the project, which includes the Paranaque City Veterinary office, Mindoro Oriental and Occidental Provincial Veterinary Office, and San Jose Del Monte, Bulacan. Highly urbanized and prosperous cities such as Cebu and San Jose Del Monte Bulacan have applied such technology effectively and were supported by their leaders resulting in the creation of the San Jose Del Monte Bulacan Veterinary Hospital And Cebu City Veterinarymobile spay and neuter Bus. The most successful one is the Province of Romblon; with the help of the team and full replication of the program, they achieved rabies-free status.
Another indirect effect of the program is the motivation created by trained veterinary interns; they now appreciate Local government practice, which is uncommon nowadays. Most of those trained are now embracing local government veterinary practice.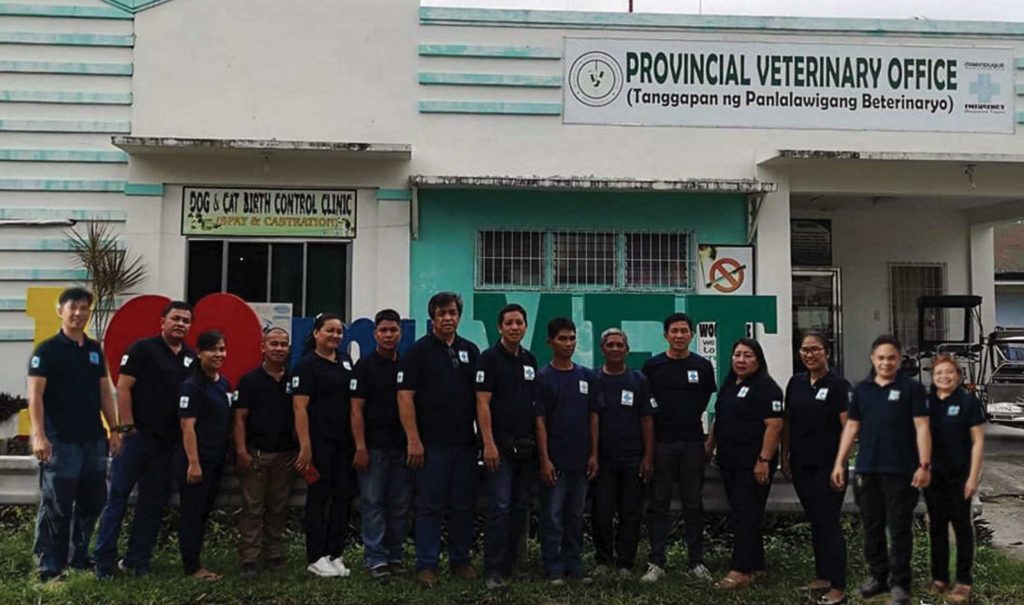 Milestones
The multi-faceted veterinary services fortified by the Marinduque Veterinary Field Hospital program gained multiple recognitions, achievements, and awards.
In 2012, the province was officially declared a rabies-free Province by the Department of Agriculture, Department of Health, and National Rabies Prevention and Control Committee, even though there have been no reported cases since 2006. It was awarded on 28 September 2012. Marinduque completed and satisfied all the requirements prescribed by the National Rabies Prevention and Control Committee. Marinduque was declared a Rabies Free Zone by a joint declaration of the Department of Health and Department of Agriculture during the celebration of World Rabies Day held at Makati City Hall, Makati City. The NRPCC again awarded the Province of Marinduque a plaque of recognition for the unwavering support, tireless dedication, and excellence of the rabies program toward the national goal of rabies-free Philippines on 28 September 2016 and 2018. And on 27 September 2018, The Department of Health awarded a plaque of recognition to the Province of Marinduque for maintaining its rabies-free status for the past six years.
On 16 December 2005, an Award of Excellence was also given to the Provincial Veterinary office by the AusAID FAO eradication Project DA Bureau of Animal Industry National FMD Task Force in implementing programs that eliminate and prevent Foot and Mouth Disease spread and incursion without vaccination.
On 6 June 2014, the team was recognized as a semi-finalist in Search for Outstanding Public Officials and Employees. The Committee on Presidential Lingkod Bayan and CSC Pagasa Awards awarded it.
In September 2014, the team received the Civil Service Commission Pagasa Award. It is given in the merit of the team's commitment to ensuring the welfare of animals and wildlife species in Marinduque and other provinces. In the award, the team was also recognized as the first animal welfare group to set foot in the impact zone in Leyte after the onslaught of Yolanda through operation "Sagip Hayop," where affected animals, including livestock, were rescued and preserved as a source of income and food. The initiative also saved millions of pesos for the government in terms of possible disease outbreaks. Furthermore, the award also recognizes the remarkable team dedicated to upholding animal welfare led them to initiate projects that protect various wildlife species from poachers and made Marinduque a rabies-free zone.
On 18 May 2016, by introducing an innovative out of the box approach, the team leader was recognized as an Outstanding Provincial Veterinarian by the Provincial, City, and Municipal Veterinarians League of the Philippines In recognition of his invaluable achievement and dedication to Provincial Veterinarian of the Province of Marinduque and for his dedicated and unselfish efforts for the interest of the veterinary profession. Subsequently, the Team Leader was also recognized by his alma mater (Central Luzon State University) as one of its outstanding alumni for his far from the ordinary, innovative works.
Implementation Timeline
In 2002, a radical approach to eradicating rabies by eliminating stray dogs was initiated. In 2004, the Marinduque Provincial Veterinary Office introduced and implemented the Marinduque Veterinary Fieldhospital delivering Veterinary mobile field service. In 2006, there were no reported cases of human mortality brought by rabies or animals infected with rabies.
In 2010, the modern spay and neuter program was implemented as a main component activity of the Marinduque veterinary field hospital to complement the anti-rabies program of the province with a scientific approach to controlling the dog and cat population. In 2012, The Province of Marinduque was declared by the department of health and the Bureau of Animal Industry as a Rabies free province. In 2013, partnerships, collaborations, technology, and equipment transfer were conducted with Japan International Cooperative Agency and Humane Society International. From 2014 to the present, due to national recognition and impressed local leaders, the office has increased its budget allocation and has been supported dearly to this day. Innovations and upgrades continue, and services are further developed and improved.
Testimonials
The program received positive feedback from clients, young veterinarians, local government veterinarians, companion animals, livestock farmers, and everyday citizens who availed of the services in the province while doing veterinary medical missions in other parts of the country. Here are some:
"A very reliable institution in terms of veterinary services, both in public service and wildlife rescue. This institution is a hallmark of advocacies that young and aspiring veterinarians can learn from. Even places far from urbanization learn about the importance of our wildlife and the whole environment with their community service. I learned a lot of approaches to wildlife rescue just by reading their posts. Having such an institution serve our community is something to celebrate and appreciate, as their advocacies are not easy to serve. We would like to send our deepest appreciation and gratitude to PVet Marinduque for continuing their advocacies and inspiring us young veterinarians." – Dr. Cid Brent G. Aurelio, DVM, Veterinarian.
Albert Einstein once said, "You can never solve a problem on the level on which it was created"; you have to rise above it through innovation and creativity. This drive to innovate is characterized by the Provincial Veterinary Office of Marinduque and is exemplified by their Mobile Field Veterinary Hospital (MFVH). Population control of dogs and cats is crucial in effective Rabies control and prevention. As Marinduque is one of the few Rabies-free provinces in the Philippines, maintaining its status requires the cooperation of everyone. The ability to bring veterinary technical services to remote areas enhances the pet owners' compliance with local ordinances. Here in Oriental Mindoro, pet owners were fortunate to have experienced the free spay and neuter services at the MFVH. The spay and neuter activity was a big hit here in Calapan City, Naujan, Victoria, and Puerto Galera municipalities. The MFVH served as a safe space to do surgeries; asepsis, crowd control, and surgical comfort are some factors that are achieved. However, it should be noted that without the talented and dedicated people behind the MFVH, it is just a tent. The good news is that the PVO Marinduque is generous enough to share the concept and technical skills. As a local government veterinarian, I have experienced first-hand how the MFVH operates and have been fortunate enough to join them in other provinces of MIMAROPA. Even our staff gained hands-on experience as the MFVH staff mentored them in various activities. We have embarked on having our field veterinary hospital because of our exposure to Marinduque's innovation, and we hope to achieve the same level of expertise and service provision in our province. – Dr. Alfredo Manglicmot, Veterinarian 4 of the Provincial Veterinary Office of Mindoro Oriental.
The opportunity to be given my paw and cat vaccination is a relief for me as a recipient of the said initiatives from the Provincial veterinary of Marinduque; it helps me feel worried, for most of the dogs in our community are not vaccinated for quite some time. We sometimes pay more for vaccination if our dog bites someone. Still, because of the vaccination of the provincial veterinarian headed by Dr. Victoria and his staff, we are grateful because we will not seek in different municipalities to have our dog and cat vaccinated. They also do ligation surgery for owners who wish to make their paws and cats healthier. As one of the recipients, I am beyond grateful and hope this program will accommodate more people. Thank you so much to one of your recipients and our community here in Sta. Cruz Marinduque. More power and job well done. – Mr. Arjay Peneda, Baranggay Lapu-Lapu, Sta. Cruz Marinduque
The Veterinary Field Hospital/ Mobile Field Service conducted by the PVO of Marinduque was helpful, especially here in our province, where many in the community cannot afford to visit the clinic/office. Creating a setup like this is tiring but fulfilling once you see how many animals/pets your service and when you see those happy and thankful owners. So a big salute to the PVO for the job well done, and I hope more Provinces/ Cities will also see the benefits of having a Veterinary Field Hospital/ Mobile Field Service. – Ms. Irish Ann Revilla, Veterinary Student at Cavite State University
Best practice Focus Area(s)
Summary
Background and Problem
Solution and Impact
Milestones