Organization
Insurance Commission
Best Practice Focus Area/s
Strategy, Citizens / Customers, Operations
Year Implemented
August 2020
This is a GBPR Entry
Summary
The Insurance Commission (IC) Appointment Reservation (ICare) System is a web-based application program developed in-house to ensure the continuous provision of quality service to all of IC's stakeholders while ensuring that they uphold public health standards. The ICare System should serve as the IC's digital gateway for its stakeholders to access the services provided by the IC.
With ICare System, the IC safeguards its clients by ensuring that daily face-to-face transactions are reduced and properly managed and client waiting time is minimized. Thus, the ICare System benefits not only the agency's regulated entities and the general insuring public, but also it's frontline and non-frontline personnel.
Background and Problem
With the increasing number of activities the public is allowed to do under the General Community Quarantine (GCQ) Guidelines as directed by the National Government through the IATF, the IC understands that clients, both the regulated entities and the general insuring public, would come to the IC offices to transact their business with the Commission. An example is the continuation of the IC Agents' Computerized Examination service for aspiring Insurance Agents.
With the emerging need for digitalization, the IC's frontline service information systems must be interoperable and integrated with other IC information systems and applications for stakeholders' ease of access and use.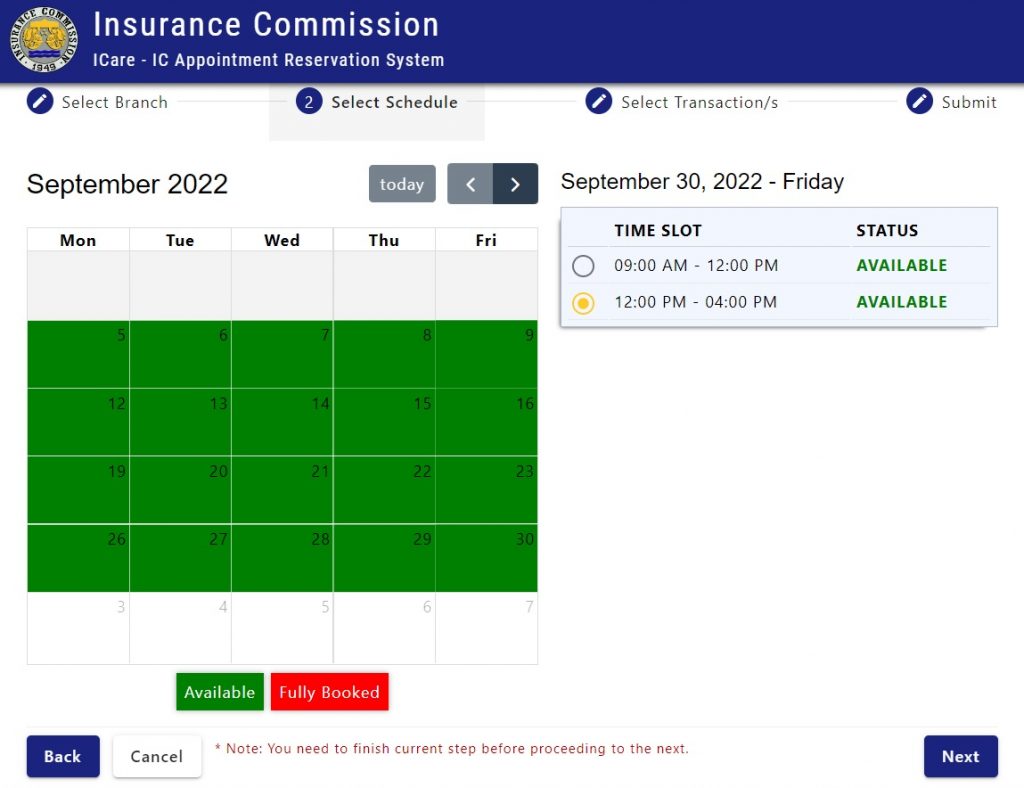 Solution and Impact
Before the global pandemic hit, the IC started converting existing manual processes into streamlined online processing, keeping up with the growing needs of the IC's stakeholders for fast, efficient, and reliable service.
With the start of the global pandemic, the IC fast-tracked its digitization initiatives. One is developing a system that allows for managing and monitoring clients who enter the IC premises without making unnecessary physical contact. The IC Appointment Reservation (ICare) was the system developed to address the urgent concern of minimizing physical transactions and reducing the risk of exposure to COVID-19.
The ICare System has served 8,902 stakeholders since its implementation in August 2020 and is continuously accessed daily to schedule transactions.
Milestones/Next Steps
The ICare System has been used by the IC stakeholders 8,902 times since its implementation in August 2020. It has managed the number of people who visit the IC premises by limiting the number of clients allowed to, i.e., 160 persons per day; 80 in the morning and 80 in the afternoon. The 6,738 of 8,902 or 75.69% of the total ICare System clients rated their user experience on its workflow as Extremely Satisfied.
In keeping up with trends and developments on effective regulation and supervision standards, the IC is slated to set up the ICare System as the IC's digital gateway for its stakeholders. This move includes integrating various frontline service systems and applications within the ICare System. Notable is the IC Electronic Complaints (e-Reklamo) System, Integrated Electronic Payment Services (LANDBANK Link.BizPortal and CIS Bayad Center, Inc.), and the IC Customer Satisfaction Survey.