Overview
Faced with manual operations, time-consuming processes, and limited data accessibility, the Laguna Medical Center sought a solution. The Integrated Hospital Operations and Management Information System (iHOMIS) is a computer-based system developed by the Philippine Department of Health to streamline patient management, enhance service delivery and reduce processing time, which complies with healthcare standards. This innovation enables the Provincial Government of Laguna to optimize the use of public resources and improve healthcare services for its constituents. Transitioning from manual to digital operations was achieved through comprehensive training, addressing employee resistance, effective communication, and hardware upgrades.
Challenge
The main challenge the iHOMIS addresses is the inefficiency and complexity of manual healthcare management processes in the public healthcare system. Before iHOMIS, hospitals, including the Laguna Medical Center, faced hurdles like slow patient data retrieval, cumbersome record keeping, and lengthy transaction processing times. These challenges resulted in prolonged patient waiting times, increased staff workload, and potential data management errors. iHOMIS aimed to transform these operations by digitizing and automating various functions, including patient admission, billing, claims processing, and report generation. By streamlining these processes and providing quick access to patient data, iHOMIS aims to enhance the efficiency of healthcare services, reduce administrative burdens, and optimize the allocation of public resources while ultimately delivering higher-quality patient care.
Solution
The iHOMIS provides a comprehensive and integrated digital platform for hospital management. This innovation offers a range of solutions to improve hospital management. Firstly, iHOMIS enables faster retrieval and quick access to patient data, reducing patient waiting times and streamlining processes for hospital staff. This is achieved by digitizing patient records and allowing easy access to their medical history. The system's innovative features include:
Comprehensive Patient Management: iHOMIS integrates various modules, including admission, billing, patient records, and claims processing. This integration minimizes duplicated efforts among departments, ensuring accurate and up-to-date patient information is available across the hospital.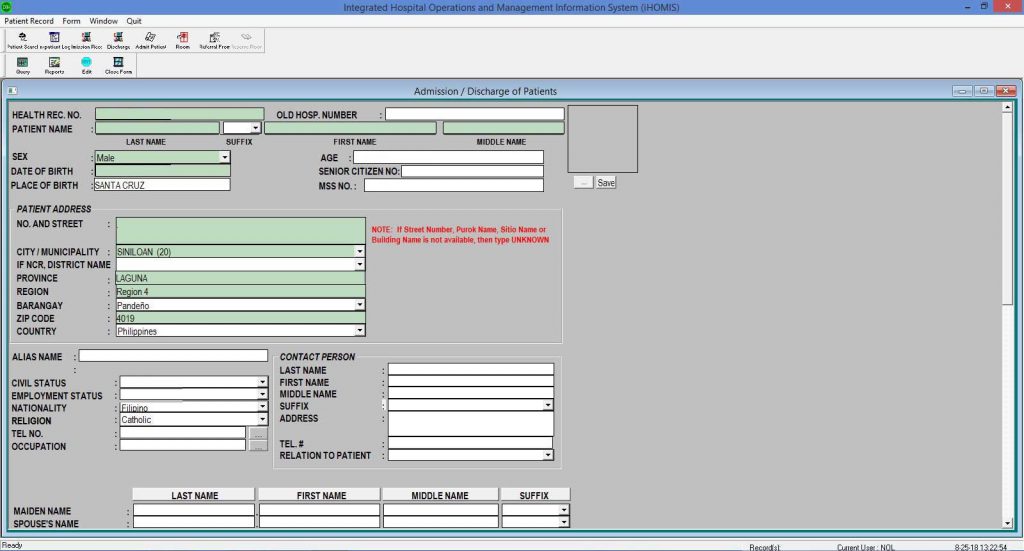 Real-time Reporting: iHOMIS generates various reports on collections, revenues, expenses, and statistics in real-time. This eliminates the previous two to three days delay for generating reports, enabling quicker decision-making by hospital administrators. Dr. Rene P. Bagamasbad, Provincial Health Officer II, emphasized the transparent operations and financial accountability that iHOMIS introduced, providing accurate insights into expenses, dispensing of medications, and other hospital processes.
PhilHealth Integration: iHOMIS seamlessly integrates with PhilHealth, enabling online verification of patient eligibility and claims processing. This eliminates the need for manual submission of documents and reduces processing time and costs. Menandro C. Pailan, Section Head for Claims and Benefits Section, stated that the system has significantly expedited claims processing, reducing reimbursement time from months to a month. This improved patient satisfaction and accelerated revenue cycles for the hospital.
Process Automation: The system automates claims monitoring, reducing administrative workload and minimizing errors in claims processing.
What makes these features innovative is the holistic approach that combines patient care, administrative efficiency, and regulatory compliance in a single system. The real-time reporting and integration with external agencies like PhilHealth enhance transparency and accountability.
Productivity Gains, Outcomes, and Impact
Implementing the iHOMIS has resulted in substantial, measurable productivity gains and positive results for the hospital and its patients. One of the key improvements is the faster retrieval and quick access to patient data. Previously, retrieving patient records manually took several minutes and sometimes even longer if records were misplaced. With iHOMIS, the process has been reduced to mere seconds, enhancing the efficiency of patient care. This improved speed not only saves time but also accommodates a higher volume of patients seeking medical records, doubling the capacity of the hospital to provide this service.
Another significant achievement is reducing processing time for various hospital transactions, such as patient admission, billing, and Philhealth claims. In the past, these processes could take up to 15 minutes for billing alone, but now, with the system's automation and integration, it takes only 3-5 minutes to complete the entire process, including interviews with patients or their relatives. This has streamlined operations and minimized inconvenience for patients and their families.
Moreover, the system's ability to generate hospital reports promptly, such as collections, revenues, expenses, and statistical data, showcases the depth of its gains. Reports that used to take days to compile are now generated automatically, improving decision-making and financial management within the hospital. Elenor O. Perejas, System Administrator, highlighted iHOMIS's contribution on automation and efficiency.
The system's ability to quickly retrieve patient records, expedite hospital transactions, generate reports, and facilitate Philhealth claims has elevated the hospital's efficiency, reduced waiting times, and enhanced overall patient satisfaction.
Lessons Learned/Challenges in Implementing the Intervention
The introduction of iHOMIS has imparted valuable insights to the hospital administration and stakeholders. A noteworthy lesson is the necessity of effective communication and collaboration among staff and departments while adopting new technology. The initial resistance from employees unfamiliar with tech-based systems highlights the importance of thorough training and gradual integration to ensure a smooth transition. Moreover, building strong relationships between IT personnel and staff played a pivotal role in overcoming challenges and fostering adaptability.
The system's successful deployment at LMC also serves as a model for other healthcare institutions looking to modernize their operations. However, the expansion of iHOMIS presents some areas for improvement. The need for increased hardware and better internet connectivity was highlighted, essential for handling cloud-based services and ensuring seamless data access. Extending iHOMIS's features could enhance operational efficiency and patient experience. The lessons from LMC's experience underscore the significance of stakeholder engagement, gradual implementation, and addressing infrastructure limitations for a successful digital transformation in the healthcare sector.
Resources
Aquino, R. (2022, March 4). Janairo receives award from Laguna Medical Center. The Manila Times. https://www.manilatimes.net/2022/03/05/news/regions/janairo-receives-award-from-laguna-medical-center/1835179
Ismael, J. J. (2021, May 22). 113th malasakit center opens in San Pablo City. The Manila Times. https://www.manilatimes.net/2021/05/23/news/regions/113th-malasakit-center-opens-in-san-pablo-city/1800287