Overview
The Makatizen Card showcases how the City Government of Makati successfully addressed issues in improving its service delivery, which was evident during the pandemic. Before its implementation in 2017, the city had to deal with resource redundancy, duplicated processes, and increased costs as it required citizens to present different IDs for accessing social services. This led to duplicated processes, inconvenience, and increased costs for both the constituents and the local government. This redundancy reduced overall productivity and hindered the seamless provision of essential services to the residents. To overcome this, the Makatizen Card was introduced as a unified ID system, consolidating various IDs into a single multi-purpose card. This innovative solution improved access to government services and cash benefits through its GCash integration, optimizing resource utilization and improving service delivery. The Makatizen Card's efficiency significantly enhanced productivity, transparency, and good governance in Makati City, benefiting over 500,000 residents.
Challenges
The main challenge revolves around the existence of different platforms used to avail services offered by the City Government of Makati. Firstly, resource redundancy stems from the need for residents to manage various identification cards for accessing social services. This redundancy results in inefficient use of resources, as the same information is stored in multiple databases, leading to increased costs and administrative burden. Secondly, the process of applying for different IDs adds to the difficulty. Residents have to go through multiple application processes, which are time-consuming and cumbersome. This duplication of efforts leads to inefficiencies in service delivery. Lastly, the issuance of multiple IDs creates complexity in government processes and hinders seamless service provision. With different IDs for various services, citizens may face difficulties in availing benefits and accessing public services, leading to confusion and reduced effectiveness in the delivery of essential services.
Solution
To overcome these challenges and improve public service delivery, the city government collected qualitative and quantitative data, analyzed process flows, and interviewed Makatizens. The result yielded a need for a unified ID system that significantly reduces the cost of maintaining databases, minimizes residents' exposure, and accelerates access to social benefits by at least two times. By introducing the Makatizen Card, a unified ID system, the city government was able to enhance and optimize the delivery of public services by consolidating these multiple identification cards into a single, unified ID. Makati City Mayor Abby Binay-Campos emphasizes the importance of data in promoting good governance through the Makatizen Card.
The Makatizen Card is a public-private partnership (PPP) between Makati City, G-xchange, and iBayad Online Ventures, Inc. It is issued to Makati residents aged 18 years and above. The card is valid for five years.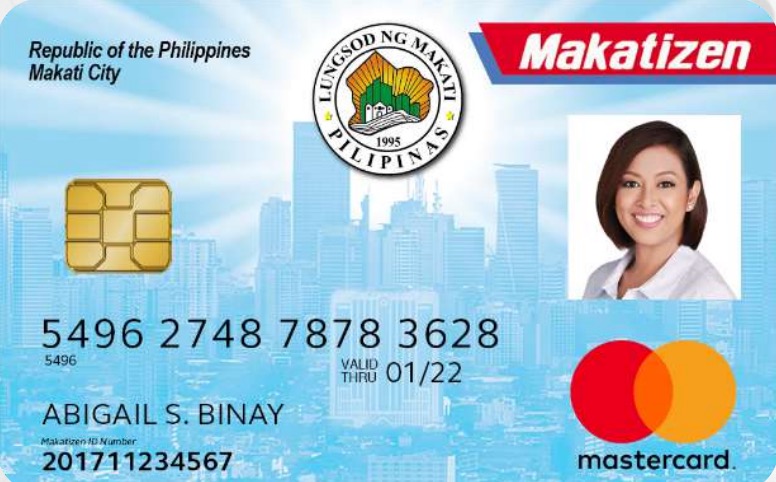 The card allows recipients to receive cash allowances, stipends, and other cash benefits, including those provided under the Makati Health Program (Yellow Card), Senior Citizen program (BLU Card), PWD card, Solo Parent Card, and the Philhealth ng Masa program. By integrating government services and cash benefits through GCash, the card eliminates the need for multiple documents and expedites access to essential services and financial aid. This reduces bureaucratic inefficiencies, minimizes residents' exposure to physical contact, and significantly improves the productivity and effectiveness of public service delivery.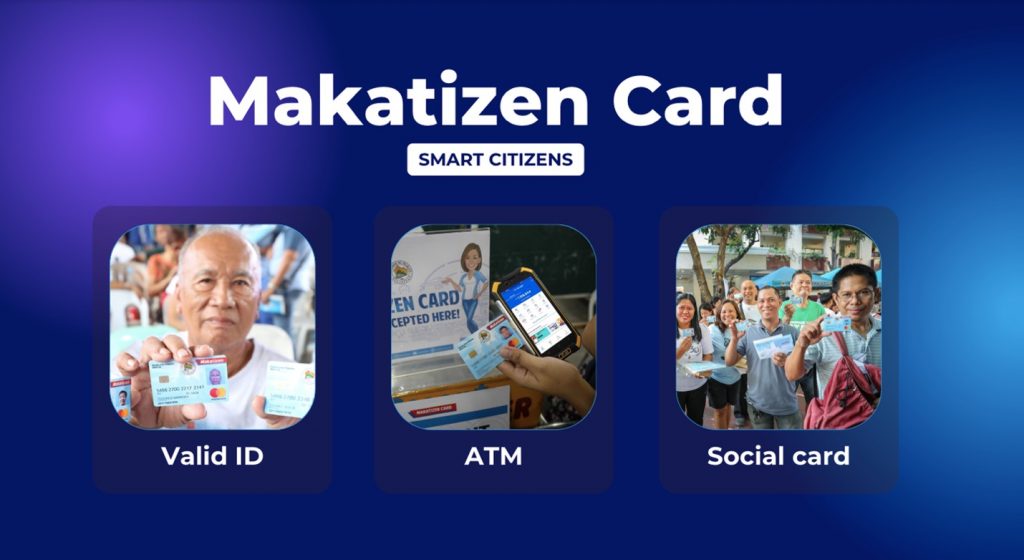 Specifically, the key features of the Makatizen Card include:
Government-Issued ID System: The Makatizen Card is a valid government-issued ID, utilizing near-field communication (NFC) technology for easy identity verification. It eliminates the need for additional documents, making government transactions more convenient. The card includes essential information such as address, gender, blood type, and emergency contact number.
Access to Government Services: Integrated with Globe Telecom's digital payments platform GCash, the Makatizen Card is a virtual wallet. It consolidates multiple programs, enabling constituents to receive allowances, stipends, and monetary benefits. Additionally, it facilitates the payment of fees, taxes, and personal remittances. The latest addition allows senior citizens with BLU Card membership and Makatizen Card holders to enjoy free movies by downloading the Makatizen Virtual Card and presenting the QR code at partnering cinemas.
ATM Function: The card acts as an ATM card linked to the GCash account, providing access to funds through ATMs and mobile points of sale (mPOS).
Loyalty and Rewards Program: Consistent card usage earns points that can be exchanged for rewards.
Productivity Gains, Outcomes, and Impact
Since its implementation in 2017, the Makatizen Card Program has processed over 160,000 applications and distributed 107,293 cards.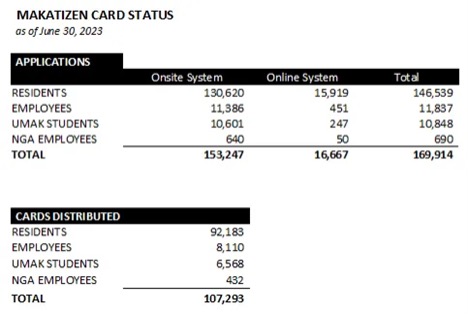 During the pandemic, the card played a crucial role in providing efficient and contactless distribution of cash aid, benefiting over 500,000 residents. Makati City became a contactless cash aid distribution pioneer, releasing millions of pesos to thousands of residents daily. The Makatizen Card has also facilitated the tracking of COVID vaccine recipients. Makati Resident Ismael Lapuz Maglalang, 63, says he prefers the Makatizen Card to the manual process as it is faster for him to receive benefits from the city government.
The Makatizen Card serves as an innovative solution to enhance service delivery and transparency by streamlining government processes, therefore reducing bureaucratic complexities and ensuring that the local government can do more with fewer resources while providing quality services to its citizens.
Lessons Learned and Challenges in Implementing the Intervention
Implementing the Makatizen Card faced challenges such as collecting valid requirements and managing applicants' data. The Mayor expressed how important it was to have an accurate consensus of the people that must be organized on the local government unit level, and the Makatizen card and the process of applications allowed to establish that. With the Makatizen Card's stringent requirements, they found that many constituents either need birth certificates or have the wrong information on their government-issued identification documents or cards. The application process for the Makatizen Card allowed the people of Makati to rectify the fundamental necessities of citizenship and identification.
In addition, initial citizen reluctance was addressed through comprehensive education, emphasizing the card's purpose of consolidating services for efficient and transparent delivery of essential services.
The vision for the Makatizen Card extends beyond its current scope. The aim is to encompass and integrate all essential information of city residents, starting from birth which means that newborns will also be eligible to receive the card. The Makatizen Card will serve as a comprehensive repository for crucial data such as immunization records, school records, and medical consultations. These details will be stored in a centralized system, enabling the city to track the growth and development of each child effectively. This data-driven approach will facilitate the provision of necessary interventions and support to ensure optimal development for every child in Makati.
By adopting the Makatizen Card, Makati City has improved its social service delivery, simplified processes, and enhanced residents' access to benefits. This unified ID system is a model for efficient governance and citizen-centric initiatives.
Sources
Official Website of the Observatory of Public Sector Innovation. Makatizen Card Presentation. https://oecd-opsi.org/wp-content/uploads/2020/02/Makatizen-Card-Presentation-with-Script_compressed.pdf
Documents from the City Government of Makati. July 2023.