Title of Productivity and Innovation Initiative
Geohazard Mapping Information System
Implementing Agency
City Government of Cebu
Year Implemented
2000-Present
Themes
Technology, Disaster Risk Reduction and Management
General Description
Cebu City experiences a substantial number of geohazards. Also, prior to any intervention, their disaster management had mostly been focused on response and has been quite lacking in mitigation or preparation. Because of this, the LGU expanded its Geographic Information System (GIS) to create the Geohazard Mapping Information System (GMIS). Initially, the GIS had limited features that could only be used for land use planning, subdivision review, and tax mapping, but the functionality of the GMIS has been expanded to include preparing and responding to disasters at all levels. Particularly, the GMIS excels in providing information regarding key geohazard concerns and it has since aided them in implementing disaster resilient projects, especially those concerning infrastructure.
Background and Problems
Cebu City has its fair share of both natural and man-made geohazards, such as storms, floods, landslides, tornadoes, earthquakes, fires, and even epidemics. However, before the Cebu City LGU's Local Disaster Risk Reduction Management Office (LDRRMO) had the GMIS, much of their efforts had only been concentrated on response, reconstruction, and restoration. Because their maps before the GMIS did not yet contain the necessary information, they had not been able to fulfill their responsibilities in disaster mitigation.
A notable example of this deficiency in mitigating disasters was evident in their handling of the city's informal settlers, who used to build illegal structures along rivers, creeks, and sidewalks. These structures have cumulatively reduced the capacity of these waterways, making them narrower and shallower. Because of this, the flow of floodwater would recede slower even in low rainfall, thus causing floods around the area of SM City Cebu and some of the barangays in the city proper. It would often be the case that the same informal settlers were also the first to be affected by these floods.
Although the Cebu City LGU did implement an ordinance requiring three meter easement along waterways to mitigate this issue, they still had to spend a substantial amount of time finding temporary evacuation centers and relocation sites for the informal settlers. Particularly, LDRRMO staff had to manually go to sites and negotiate with barangay officials or private owners about placing evacuation centers and relocation sites in their premises.
Solution and Impact
In 2000, the Cebu City LGU's GIS staff and LDRRMO staff formed a team to conduct comprehensive field surveys using GPS equipment. The survey data was overlaid on existing maps in their GIS and complemented with historical disaster data to create the initial GMIS. In line with geohazard monitoring, the local government also installed 35 CCTV cameras at strategic places and intersections of the city. And shortly after implementation, even barangay officials had also been involved in conducting field surveys to keep the geo-hazard maps updated.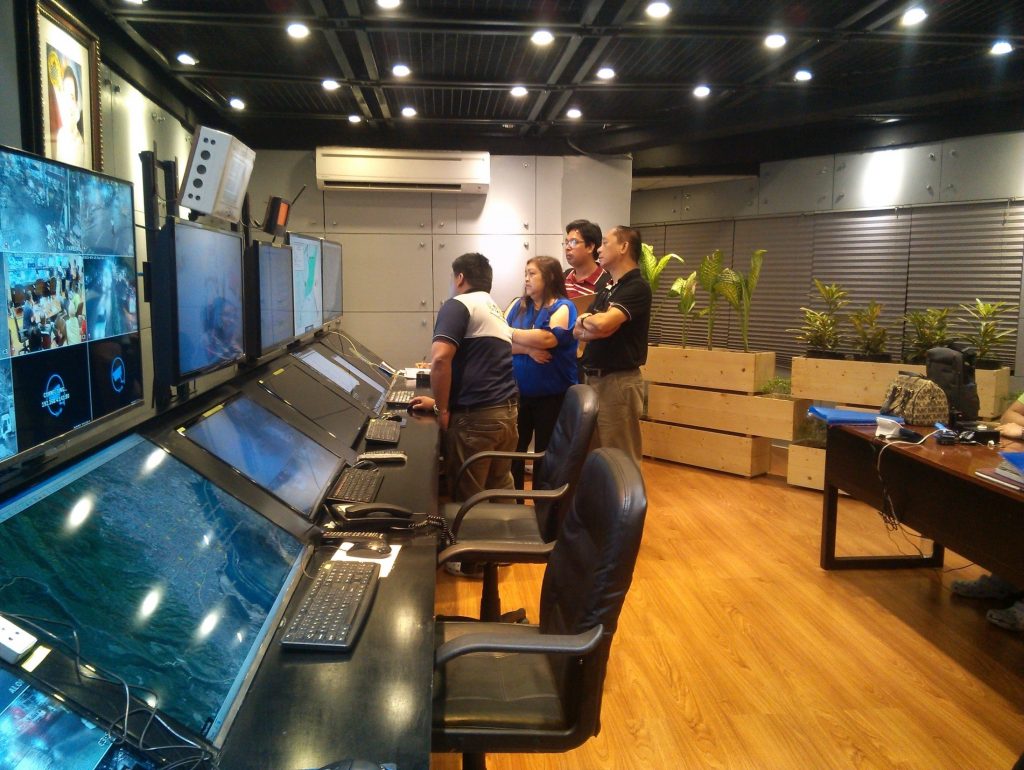 The GMIS has since acted as a source of readily available information for key geohazard concerns like:
Heavily populated communities
Coastal areas that are not easily accessible
Old roads, bridges, creeks, drainages, and buildings
Bodies of water that could be potential mosquito habitats
Areas that could be affected by sea-level rise and storm activity
Shapes and contours of lands for understanding the flow of water
Areas prone to fire
And many more
These kinds of data have been useful for their disaster response, reconstruction, restoration, and even mitigation—something they had been lacking in initially. This emphasis on disaster mitigation has allowed the GMIS to make some notable contributions to the city's strategic development, particularly around the development of infrastructure and city planning.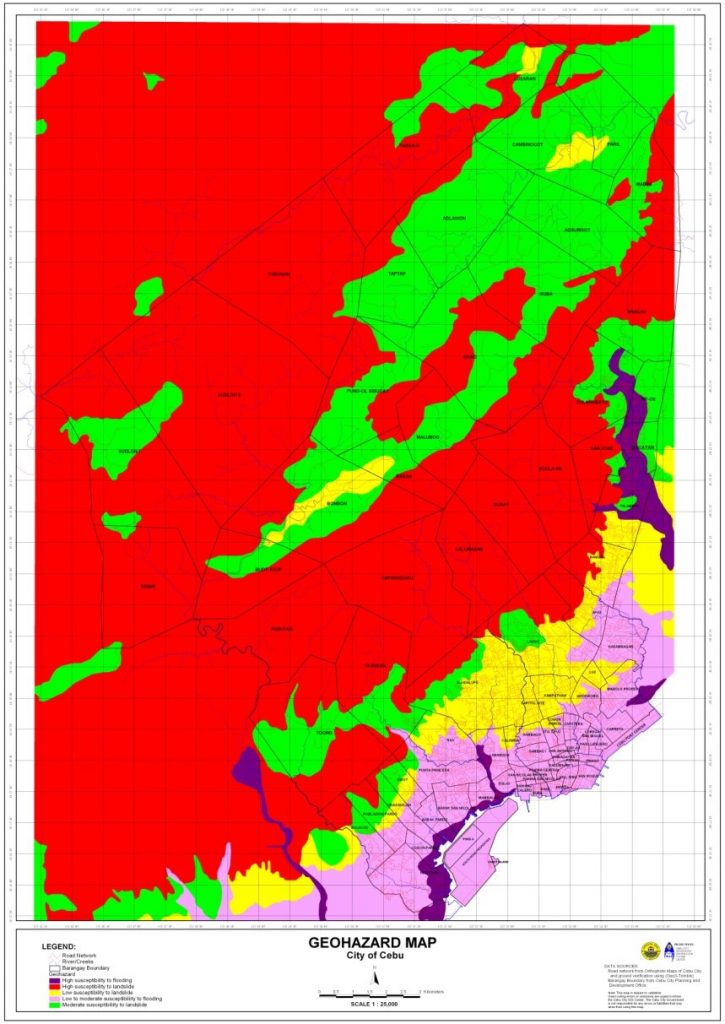 For example, In 2013, the planning for the Cebu City LGU's Bus Rapid Transportation (BRT) project was conducted with the aid of the GMIS. Through the GMIS's aerial photos, an efficient and disaster resilient bus route was identified.
And in 2014, the GMIS aided in the implementation of the LGU's Reblocking Project. The reblocking aimed to provide wider roads for fire trucks, rescue vehicles, and police forces to have easier access to interior residential and commercial areas. The project cost PHP 35,000,000 and consisted of road widening, drainage construction, inspection of electrical connections, and the relocation of affected families. In this project, the GMIS was able to identify seven key high-population barangays for the project. It was also able to contribute to the efficient allocation of resources by providing information on areas that were most prone to flooding. This had led the project team to identify the necessary roads to widen easily.
The tool has also aided the LGU in many other ways. For instance, it contributes to the crafting of the city's annual Disaster Management Plan. Notably, it is 5% of the city's total annual budget. And given the budget's size, the GMIS has never been more important to ensure proper planning of resources. Also, it has been useful for conducting disaster awareness and preparedness education campaigns in all 80 barangays of the city. Through the tool, each barangay can be provided with maps showing disaster-prone areas within their barangay.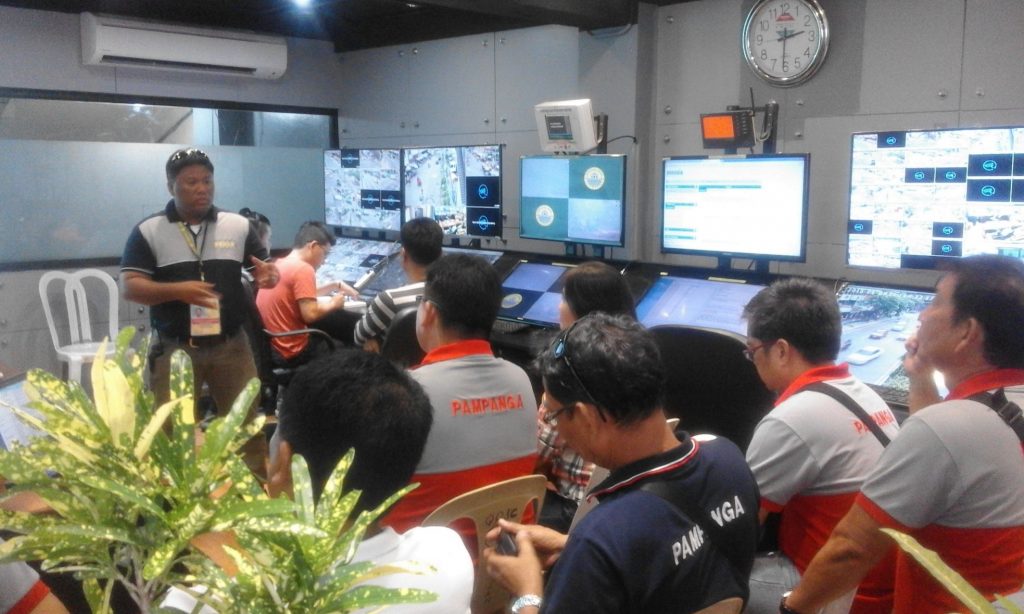 Also, the GMIS has benefited not only the city at large, but also the people who work towards the betterment of the city. Notably, before the GMIS, the time it took for Cebu City's Department of Engineering and Public Works (DEPW) field engineers to estimate the lineal meters of culverts was two to three days. Now using coordinates from the GMIS, it now only takes 20-30 minutes.
Milestones
In 2018, Cebu City was chosen as one of the six winning local government units in the Digital Cities Philippines (DCP) Awards Night because of their Geohazard Mapping Information System. This project was awarded the title "Best Data-Driven Governance (D2G)" (SunStar Cebu, 2018).
According to an interview in October 2021 with Engr. Conrado Ordesta III, assistant department head of the Management Information Computer Services Department under the Cebu City LGU, the GMIS has also been useful beyond just geohazards, as it has also been useful in tackling the COVID-19 pandemic. Through the tool, Cebu City LGU's could also monitor and visually plot the pandemic and the status of vaccinations throughout their city. Notably, they identified key areas that had low vaccination rates and thus were able to implement more targeted interventions, house-to-house vaccinations. He mentioned that this was even able to bring their vaccination rates above 50%.
Testimonials
In the same interview, Engr. Conrado Ordesta III mentioned that many of its users are happy with the project. Notably, he mentioned that their Fire Department has extended much gratitude to them as they can now respond more quickly, they now know where to station themselves more effectively, and they also now have a reference for where "wet" and "dry" fire hydrants are.

He has also observed that their rescuers are now more able to take proactive preparations for disasters, especially for landslides. He mentioned that a limitation they had before was their Disaster Office being in their city proper, yet many of their mountain-based barangays are the ones experiencing landslides. But through their GMIS, they had been able to put up satellite offices and evacuation areas at strategic locations.
Sources
Cacho, K. O. (2018, October 17). Cebu LGUs win big in digital cities ph. SunStar Cebu. Retrieved November 5, 2021, from https://www.sunstar.com.ph/article/1769659/Cebu/Business/Cebu-LGUs-win-big-in-Digital-cities-PH.