Organization
Department of Science and Technology Region XI
Best Practice Focus Area/s
Leadership, Strategy, Operations
Year Implemented
15 May 2014–Present
This is a Recognized Best Practice
Summary
In 2014, the Department of Science and Technology (DOST) Region XI successfully established the Food Processing Innovation Center of Davao (FPIC-Davao) as the Philippines' first-ever food innovation center (FIC). It serves as a hub for innovation and provides support services for the value-adding of fresh produce and the development of processed foods in the Davao region. Through the FPIC, innovative technologies, relevant support services, technical expertise, necessary infrastructures, and facilities are more accessible for micro, small, and medium enterprises (MSMEs) in the urban centers and countryside for more effective technology application, deployment (transfer), and commercialization for sustained economic growth and productivity. In the past years, FPIC-Davao has implemented several pioneering initiatives and has become one of the leading FICs in the country.
Background and Problem
The Philippine manufacturing industry remains the most important sector for long-term productive employment, value-added generation, and innovation. It has the highest multiplier effect on the economy than other sectors. Many services exist because of manufacturing, and many service jobs will disappear if manufacturing disappears. One subsector of the manufacturing industry is the food industry.
Food processing is a booming industry in the Philippines. Quadrupling to US$27.1 billion in five years (2009-2013), the food processing industry contributes 50% to the country's total manufacturing output. While most of the roughly 500 food & beverage processors registered under the Philippine Food and Drug Administration (FDA) are micro- or medium-sized businesses, food processors are also among the largest corporations in the country (USDA Gain Report, 2014).
However, food processors are faced with challenges. One is maintaining market share, as a wide variety of imported processed foods readily enters the market due to increased trade liberalization. Another is the high capital investment in equipment which hinders food processors from innovating and developing new products.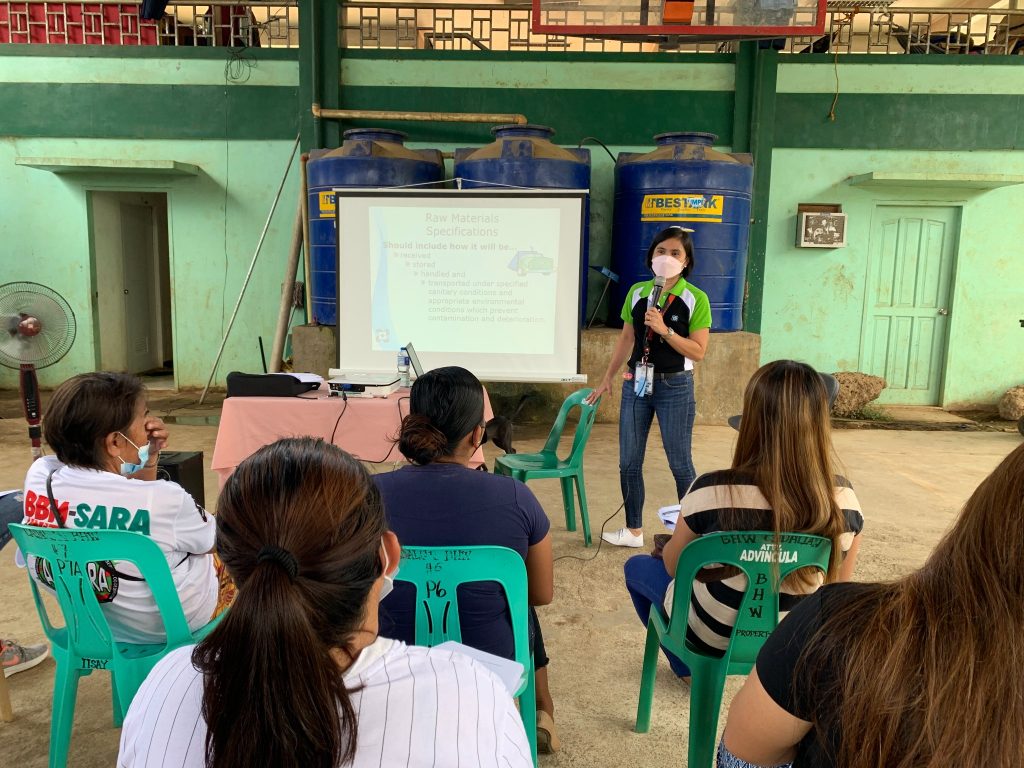 Solution and Impact
To address these issues of food processors, DOST spearheaded the national program called the High Impact Technology Solutions (HITS), which aims to substitute imports through the design and fabrication of appropriate and affordable food processing equipment prototypes. This locally fabricated equipment was deployed to regional FICs. Regional FICs serve as one-stop food research and development facilities where local food processors, students, faculty, and researchers can innovate and develop value-adding food products for local agricultural and fishery resources.
FPIC-Davao, one of the projects pioneered and implemented by DOST XI, has become significant as it is considered the ideal and recommended innovation center to be followed by some regional FICs established in the following years. FPIC-Davao has a strong and competent technical expert team, the first FIC to employ DOST scholar researchers, which was eventually adopted by other regional FICs and has inspired undergraduate students to pursue higher education under the DOST Science Education Institute. Because of the center's ideal plant structure and comprehensive operations manual, other regional FICs conducted benchmarking activities in the center, allowing the exchange of best practices.
FPIC-Davao promotes a conducive environment for food processing and has the cleanest and most compliant Good Manufacturing Practices (GMP) layout facility among regional FICs. It has the required space, building structures, support facilities, and the layout/structures with food safety requirements. FPIC-Davao crafted its operations manual, which guides other newly established FICs in the country. This enables harmony in the services and standard operating procedures among regional FICs. FPIC-Davao also hired competent and highly qualified personnel by being the first center to hire Career Incentive Program-Researchers (DOST Scholar-Graduates) to provide technical support in food innovation.
The FPIC-Davao has several impacts on its collaborating agencies. Dissemination of DOST XI programs and services was improved. Clients from FPIC-Davao were referred to DOST XI to conduct laboratory analysis for food. Clients were informed about the other programs of DOST XI, such as the Small Enterprise Technology Upgrading Program (SETUP), which is DOST's flagship program. This development served to boost MSME productivity and competitiveness. Additionally, the food safety project of DOST XI was able to extend its services, such as GMP seminars, plant layout consultation, and assistance to MSMEs for compliance with FDA regulatory and statutory requirements. This extension has allowed the agency to provide food safety services to support more start-up food processors in the region.
FPIC-Davao has brought prestige to PWC Davao as the recipient of its innovative technologies. PWC Davao strengthens its research capacities and promotes collaboration in courses such as Food Technology, Hotel and Restaurant Management, Fine Arts, and Entrepreneurship. It also helps promote the services of the DTI XI, such as free seminars and workshops for MSMEs. Through the center, DTI XI extended the Shared Service Facility (SSF) project to various aspiring food processors in the region. Moreover, it also helps the LGU of Davao enforce legal requirements by encouraging food processors to secure the mayor's permit, sanitation permit, and other requirements for their food business to operate legally.
With outstanding compliance with regulatory and statutory requirements, FPIC-Davao became the first center to initiate the application for a License to Operate as a Food Manufacturer by the FDA. It is also registered under the SEC last 6 April 2017. FPIC-Davao has also secured its Mayor's Permit and strictly complies with the Bureau of Internal Revenue requirements. Lastly, obtaining regulatory and statutory requirements has enabled the center to be sustainable and help more food processors in the Davao Region.
Milestones/Next Steps
FPIC-Davao was conferred the 2016 Davao Region Excellence Award in Project Implementation (DREAPI) by the National Economic and Development Authority's Regional Development Council XI. Subsequently, FPIC-Davao was the first center to initiate the License to Operate as a Food Manufacturer application with the FDA on 24 September 2017.
FPIC-Davao participated and was highlighted during the assessment of DOST XI for PQA Level II in 2019. DOST XI is now recognized as a PQA Level II organization. The operations manual and logo of FPIC-Davao were registered in the National Library of the Philippines and the Intellectual Property Office of the Philippines (IPOPHL), with FPIC-Davao innovative products registered as a utility model at the IPOPHL in 2020.
FPIC-Davao is actively involved in the fight against the COVID-19 pandemic by producing and distributing products from its R&D activities, such as natural immune-boosting, ready-to-drink beverages and healthy snacks for medical frontliners in various community quarantine facilities in Davao City. FPIC-Davao was awarded 2nd place in the most innovative products competition in Manila (spray dried product category) organized by the Industrial Technology Development Institute in 2016.