Organization
Department of Science and Technology Regional Office XI
Best Practice Focus Area/s
Strategy, Human Resource, Operations
Year Implemented
28 July 2020
This is a GBPR for COVID-19 Response entry
Summary
The DOST XI Pandemic Manual (PAN Manual), which is a procedure manual, defines the scope, purpose, and responsibilities of the procedures for prevention, mitigation, and building resilience to epidemics and pandemics of the DOST XI.
This PAN Manual is aligned with relevant international and local laws and regulations, such as the World Health Organization (WHO) health protocols and Occupational Health and Safety (OHS) Standards. It provides step-by-step procedures for implementing various technologies, innovations, and systems developed to provide a secure working environment during health outbreaks. The PAN Manual shall serve as guidelines for both the employees and external customers and will ensure the continuous delivery of quality products and services of the DOST XI despite past, ongoing, or expected epidemics and pandemics.
Background and Problem
The International Health Regulations of 2005 provide the framework for WHO epidemic alert and rapid response activities to control international outbreaks and strengthen international public health security. This is complemented by several local laws and regulations that support the management of health emergencies, such as the Republic Act No. 11332 or the Mandatory Reporting of Notifiable Diseases and Health Events of Public Health Concern Act as well as the Executive Order No. 168 Series of 2014 or creation of the Inter-Agency Task Force for the Management of Emerging Infectious Diseases in the Philippines. There are also specific local laws and regulations passed to effectively respond to the ongoing COVID-19 crisis, such as the Republic Act No. 11469 or the Bayanihan to Heal as One Act, Proclamation No. 922 Series of 2020 or Declaring a State of Public Health Emergency throughout the Philippines, and the Department of Health (DOH) Administrative Order No. 2020-0015 or the Guidelines on the Risk-based Public Health Standards for COVID-19 Mitigation, among others.
With these, the DOST XI opted to establish, implement, and maintain a Pandemic (PAN) Manual with the objectives of defining the scope, purpose, and responsibilities of DOST XI Regional Office personnel in relation to the procedures on prevention, mitigation, and building resilience to epidemics and pandemics. The PAN Manual will also guide all DOST XI personnel, customers, and other stakeholders on what to do in terms of pandemics. It also aims to standardize each procedure for preventing, mitigating, learning, and integrating epidemics and pandemics and ensure the continued delivery of quality products and services.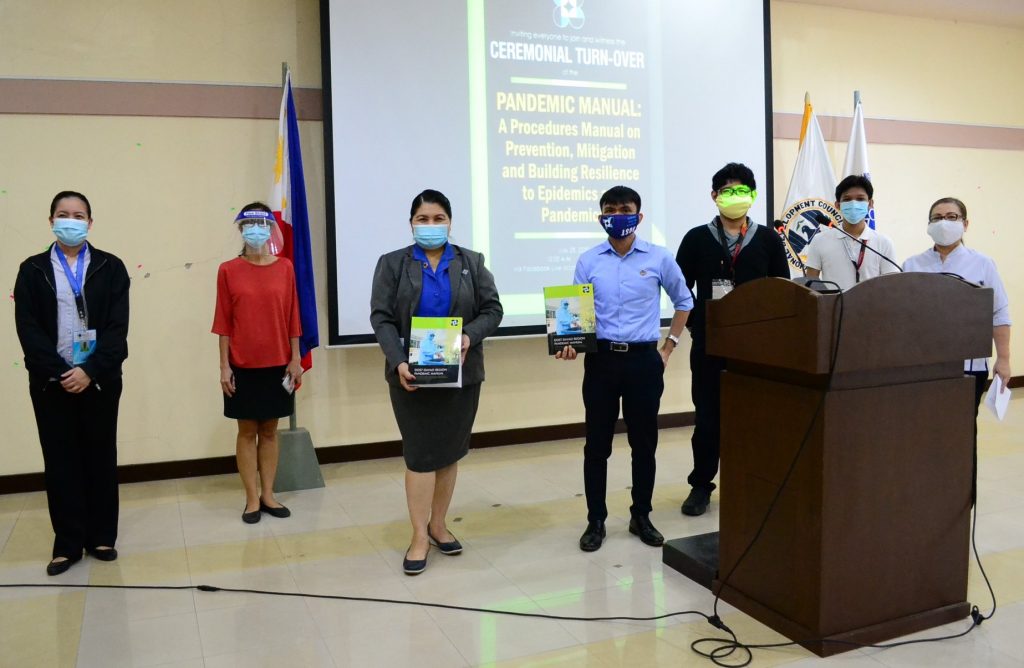 Solution and Impact
In order to ensure the delivery of products and services despite past, ongoing, and expected epidemics and pandemics, the DOST XI launched a manual entitled "DOST Davao Region Pandemic Manual: A Procedures Manual on Prevention, Mitigation and Building Resilience to Epidemics and Pandemics."
The DOST XI could conduct consultations between the management and DOST XI personnel in developing and reviewing the procedures in the Pandemic Manual. It documented 61 detailed procedures in the PAN Manual, including 16 procedures for mitigation, 27 for mitigation, and 5 for learning and integration. The office deployed and continuously improved the Pan Manual procedures across the DOST system and provincial offices. It also created a Decision Scorecard for COVID-19 (including an online form) that will be used for monitoring DOST XI's personnel's health condition upon entry to any DOST XI office/facility. The DOST XI will recommend suggestions to its personnel entering the office regarding their total scores and implement corresponding actions to provide safer and more secure transactions. Launching and utilization of the Pan Manual using media outlets increased awareness of preparation, planning, and implementation. It also showcased its commitment to protecting its personnel and providing its customers, stakeholders, and partners with quality products and services. It also provided a guide for other organizations, such as the National Economic Development Authority (NEDA) XI, Office of Civil Defense (OCD) XI, Philippine Science High School (PSHS) System, etc., in crafting their own guidelines to combat COVID-19.
Milestones/Next Steps
To date, the DOST XI records zero positive cases of COVID-19 among all its employees (Permanent, CoS, Job Order, Utility Workers, etc.). The DOST XI Pan Manual has been deployed to all DOST offices/units, including the regional offices and attached agencies and other government agencies, Higher Education Institutions (HEIs), offices like the NEDA, OCD, PSHS system, and University of Southeastern Philippines (USEP). The DOST XI also created a decision scorecard (online and paper-based) intended to monitor the DOST XI personnel's health to provide safe and secure transactions.
The DOST XI Pan Manual serves as a guide in implementing their respective organizations' processes and delivery of services and to better provide a secure working environment in the event of health outbreaks. The manual provides guidelines for the DOST XI and other agencies in planning and adopting strategies to adapt to the "New Normal" set-up and to further prepare for any similar situations.