Organization
Department of Labor and Employment – National Capital Region (DOLE-NCR)
Best Practice Focus Area/s
Strategy, Citizens / Customers, Operations
Year Implemented
Preview release / soft launching on 01 June 2020; Official launching on 12 June 2020\
This is a GBPR for COVID-19 Response entry
Summary
The Department of Labor and Employment – National Capital Region (DOLE-NCR) created a free online platform called the Electronic Filing (E-Filing) Service, an adaptation of the Google Forms technology. It is designed to provide the convenience of digital filing, applying, or submitting any labor-related requests for employers and workers.
Background and Problem
The DOLE-NCR is the premier Regional Office responsible for implementing policies and programs that promote gainful employment opportunities and human resource development to protect workers' welfare and advancement and maintain harmonious industrial relations among workers and employers.
Coronavirus Disease (COVID-19) cases in the country last 2020 compelled the government to enforce preventive measures to ensure the health and safety of the citizens by regulating physical distancing, community quarantine, and travel restrictions, among others. The pandemic also caused some industries and several establishments in the National Capital Region (NCR) to shut down temporarily, which affected millions of workers and employers with existing labor and employment issues and concerns.
Similarly, the Department's key frontline programs and services that required physical transactions were suspended. Under normal circumstances, the Department's processes were voluminous. However, recent events challenged them to develop a new operational strategy using digitization that would still provide a fast and efficient implementation in addressing the needs of its employees and clients amidst the pandemic.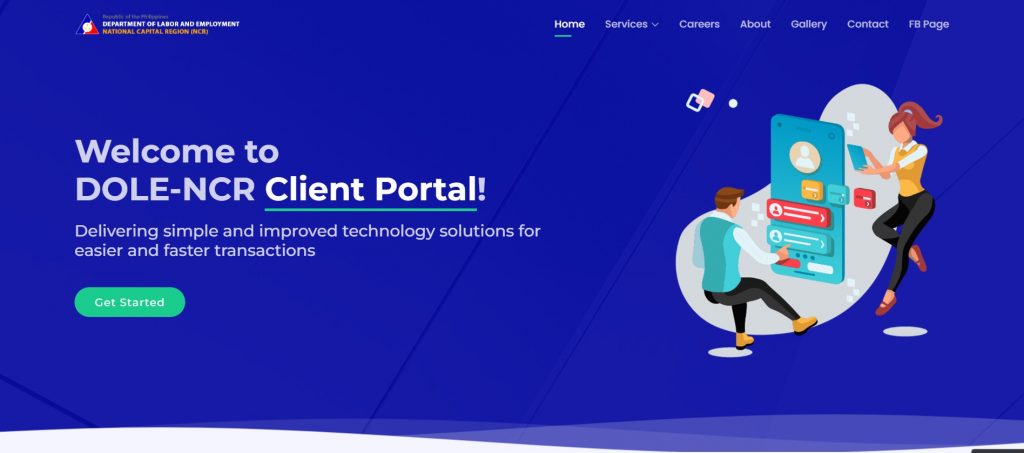 Solution and Impact
Apart from the Department of Trade and Industry (DTI) & DOLE's Interim Guidelines on Workplace Prevention and Control of Coronavirus Disease, the creation of the E-filing service is preparation for DOLE-NCR to adapt to the new normal. The e-Filing Service covers 16 key frontline services such as:
Request for Assistance;
Request for Certificate of Involuntary Separation for SSS (local employees);
Request for Certificate of Involuntary Separation for SSS (for OFWs);
Registration of Establishment under Rule 1020;
Application for Alien Employment Permit (AEP);
Registration of Job, Service Contractor, Subcontractor (DOLE Department Order 174-17);
Construction Safety and Health Program Application (Simplified);
Construction Safety and Health Program Application (Comprehensive);
Request for Technical Safety Inspection;
Annual Medical Report;
Report of Safety Organization;
Company Occupational Safety and Health (OSH) Program;
Minutes of the Meeting of Safety and Health Committee;
Application for Working Child Permit;
Application for DOLE Clearance (Certificate of No Pending Case); and
Application for DOLE Clearance (Certificate of No Pending Case on Child Labor).
By utilizing today's technologies and online services, clients and employees would experience long-term benefits, including:
Improved Timeliness and Collaboration: DOLE-NCR provides the tools to document management processes. Their employees will easily view, download, and evaluate documents while checking the online status. For example — adding the application status of responses on the Google online spreadsheet will easily track and monitor the action on every online submission of clients. This will also help resolve bottlenecks and ensure the timely generation of documents. Targeted Process Cycle Time (PCT) will be achieved because of its quick turnaround. Gone are the traditional ways of filling-out forms, submitting printed copies, enduring long application queues, sorting out inaccurate requirements, and encoding submitted data in computers. The online filing would significantly reduce the time spent on manual activities, making client registrations automatically recorded and categorized accordingly in the system. DOLE-NCR employees can now solely focus on reviewing, validating, and evaluating processes.
Data Security: Digital storage reduces the risk of data loss as files are securely protected and backed up, ensuring data recovery during property damage or natural disasters. This assures DOLE-NCR and clients that the data provided by customers are safely stored. By adopting this practice, employees would capture and access data securely and consistently.
Data Accuracy and Standardization: The Google Form captures the registered information and data submitted by employers and workers. It provides customers with the latest prescribed DOLE forms with specific steps to ensure consistency of online filing. It can also detect omitted fields made by clients to ensure they complete all the required information.
Improved Customer Support: The DOLE-NCR can easily access all the information to answer any E-filing-related questions of clients. The focal can easily provide status updates on customer concerns through the client's registered contact info.
User-Friendly: DOLE programs and services can easily be accessed by different devices connected to the Internet, which will benefit clients and DOLE-NCR Regional and Field Offices while quarantine orders remain in effect. Furthermore, it is easier to use since most clients are familiar with Google Form technology.
Economical: Accessibility of online forms would save the use of paper in DOLE-NCR. In the long run, this saves time and resources and promotes employee efficiency. For example – responses can just be downloaded or viewed at any time. Gathering data becomes an easier task.
Milestones/Next Steps
The DOLE-NCR's e-Filing Service is still in its infantile stage as it was only launched in June 2020, but improvements are already underway. The DOLE-NCR is the first regional office to provide an online facility that is free and user-friendly which gives it a major advantage that other DOLE regional offices may replicate. The service's primary goal is to ensure that clients can file online requests and that the data submitted strictly follow the Data Privacy Policy. It comes with an instructional video that guides the clients in using the system and can be used as an educational material during DOLE-NCR webinars.
The DOLE-NCR intensified its campaign on 12 June 2020, using its official Facebook Page and YouTube Channel to gather client engagement and feedback. The DOLE-NCR's official Facebook Page alone reached 21,871 users since the posting of the e-Filing Service link with 182 positive reactions (e.g. "Like," "Love," and "Wow" remarks combined) and 132 shares. Hence, as of 31 July 2020, viewers from DOLE-NCR's YouTube channel grew to 5,196. Additionally, various media organizations such as the Philippine News Agency, Philippine Information Agency, and Daily Tribune have already featured the DOLE-NCR e-Filing Services on their respective websites.