Name of the Organization
Burgos Agro-industrial School (BAIS) and Burgos Central Elementary School (BCES)
Name of the Office/Unit that leads the implementation of this best practice entry
Schools Division of Ilocos Norte (SDOIN), Local Government Unit (LGU) of Burgos, Department of Education (DepEd), and Department of Science and Technology (DOST)
Focus Area of the Best Practice
Citizens / Customers; Strategy; Operations
Date the best practice was first implemented
25 May 2019
Summary of the Best Practice
Burgos, a fifth class municipality in Ilocos Norte, pioneered the establishment of 21st Century Learning Environment Model (CLEM) Classrooms for young learners. A Special Education Fund (SEF) of PHP 6,216,400 was allotted to develop classrooms equipped with ICT-integrated facilities and learning equipment in Burgos Agro-industrial School (BAIS) and Burgos Central Elementary School (BCES). This academic breakthrough aimed to expose students to digital learning activities in their formative years in school. Specifically, the project aimed to strengthen their 4C's of 21st-century competencies (creativity, critical thinking, collaboration, and communication), which are fundamental for modern students to excel in their future.
The Challenge
The motivation behind Burgos' 21st Century CLEM Classrooms was the need to ensure that the students' education were aligned with the demands of the 21st century. This required shifting from traditional classrooms to a more progressive, modern classroom to nurture an environment conducive to developing one's 4Cs and making learning more engaging.
To actualize this goal, then Schools Division Superintendent of Ilocos Norte Vilma D. Eda sent school heads and teachers from Burgos, Ilocos Norte to attend benchmarking activities in DOST, Taguig City, Bolbok Integrated National High School, and Inos-Marawoy National High School in Lipa, Batangas 26-28 June 2018. These benchmarking activities gave the school heads and teachers the chance to observe classes that conduct 21st Century CLEM and eventually replicate the best practices in Burgos, Ilocos Norte.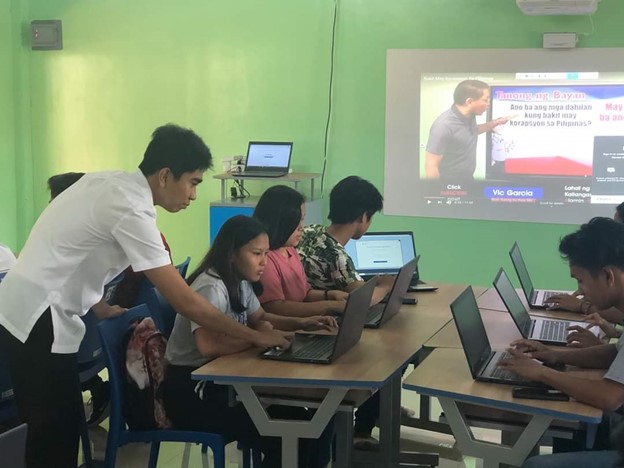 Solution and Impact
Mayor Rodolfo L. Garcia supported the establishment of 21st Century CLEM Classrooms in Burgos Agro-industrial School (BAIS) and Burgos Central Elementary School (BCES) to prepare young learners to adapt to innovative learning strategies for modern pedagogy. Projectors, three-dimensional printers, computer units, interactive tables and chairs, free Wi-Fi connection, and other technologically advanced teaching tools were used to help students understand their lessons better. To ensure its effective delivery, teachers from the two schools have undergone a week-long training to participate in the initiative competently and embrace science, technology, and innovation in the education of the Burgoseño youth.
Like any other educational institution, its operations were also halted by the advent of the COVID-19 pandemic. However, the impact of this leap for transformative education was that it allowed the public and private sectors, as well as civil society, to study and evaluate the effectiveness of integrating modern technologies in the context of the Philippine setting. It also served as a call to action of having a state agenda geared towards initiating development programs involving the significance of ICT facilities and tools integration in the teaching and learning process in classrooms.
Milestones
Although Burgos is a fifth-class municipality in Ilocos Norte, project stakeholders pride themselves that their passion for the schoolchildren through their implementation of 21st Century CLEM in select schools in the region made a mark in the country's educational system. BCES, in particular, was the first elementary school in the country to have a 21st Century CLEM, while BAIS was the first of all high schools in Region I. In recognition of its success, the region challenges other LGUs to be inspired to upgrade and revolutionize the country's educational system by focusing on critical 21st-century skills and learning—with the underlying goal of fulfilling the evolving needs of today's students and making a lasting impact in their communities.
Testimonials
The commencement of 21st Century CLEM Classrooms in Burgos, Ilocos Norte, evoked positive responses from its stakeholders. Burgos Mayor Rodolfo L. Garcia noted the arduous procedure for setting up the said classroom in its inauguration during the Educational Transformation Summit 2.0 held at Plaza del Norte, Paoay. This, in turn, led him to share the virtues Burgoseños collectively practice to overcome such challenges: "It is really a matter of patience and cooperation. But the mere fact that Burgos is the pioneer in Region I, is our pride and honor as a very small community. But most importantly, this is how we value education in Burgos. We have to provide tools in any way we can. This is how we love our young learners,".
Moreover, in a web article by Ilocos Sentinal, Mrs. Vilma D. Eda shared the current status of the initiative and its expected plans for the future: "The municipality of Burgos has programmed to put up 21st century classrooms every year until all schools are modernized," She furthered, "May this inspire all of us to level up and we wish Burgos more progress in the future."
Lastly, in a Zoom interview with Mr. Erwin Ramil, teacher and CLEM manager at BAIS, he indicated that the positive impact of student-centered learning in 21st Century CLEM Classrooms was: "yung sa motivational part ng students naging effective" [The 21st Century CLEM became effective in the motivational part of the students]. This was supported by Secia Segovia, student, during an interview with ABS-CBN News: "marami po kaming natututunan" [we learn a lot].
References
ABS-CBN News. (2019, May 29). SILIPIN: Binansagang '21st century classroom' sa Ilocos Norte public school | TV Patrol. https://www.youtube.com/watch?v=SB4r1eJDxxY
Ilocos Sentinel. (2019, June 4). Deped-Ilocos Norte inaugurates 21st century classrooms in Burgos. https://www.ilocossentinel.com/home/deped-ilocos-norte-inaugurates-21st-century-classrooms-in-burgos.html