Overview
The City Government of Baguio has taken a significant step toward seamless public service delivery by implementing the Electronic Budgeting, Procurement, Inventory, and Monitoring System (eBPIMS). This innovative system integrates various departments and processes, including planning, budgeting, procurement, inventory management, and project monitoring. By automating government procedures and reducing reliance on paper-based transactions, eBPIMS saves valuable time and resources, enabling the City Government to operate faster and efficiently serve its constituents.
Challenges
Before implementing eBPIMS, the City Government of Baguio faced several challenges in financial transactions, including slow procurement processes, document losses, and clerical errors. Manual processes require end-users to visit multiple offices to monitor transactions, check budget balances, and track purchase requests. Additionally, report generation was time-consuming and prone to spreadsheet data manipulation.
Solution
To overcome these challenges and enhance efficiency, the City Government of Baguio developed the eBPIMS under the supervision of the City Budget Office and the City Management Information Technology Division (MITD). eBPIMS maintains a secure database, tracks document movement, and eliminates bottlenecks in manual processes.
According to Atty. Leticia Clemente, Baguio City Budget Officer, they initially focused on budget systems. Eventually, they expanded the integration to include other departments such as accounting, treasury, and procurement. By leveraging systems development, the City Government aims to optimize the utilization of limited resources.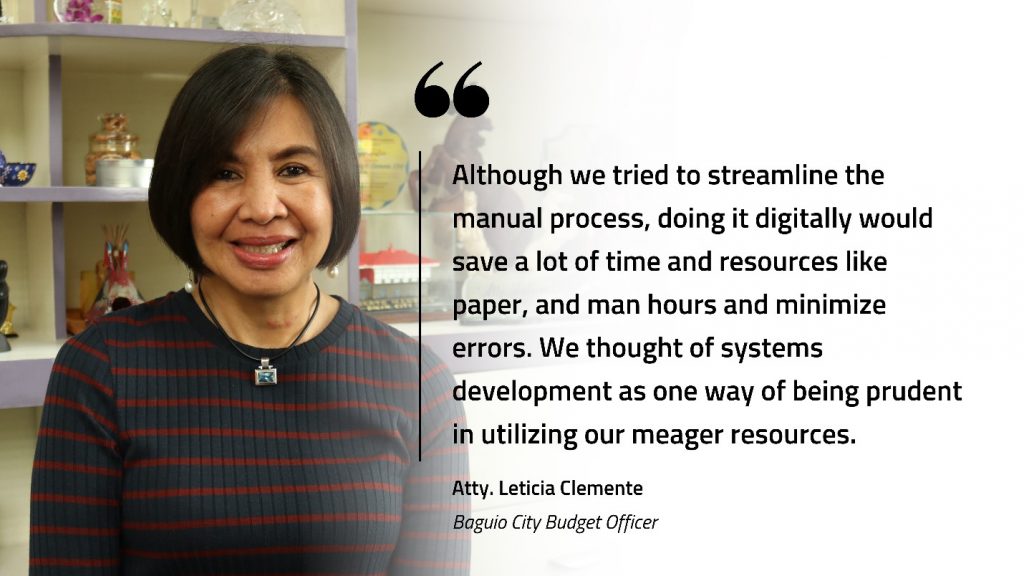 These are key features of the eBPIMS:
Automation: It automates transaction processes such as planning, budgeting, and procurement through the system.
Tracking and Monitoring: It empowers end-users to monitor the status of their budgets, purchase requests, and feedback through the system.
Improved Service: Enables prompt internal transactions, leading to the more efficient delivery of public e-governance services in Baguio City.
Report Generation: Facilitates faster report generation by streamlining data consolidation through eBPIMS, supporting top-level management decision-making.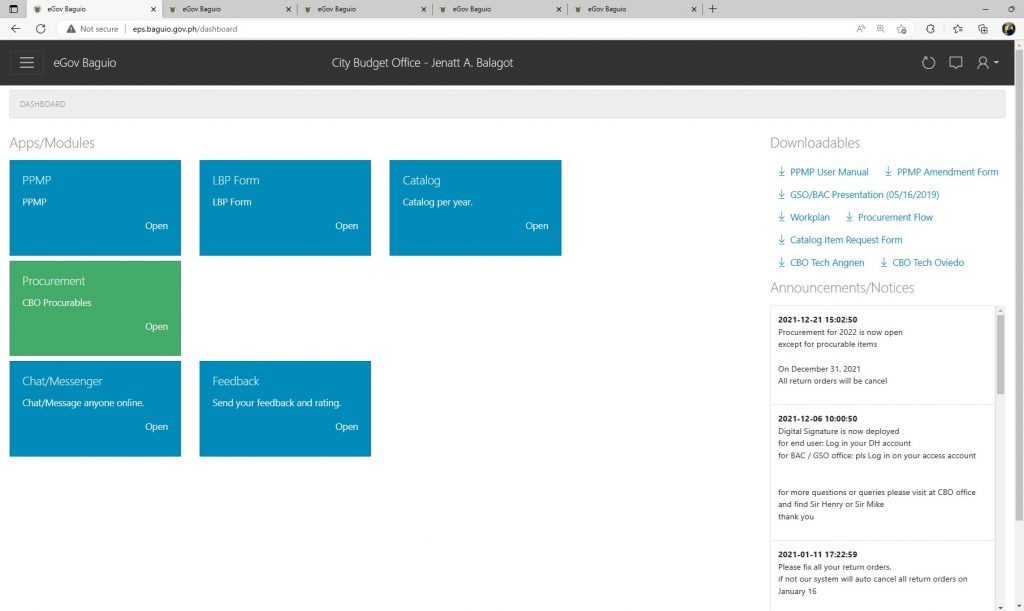 Specifically, the functional and integrated features of eBPIMS include the following:
Catalog Creation: Standardizes procurable items with detailed specifications, ensuring only listed items can be procured.
Electronic Preparation of the Project Procurement Monitoring Plan (PPMP): Simplifies the preparation of the yearly PPMP by selecting items from the Catalog and specifying quantities and order times.
Annual Budget Generation: eBPIMS Consolidates PPMP contents to generate a budget aligned with the city's needs based on current market prices.
Purchase Request Creation: Prepares purchase requests based on the PPMP schedule.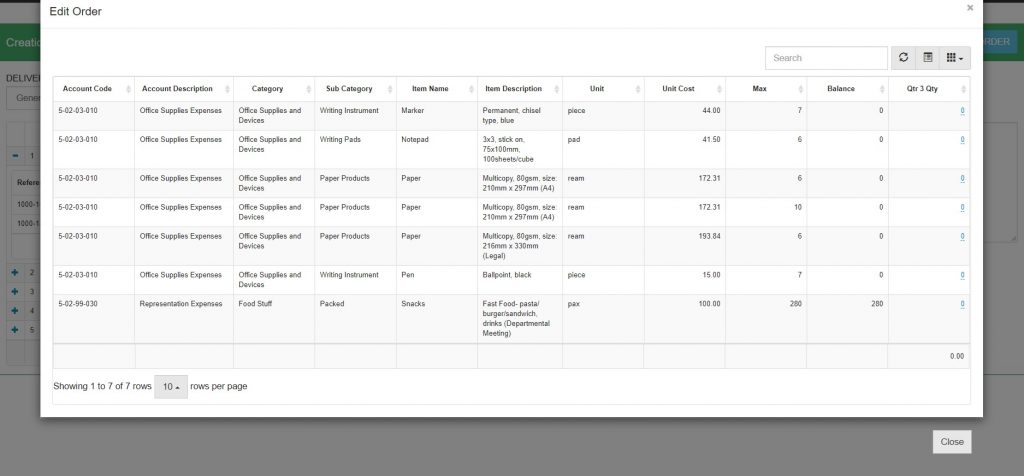 Transaction Monitoring: Facilitates efficient public service delivery by monitoring the transactions promptly.
Human Resource Information System (HRIS): Shares employee information in a database utilized by eBPIMS to generate the Plantilla and Personnel Services (PS) budget per office.
Registry of Appropriations, Allotment, and Obligations (RAO): Shares appropriation and actual expense data, validating obligations and providing real-time information regarding the annual budget.
Electronic Business Permit and Licensing System (eBPLS): Shares a city projects and bidders database, enabling eBPIMS to identify bidders requiring payment for bid documents and associated costs, expediting transactions.
Productivity Gains, Outcomes, Impact
Since its launch in 2020, eBPIMS has processed a substantial number of approved transactions. Shown below is the breakdown per year as of June 2023, based on the data from MITD:
| | |
| --- | --- |
| Year | Total number of approved transactions processed in eBPIMS |
| 2020 | 25,434 |
| 2021 | 23,343 |
| 2022 | 29,330 |
| 2023 | 16,358 |
eBPIMS has made an impact on its end-users and beneficiaries. Compared to the manual process, faster transactions are done daily because the system is accessible anywhere with internet connection.
Budget Officer II Jenatt Balagot highlighted the convenience and accessibility provided by eBPIMS. They can work anytime and anywhere using desktops, laptops, cell phones, or tablets.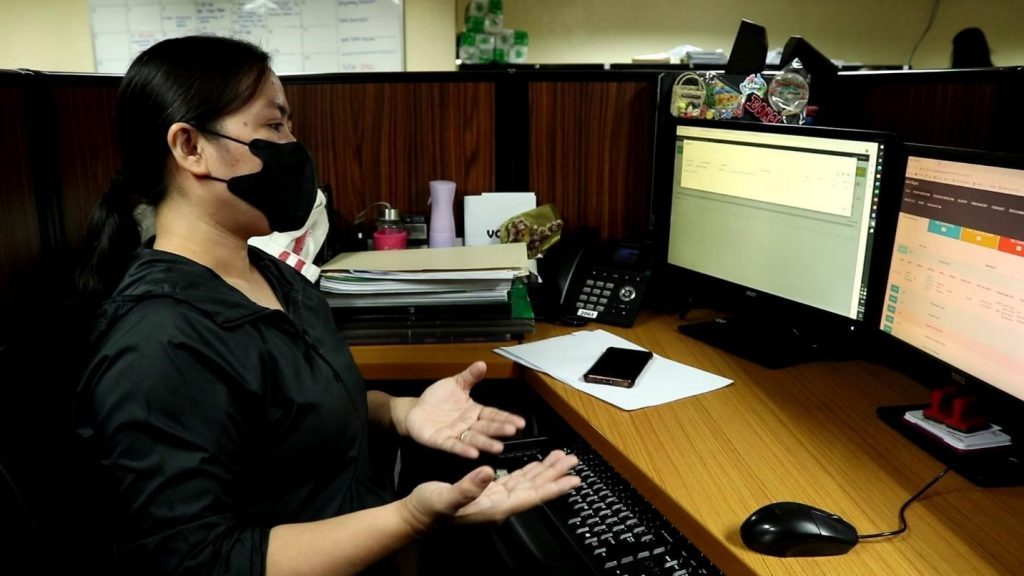 The remote transaction process has considerably shortened the time required for order creation, submission, review, and approval, now taking only minutes.
Budget Officer I Sidney Faye Almazan highlighted this as she noted significant improvements in closing daily obligations, such as processing Assistance to Individuals in Crisis Situations (AICS) transactions, increasing efficiency from 10 transactions per day to as many as one per minute.
Supervising Administrative Officer Leopoldo Oviedo Jr. identifies user-friendliness, improved governance, and accountability as the key benefits of eBPIMS.
For Economist II Angeli Niña Zandra Uson, the remote capabilities of eBPIMS enable end-users to review orders, check budget balances, and monitor bidding projects regardless of time and location.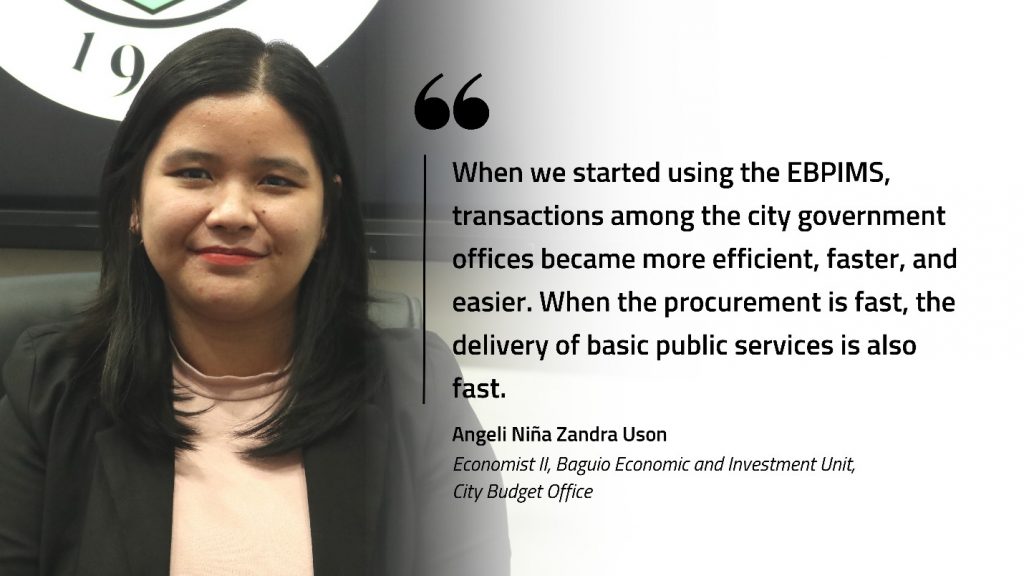 Lessons Learned and Challenges in Implementing the Intervention
Despite the significant results achieved with eBPIMS, the system encountered challenges, such as dependence on internet connectivity and power supply for processing requests and transactions. Integrating a fully functional feedback mechanism, improving forms integration, and ensuring sufficient data storage and backups are ongoing concerns the MITD addresses.
Sources
Document from the City Government of Baguio. Digital Cities eGOV Awards for LGU.
Refuerzo, A. P. (2021, October 31). City shines in 2021 digital governance awards night. Baguio Midland Courier. Retrieved from https://www.baguiomidlandcourier.com.ph/city-shines-in-2021-digital-governance-awards-night/
Baguio Herald Express. (2021, September 27). Baguio shines in 2021 Digital Governance Awards Program. Baguio Herald Express. Retrieved from https://baguioheraldexpressonline.com/baguio-shines-in-2021-digital-governance-awards-program/