Organization
City Government of Bacoor
Best Practice Focus Area/s
Leadership, Strategy
Year Implemented
2019
This is a GBPR entry
Summary
"Safer, Adaptive, Disaster–Resilient community towards sustainable development" is the battle cry of most DRRM offices. Bacoor Disaster Risk Reduction and Management Office (BDRRMO) aims to fulfill its primary task of providing efficient and competent emergency services to the people of Bacoor City. Bacoor DRRM, in its goal to achieve spiral progression, necessitates first-hand training with competent conferences to hone skills from which pertinent services may develop to provide superior emergency response aid in times of calamity. Part of BDRRMO's growth is to ensure that its employees and individuals residing in the City should be familiar with the what's and how's of a disaster. As a result, capacity building and training helped make Bacoor a resilient and better city. The joint effort of the people and community helps the city progress to make DRRM possible.
Background and Problem
The City of Bacoor, a first-class urban component city in the province of Cavite, Philippines, has a political diversity of 73 barangays grouped into two legislative districts: Bacoor West and Bacoor East. The City of Bacoor Disaster Risk Reduction and Management Council (CBDRRMC) is a branch consistent with the National Disaster Risk Reduction and Management Framework (NDRRMF), serving as "the principal guide to disaster risk reduction and management (DRRM) efforts to the country." It envisions a country of "safer, adaptive and disaster-resilient Filipino communities toward sustainable development," which conveys a paradigm shift from reactive to proactive DRRM. This vision involves men and women progressively increasing awareness and in-depth understanding of DRRM, with an end-view of improving people's resilience and decreasing the vulnerability of its citizenry.
The lack of knowledge in managing susceptibilities and risks places citizens in greater danger, which is further alarming, especially in executing response and rehabilitation in the post-disaster stage. Relevant stakeholders are the primary down-line in which stringent training and equipment must be required to enable them to reach out to the community and provide public information and proper dissemination to its constituents.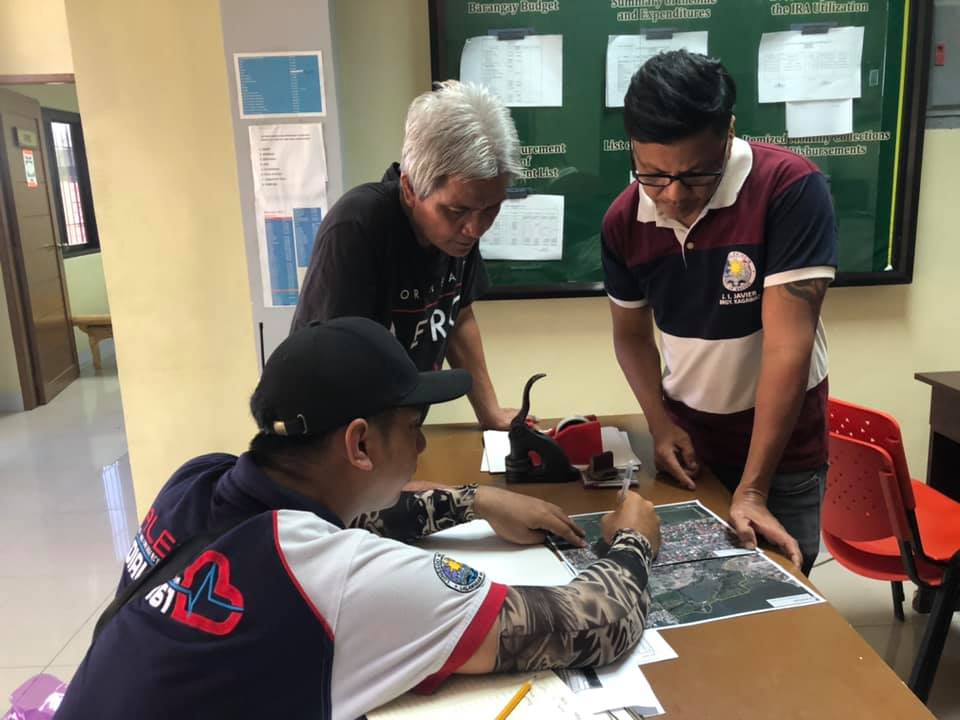 Solution and Impact
Under the given framework that constitutes the Disaster Risk Reduction and Management Office of the City of Bacoor, the office is granted to join a training from which learnings and applicable knowledge of Emergency preparedness and response may come. The BDRRMO believes that personnel equipping and training bring the office to achieving quality service provision in every situation it may encounter. Principal actions were taken in equipping its staff and even the DRRM Council, which comprised relevant departmental agency heads, including the Local Chief Executive, through former Mayor Lani Mercado-Revilla's leadership. For the year 2019, records have shown that the organization has initiated, facilitated, and participated in 16 significant trainings and courses such as Basic ICS, Flood Incident Management, Contingency Planning, Planning workshop on DRRM Health, LDRRM Plan, Advance ICS Training course, Road Safety and more.
The BDRRMO framed a "Risk Assessment and Analysis" for the City of Bacoor to identify potential hazards, determine the probability of occurrence, estimate the impact on the communities at risk, promote practices for reducing vulnerability, plan measures and take action to reduce risk, and create awareness on how to implement disaster risk reduction measures.
The data gathered to formulate the Elements at Risk were categorized per hazard in each barangay. It was aligned and supported by the following sources: National Mapping and Resource Information Authority (NAMRIA), Rapid Earthquake Damage Assessment System of PHIVOLCS (REDAS), Mines and Geo-Sciences Bureau (MGB), Philippine Atmospheric Geophysical and Astronomical Services Administration (PAGASA), National Statistics Office (NSO), Office for Senior Citizen's Affair (OSCA), Comprehensive Land Use Plan (CLUP), and the Research and Planning Division of the CDRRM Office.
In addition, reverberation and continuity of application of learning have been efficiently exercised through several localized trainings initiated by the BDRRMO, such as 1) Community schooling on Basic life support, 2) First-aid, and 3) Commencement of drills and disaster practices and simulations among 4P's recipients, barangay officials and staff, Bacoor Chamber of Commerce, Private and Public secondary academe, federations of Sangguniang Kabataan and even Collegiate institutions.
These measures achieved during CY 2019, still in pursuit of continual training in the new normal setting, paved the way to fulfilling a spiral of progressive growth in handling disaster phenomena in the 21st century millennia. It also sets a higher benchmark to achieve and fulfill the advancement of operational services in the years to come.
Milestones/Next Steps
The City DRRM's handling of disaster occurrences in its goal has prominently advanced, and at the same time, milestones and bulbous recognitions were also given in apt evaluation of elevating BDRRMO's services. The City of Bacoor was the first LGU to establish its own fully-equipped and competently trained Incident Management Team in CALABARZON and to conduct Basic ICS training for Uniformed Personnel and Sangguniang Kabataan in the region.
The CBDRRMC recurrently receives recognition and awards in Gawad Kalasag, an award-giving body headed by the Office of Civil Defense. In prior years, recognitions and places were given by the same award-giving body in fulfillment of an elevated and progressive operation. In 2018, CDRRMC placed 2nd in the Regional Gawad Kalasag held last 30th of August at Tagaytay International Convention Center. In the succeeding year, CDRRMC grabbed the Regional Gawad Kalasag title and placed 2nd in the Gawad Kalasag National Level.