Overview
Mindanao, the food basket of the Philippines, is a major food source and a key player in the Country's international food exports. Mindanao generates more than 3 billion dollars worth of agricultural exports or 60% of the Country's total agricultural exports; accounts for at least 40% of the Philippines' food requirements; and contributes more than 30% to the national food trade. As Davao positions itself as a top exporter of processed food, it needs a hub for innovations and technical support to sustain the local food industry.
The Food Processing Innovation Center (FPIC) – Davao is the first Regional Food Innovation Center (RFIC) established in the Philippines through the High Impact Technology Solutions (HITS) program of the Department of Science and Technology (DOST). The Center is mandated to provide innovative food technologies from the abundant raw materials found in the locality as well as give technical support to the food industry in the Davao Region and nearby provinces. Furthermore, the Center is registered as a non-stock, non-profit organization under the Securities and Exchange Commission (SEC) with a business permit, a License to Operate, and a Good Manufacturing Practices (GMP) Certification granted by the Food and Drug Administration (FDA). The Center pioneers initiatives, sets operational standards, and collaborates with various agencies to provide technical support and expertise. FPIC-Davao not only complies with regulatory requirements but also contributes to economic growth and productivity in the Region.
Challenge
With its mandate to provide leadership and coordination of scientific and technological efforts and ensure maximum economic and social benefits for the public, the Department of Science and Technology Region XI faced a significant challenge in optimizing the utilization of its resources to efficiently deliver its outputs. The absence of a centralized shared service facility hindered the DOST XI in providing quality services and technical assistance to micro, small, and medium-sized enterprises (MSMEs) in the food sector, as well as students and researchers engaged in food science. Furthermore, there was a notable lack of collaboration and standards, representing a significant waste of time and motion in coordinating different sectors and stakeholders. The non-existence of such an operational framework hindered the effective exchange of information, resources, and expertise essential for providing Food Processing Laboratory Services in the region.
Solution
Established on 14 May 2014, the DOST XI, in collaboration with the Philippine Women's College (PWC) of Davao, the Department of Trade and Industry (DTI) XI, the Food Processing Association of Davao (FPAD), Inc., the Local Government of Davao City, and HELP Davao Network. Its key features include:
Advanced Technology Integration: FPIC-Davao incorporates state-of-the-art equipment such as a vacuum fryer, spray dryer, water retort, freeze dryer, and cabinet dryer. This equipment enhances the efficiency of modern food processing techniques. These technologies streamline production processes to ensure higher productivity, increase value-addition, and improve product quality. The use of advanced technology also helps in minimizing food production wastage.
Collaborative Hub for Innovation: FPIC-Davao acts as a collaborative platform, bringing together the Department of Science and Technology XI, academic institutions, and industry key players. This collaborative approach fosters innovation by leveraging diverse expertise, promoting knowledge transfer, and facilitating interdisciplinary research. This synergistic multi-agency approach enhances the accessibility of resources, technical expertise, and support services for MSMEs, promoting practical technology application and commercialization, thus avoiding duplication of efforts, which ensures the efficient use of government resources.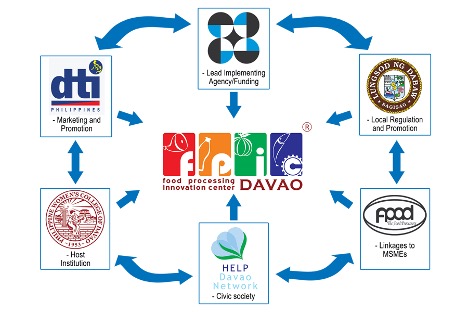 Education and Training Platform: The Center became a laboratory facility for the professional courses of the BS Food Technology program of PWC and research projects of other schools in Mindanao. It became a training center for students, community extension activities, and MSMEs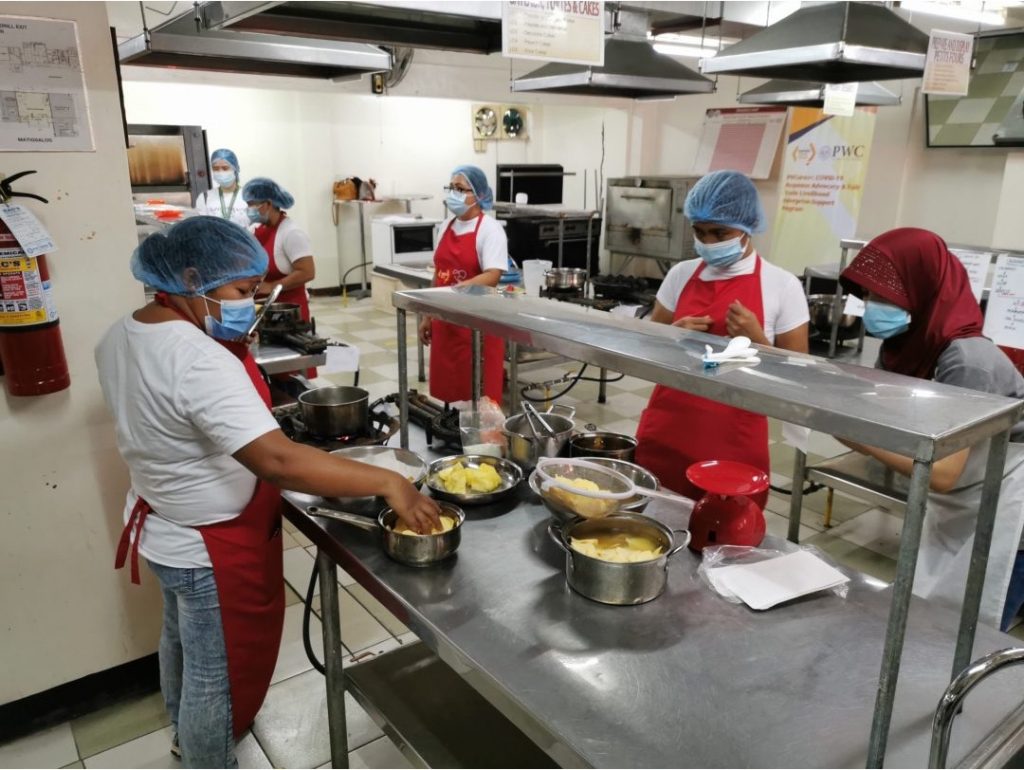 Compliance and Regulatory Support: FPIC-Davao ensures compliance with regulatory requirements, being the first to initiate the application for a License to Operate as a Food Manufacturer by the FDA. This proactive approach establishes a foundation for producing safe, high-quality food products for its clients and toll packers.
Pioneering Initiatives and Standards: FPIC-Davao sets operational standards and serves as a benchmark for other RFICs and Research and Development Institutes (RDIs). Its operations manual harmonizes services and standard operating procedures, guiding newly established centers.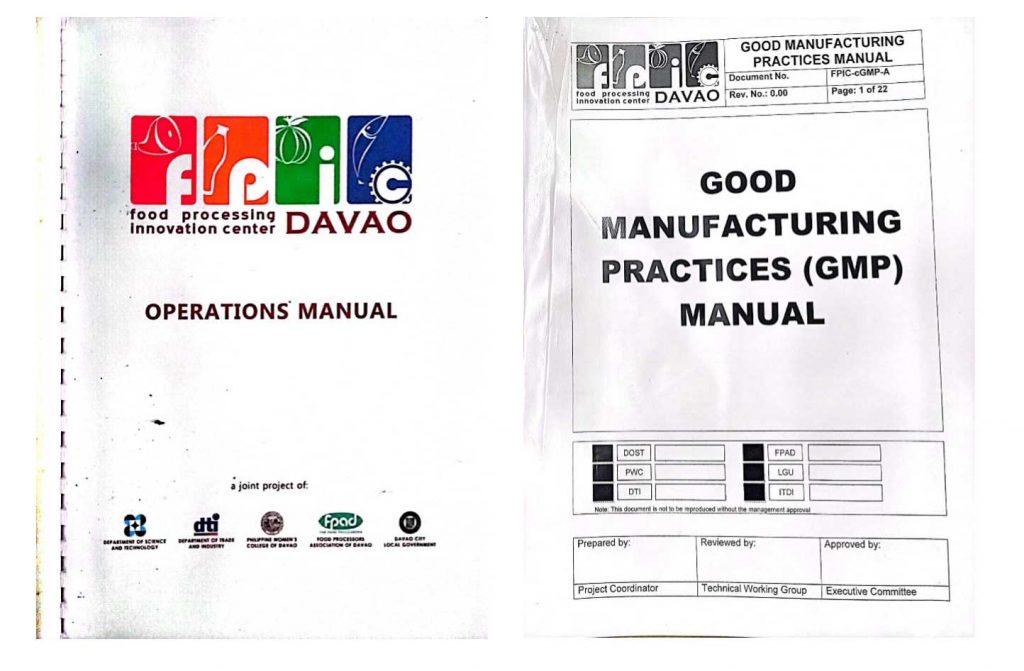 Non-Profit Structure and Compliance: FPIC-Davao operates as a non-stock, non-profit corporation, reinforcing its commitment to public service. Compliance with regulatory and statutory requirements, including securing a Mayor's Permit and registration with the Securities and Exchange Commission, establishes a foundation for transparent and accountable operations.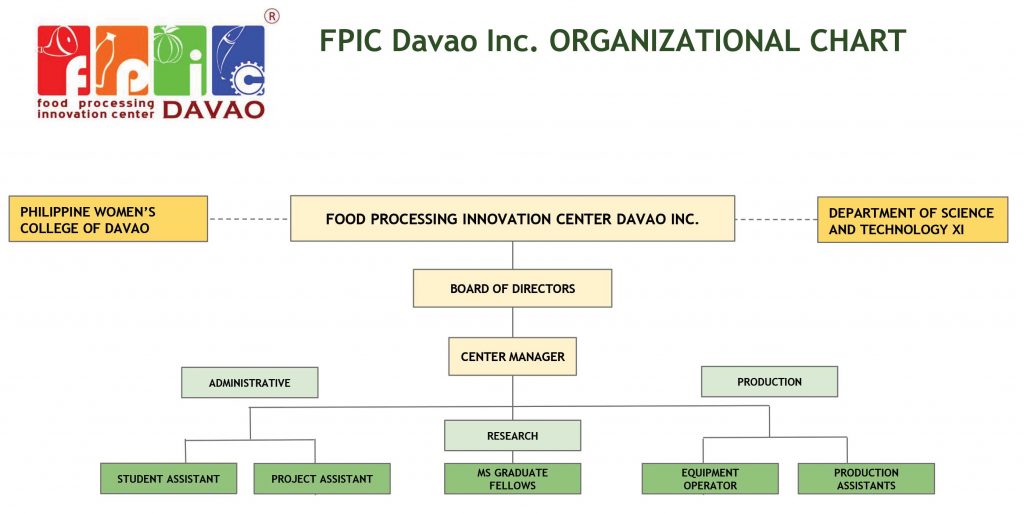 In summary, FPIC-Davao's innovative features lie in its integration of advanced technology, collaborative and educational initiatives, regulatory compliance, and a multi-agency approach. These aspects collectively address the public-sector productivity challenge by optimizing resources, fostering innovation, and ensuring the agri-food industry's sustainable and competitive growth.
Productivity Gains, Outcomes, and Impact
The FPIC-Davao has demonstrated tangible productivity gains, impacting the Davao Region and its stakeholders. Key outcomes include being a common service facility and supporting MSMEs, FPIC-Davao contributes to sustained regional and national economic growth. The development of more than 50 innovative food products, assistance to over 200 customers, and securing prestigious awards showcase the economic impact generated by the Center.
The Center's achievements align with its collaborators, especially the DOST XI and PWC of Davao, broader goals of fostering innovation, supporting MSMEs, and contributing to the overall growth and development of the food processing industry in the Region.
Lessons Learned/Challenges in Implementing the Intervention
Through its journey, the FPIC-Davao has yielded valuable lessons and identified areas for potential improvement. While FPIC-Davao's operations manual has been a pioneering guide for other RFICs, standardization faces challenges ensuring uniformity across regional centers. Continuous efforts are required to address variations in local contexts and optimize the manual's applicability.
Ensuring practical technology application, deployment, and commercialization, especially in rural areas, requires targeted efforts. Strategies for seamless technology transfer to MSMEs across diverse locations may need refinement for broader impact.
Enhancing market access for MSMEs supported by FPIC-Davao is an ongoing challenge. The Center can explore additional strategies to help these enterprises overcome market barriers and connect with a broader consumer base.
In conclusion, FPIC-Davao's journey has provided valuable insights into the complexities of collaborative innovation, technology transfer, and sustainable development. Addressing these lessons and potential areas for improvement will further strengthen the Center's role as a transformative force in the food processing industry and Regional economic growth.
Resources
Arayata, Ma. C. (2021, November 12). FPIC Davao to launch Food Innovation product. Philippine News Agency. https://www.pna.gov.ph/articles/1159630
de Guzman, R. (2018, September 4). Davao leads in creating high-value food products with Dost's Food Processing Innovation Center. Agriculture Monthly. https://agriculture.com.ph/2018/09/09/davao-leads-in-creating-high-value-food-products-with-dosts-food-processing-innovation-center/
Digital, S. S. D. (2023, October 14). Dost-Davao's Food Processing, Innovation Center nominated. SunStar Publishing Inc. https://www.sunstar.com.ph/davao/dost-davaos-food-processing-innovation-center-nominated
Food Processing Innovation Center. Philippine Women's College of Davao. (n.d.). https://pwc.edu.ph/innovations-and-socialventures/fpic/