Overview
The Philippine Institute of Volcanology and Seismology (PHIVOLCS) developed a software and decision-support tool that saves not just lives but also government resources, helping boost public-sector productivity. Dubbed the Rapid Earthquake Assessment System (REDAS), the tool provides real-time hazard monitoring, database development, and multi-hazard impact assessment coupled with capacity-building sessions for the target users.
Challenge
Before implementing REDAS, government agencies and local government units faced challenges in accessing real-time, accurate data, which hindered prompt decision-making and effective resource allocation in emergencies.
REDAS was conceptualized after the 7.8 earthquake on July 16, 1990, which claimed more than 1,000 lives and destroyed infrastructure. Getting information about potentially damaged areas was quite difficult, affecting relief and rescue operations. PHIVOLCS Associate Scientist and REDAS Program Coordinator Dr. Maria Leonila P. Bautista recalled that it was challenging to provide information during the early 1990s as the Internet was not accessible yet. Communication facilities failed. There was also a power outage and roads were blocked by landslides, and many places were inaccessible.
"It was difficult to tell (the public) what really happened. If we had a tool that can tell us right away what really happened or the impacts, then we can easily answer questions from the public," she said.
Dr. Bautista used to be the spokesperson of PHIVOLCS and experienced first-hand how challenging it was to provide real-time information to relevant government agencies and LGUs, especially after a disaster.
Solution
REDAS served as an attempt to make scientific information more accessible to the public to guide relevant agencies and LGUs on preparing even before a disaster strikes. The REDAS software tool was an answer to the need of the government to determine the resources needed to be deployed, avoiding duplication of efforts and helping ensure that lives are saved in any disaster-prone or disaster-hit area.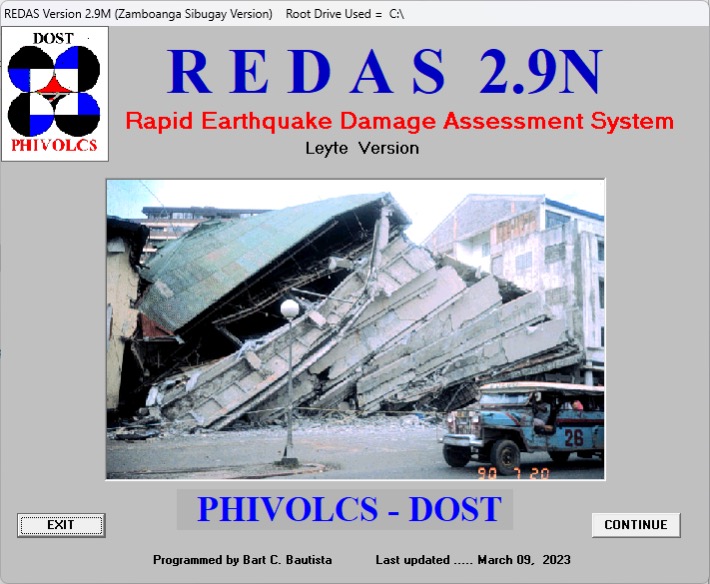 REDAS was initially designed for earthquake simulation only. However, due to the changing needs and demands of its target users and the exposure of the Philippines to natural hazards, REDAS has evolved over the years. From an earthquake simulation tool, REDAS has become a multi-hazard impact calculation tool that can also cover tsunami, lahar, flood, severe wind, rainfall, and agricultural damages. REDAS also has earthquake and rainfall monitoring capabilities. Aside from the actual tool, PHIVOLCS also conducts training sessions to ensure that the intended users can optimize what the tools can offer.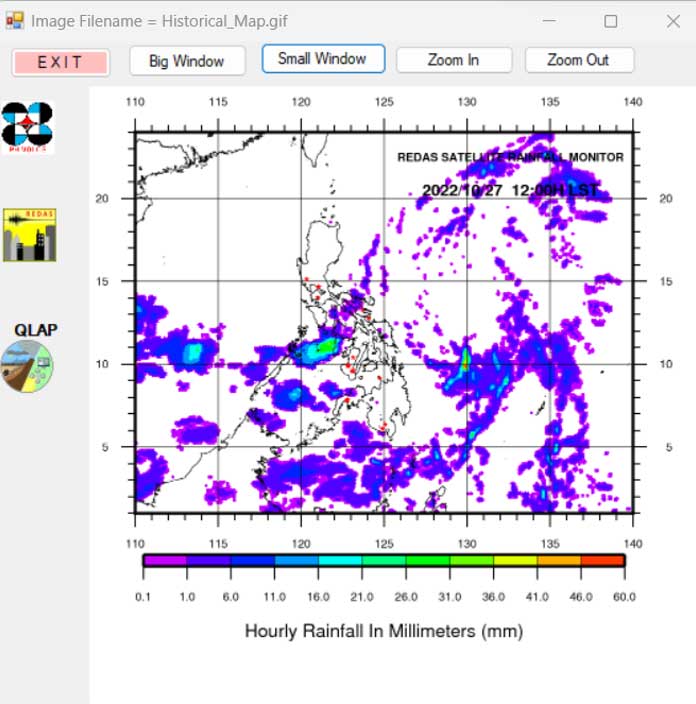 PHIVOLCS ensures that each training session is based on the specific needs of the audience to make the training curriculum more attuned to the needs and requirements of the requesting partner.
REDAS Science Research Assistant Jordana Marie Argamosa shared that the REDAS team tailor-fits each session based on the challenges and needs of their participants. She added that they ensure continuous communication and feedback from stakeholders to ensure that their needs and requests for additional functionalities are added to the REDAS system.
REDAS has the following features that can be replicated by other public sector organizations dealing with managing disaster risks:
Ability to develop and plot elements-at-risk data. Indeed, government agencies and LGUs cannot manage what they do not know. REDAS can be a tool for them to develop their own elements-at-risk that they need: making their communities safe from and resilient to natural hazards. REDAS can also generate deterministic ground shaking hazard maps for the target communities. This means LGUs can be guided in determining which areas are highly exposed to potential disasters. The elements-at-risk data can feed into their preparation, mitigation, and response plans.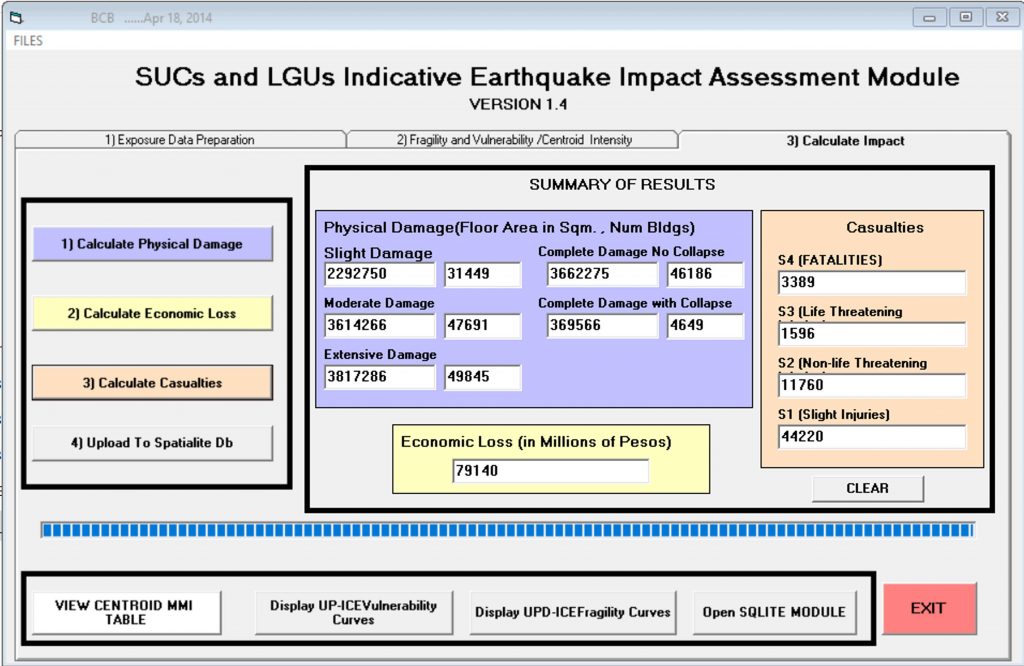 Accessibility since it is a freeware. Since REDAS is a freeware, government agencies can use the tool without paying extra for them to be able to use it. The training sessions, post-training support, and future upgrades are offered at no cost as well. The tool does not require users to master a Geographic Information System (GIS), making it relatively user-friendly.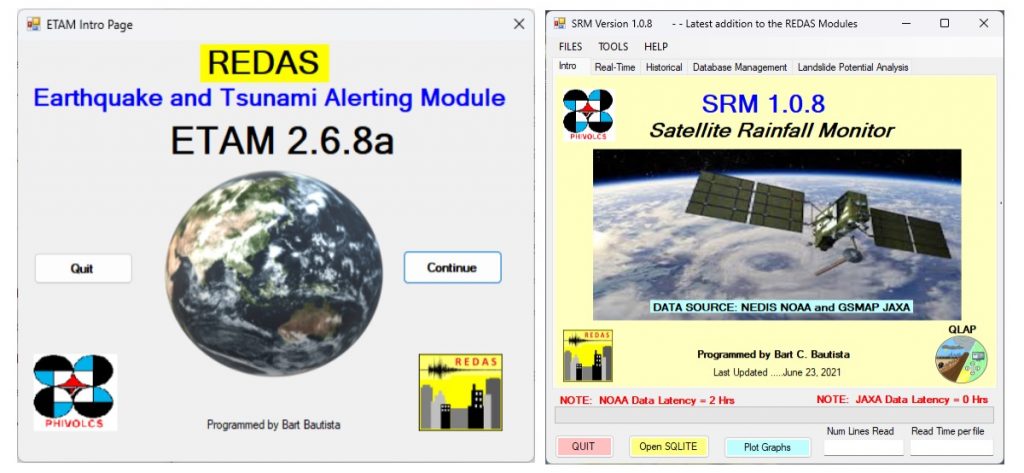 Two-way feedback mechanism. Each training session is also an opportunity to gather feedback from the users. From a simple, straightforward earthquake assessment and impact calculation tool, REDAS has morphed into a highly-improved version after considering the needs of its users.

Productivity Gains, Outcomes, and Impact
Dr. Bautista shared that different government agencies are using REDAS to ensure that the disruptions in their services are minimized. REDAS, for example, has been helping the Department of Energy (DOE) determine how REDAS simulation and tools help our country's energy sector through the DOE respond to earthquake emergencies using a simulation tool such as REDAS. REDAS has also been helpful for LGUs as it provides science-backed information on when they need to evacuate their constituents. To date, a total of 55 provinces, 690 municipalities/cities, 19 NGAs, 39 SUCs, 79 private companies, and 10 NGOs have been trained in the use of the software.
REDAS has been helpful in promoting public-sector productivity by enhancing preparedness, response, and recovery efforts. Through REDAS, government agencies and local government units can handle crises effectively by helping ensure the following:
Faster decision-making before, during, and after a disaster. Training equips public sector employees with the knowledge and skills to make informed decisions during a disaster. This leads to quicker, more effective decision-making, reducing confusion and ensuring resources are allocated efficiently. When different agencies and departments can work together seamlessly, it minimizes duplication of efforts and streamlines the response to a disaster.
Better resource management and reduced economic losses. Training helps public sector workers understand how to allocate resources efficiently during a crisis. This ensures that resources such as personnel, equipment, and funds are used where needed most, preventing waste and inefficiency. By effectively managing disasters and their aftermath, public sector productivity can help reduce economic losses for the community, helping free up resources for other critical public services and projects.
Reduced risks in communities. Since REDAS can provide scientific information on impact calculation, government agencies, and LGUs. By proactively mitigating risks, government agencies can help reduce the frequency and severity of disasters, ultimately leading to fewer disruptions and less strain on resources.
Efficient recovery planning. The faster a community can recover from a disaster, the less productivity is lost. Public sector employees training in this area can help communities get back on their feet more quickly.
PHIVOLCS has also been working closely with international partners. REDAS is one of the tools proposed by the Japan International Cooperation Agency (JICA) to provide impact calculations in some of their project sites. Dr. Bautista shared that the JICA team think of ways to reduce the impacts as calculated by REDAS.
REDAS has also been tapped by the Asian Disaster Preparedness Center (ADPC) to develop a gender and human rights-based questionnaire tool from a disaster risk reduction perspective.
Aside from providing crucial information before or after a disaster, REDAS also gives information that can guide policymakers, land use planners, and local chief executives in considering the hazards present in their communities in preparing their development initiatives. Doing so would help ensure that resources are not spent in building infrastructure or facilities within hazard-prone areas.
Lessons Learned and Challenges in Implementing the Intervention
One of the greatest lessons in rolling out REDAS is the need for more continuity in some agencies or communities. Some of the participants, according to Dr. Bautista, are non-plantilla personnel. In the succeeding years, PHIVOLCS needs to train a different set of users from the same agency or LGU. Trainings have to be continuously done as new REDAS modules are developed and there is a turnover of LGU personnel.
The REDAS team is aware of the necessary improvements to work on. For example, REDAS currently provides impact calculations at the barangay level. Further improvement can be done by offering a household-level impact calculation to help residents prepare.
There is also a need to provide off-the-shelf learning materials to help promote better knowledge-sharing and knowledge transfer to the intended users of the software. The COVID-19 pandemic was also a wake-up call for PHIVOLCS as the team needed to prepare to deliver sessions online. The program team then offered online sessions during the pandemic to ensure that the target agencies could still use the tool despite the physical restrictions.
In summary, REDAS has helped promote public-sector productivity by equipping employees with the necessary skills and knowledge to help mitigate, respond to, and recover from disasters effectively. This, in turn, leads to improved public productivity as resources are used more efficiently while public service delivery disruptions are minimized.
Sources
Bautista, M. L. P. (2009, July 29). Philippines: PHIVOLCS-DOST conducts redas trainings for Surigao del Sur, Dinagat and Bohol provinces – Philippines. ReliefWeb. https://reliefweb.int/report/philippines/philippines-phivolcs-dost-conducts-redas-trainings-surigao-del-sur-dinagat-and
De Vera, A. V., Pedrosa, M., Largo, F. F., Chua, F. S., & Botona, R. (1970). Earthquake impact assessment using redas software in selected barangays in region XI. International Journal of Education Research for Higher Learning. https://ejournals.ph/article.php?id=13292
MCR collaborates with DOST-PHIVOLCS and ICDRRMO for redas modules 1-3 training for Iligan City. Mindanao State University – Iligan Institute of Technology. (2023, October 17). https://www.msuiit.edu.ph/news/news-detail.php?id=1690
REDAS Activities. Philippine Institute of Volcanology and Seismology. (n.d.). https://www.phivolcs.dost.gov.ph/index.php/redas