The Development Academy of the Philippines is inviting representatives of National Government Agencies (NGA) to participate in the Development of Public Sector Productivity Specialists – Foundation Course (DPSPSFC) Capability Development Program. The DPSPS-FC is one of the Academy's strategies to help raise the productivity performance of agencies, as stipulated in the Philippine Development Plan 2023-2028 (Chapter 14, Outcome 3).
What is the Development of Public Sector Productivity Specialists – Foundation Course?
The DPSPS-FC is a two-month hybrid training program designed to equip technical staff and officers of Management Division and related offices of public-sector organizations (PSOs) with the knowledge and skills in measurement, analysis, planning, and troubleshooting to increase their organizations' productivity. Read the full program here.
DPSPS-FC activities are divided into four phases: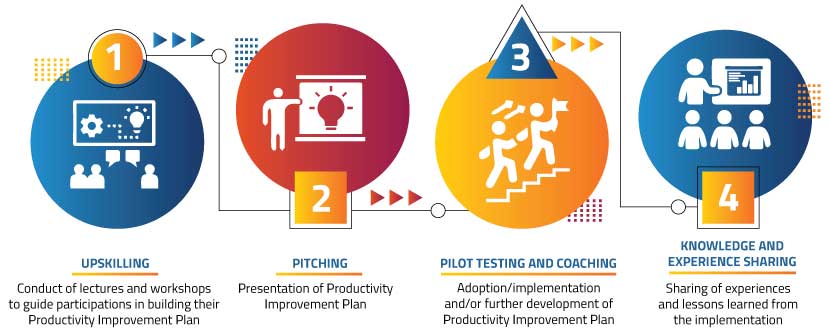 Who can join?
To join, you must form a team of three (3) to five (5) members who satisfy the following qualifications:
Currently working in the same NGA.
Part of the Management Division or related offices whose functions involve:
recommending measures to improve systems, processes, procedures, and services; reviewing and implementing of recommended improvements;
conduct of training on systems/process improvements; and
supervising staff supervision in implementing systems and process improvements.
Performs any of the following functions/roles: decision-making, technical management, operational management, administrative, planning, etc.
Requirements from the participants:
Certificate of Completion will be issued to those who:
attended all the phases of the program: Upskilling, Pitching, Pilot Testing and Coaching, and Knowledge and Experience Sharing;
submitted the required outputs, including the Productivity Improvement Plan (PIP); and
implemented and presented initial results of their productivity improvement initiative in the Knowledge and Experience Sharing Session.
How to join?
Sign up by completing the Nomination Form and submitting the signed Letter of Commitment, which you can download here: DPSPSFC Forms.
Please send the accomplished forms in PDF format to cfg-coepsp-gse1@dap.edu.ph
We have 40 slots for this batch and sign-ups are on a first come, first served basis. The deadline for Nomination Forms for this batch is on 24 February 2023.
This course is free of charge and only requires the full commitment of nominated participants including participation in the scheduled catch-up sessions.
If slots are filled, nominees will be asked to join another batch.
For inquiries and clarifications about the DPSPS-FC program, please email us at cfg-coepsp-gse1@dap.edu.ph.