Name of the Organization
Department of Science and Technology – Science and Technology Information Institute (DOST-STII)
Name of the Office/Unit that leads the implementation of this best practice entry
Information Resources and Analysis Division – STARBOOKS Unit
Focus Area of the Best Practice
Digitization and New Technologies
Date the best practice was first implemented
24 June 2011 – up to present
Summary of the Best Practice
An innovative library-in-a-box developed by the Department of Science and Technology – Science and Technology Information Institute (DOST-STII) is bringing science and technology (S&T) information and knowledge resources closer to marginalized communities.
The Science and Technology Academic and Research-Based Openly Operated KioskS (STARBOOKS) is a stand-alone information source that provides Science, Technology, and Innovation-based content to students, teachers, and other relevant stakeholders. STARBOOKS contributes to the Institute's primary mandate of establishing a science and technology databank and library and disseminating science and technology information.
The program team upgraded the content of its online portal to mirror its original offline content. In particular, the addition of K-12 learning modules that correspond to the Science, Technology, Engineering, and Mathematics (STEM) curriculum of the Department of Education (DepEd) and the inclusion of STARBOOKS content to the DepEd Learning Commons tremendously benefited teachers and students struggling with the demands of remote learning.
The availability of STARBOOKS on offline, online, and mobile platforms opens more opportunities for users to access S&T resources at hand.
The Challenge
When STARBOOKS was created in 2011, a United Nations-funded survey was conducted, which later revealed the need for such a project. Results showed that only 26 percent of public schools throughout the Philippines had access to the Internet due to poverty or geographical location.
Moreover, 95 percent of these public schools have no functional libraries, disenfranchising a great number of students from resource-challenged schools. As if by design, STARBOOKS was able to fill a wide gap in the educational deficiencies with its concept of being a "library-in-a-box" that can be easily transported anywhere and used without an Internet connection. The entire STARBOOKS system is offered free of charge to requesting institutions, including its installation, training/orientation, and technical support. DOST-STII provides updating services as well.
At the height of the pandemic in 2020, the education landscape was adversely affected, forced to implement drastic learning delivery measures such as virtual classes and modular learning. Yet through all the COVID restrictions and Internet connectivity problems, the education sector was able to pivot to the new demands of the times. Even before the pandemic, DOST-STII already saw the need for online platforms to complement the offline mode of STARBOOKS. Thus, STARBOOKS leveled up as an offline resource platform and onsite digital library and is now a reliable go-to online knowledge source available in the platform of the user's choice.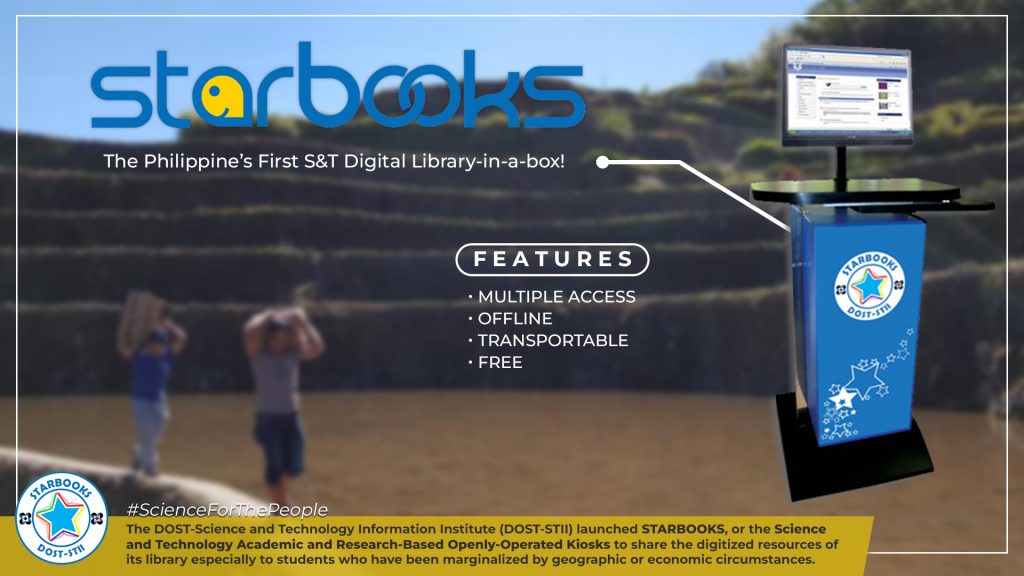 Solution and Impact
STARBOOKS was conceptualized in 2011 through the joint efforts of DOST-STII's library and IT groups. With no provisions for budgetary support, the system was originally developed in-house by its programmers. As demand grew over time, DOST-STII partnered with DOST Regional Offices to deploy and install STARBOOKS kiosks, especially outside Metro Manila. This eventually became an integral part of the scope of extension activities among DOST regional offices as part of their S&T and technical advisory services. To date, STARBOOKS has been installed in 17 regions and 81 provinces across the country.
Before 2011, clients had no other option but to visit the DOST-STII library for their study and research needs. Today, through STARBOOKS, users can avail of free library resources by choosing the platform (i.e., offline, online, or mobile) that suits their needs.
Three STARBOOKS mobile apps were also developed in response to the needs of its users:
STARBOOKS App, which makes its content more accessible to on-the-go users.
STARBOOKS Whiz App, which gamifies the process of learning science and mathematics through an interactive game format; and
STARBOOKS Geomap, which maps the actual location of STARBOOKS sites for greater convenience in locating the nearest STARBOOKS site in the users' area.
Since its launch in 2011, it has become highly sought after by students and school officials in geographically-isolated, economically-challenged schools and communities with limited or zero Internet connectivity. As a result, STARBOOKS has served as an effective agent in helping marginalized communities access S&T resources and educational advancement, disaster readiness, and even entrepreneurial opportunities. Tagged as the country's first S&T digital library, STARBOOKS is now installed in 5,877 sites and growing.
Meanwhile, as piecemeal improvements were carried out on the STARBOOKS portal, there was a noticeable shift in user preference from the offline to the online platform. As indicated in its system utilization report for 2019, only 3,364 new registered users and 8,590 materials were accessed, suggesting that it was used primarily for monitoring and report submission. In the following years, however, a spike in the number of newly registered users and materials accessed was recorded (21,724 new registered users and 607,896 materials accessed in 2021). Integrating K-12 materials to STARBOOKS online contributed to users' increased visits, especially during the pandemic. Moreover, linking the STARBOOKS website to the DepEd Commons contributed significantly to the increase in newly registered users, such as students and teachers, now using the platform to access its wealth of education and knowledge resources.
Moreover, many organizations, such as academic institutions, libraries, and local government units that plan to establish their digital learning hubs, have visited DOST-STII to observe and benchmark the STARBOOKS Kiosks and their setup.
The STARBOOKS team believes in the power of partnerships as a force multiplier, so it consciously pursues collaborative activities with its partners while forging new partnering endeavors to expand the scope and reach of their engagement through content buildup, deployment assistance, sponsorships, and promotional services. Its landmark partnership was a Memorandum of Agreement (MOA) signed in February 2020 between DepEd and DOST.
Under this MOA, STARBOOKS content shall initially be preloaded to learning devices deployed to priority public learning institutions through the DepEd Computerization Program. The education department shall also include its STEM content in its online learning commons, making it available especially to public school teachers.
For 2022, DOST-STII has forged a total of five new partnerships through the STARBOOKS platform with public and private institutions, among which include:
ABS-CBN Lingkod Kapamilya Foundation, Inc. through Programa Genio, which will install STARBOOKS in their sponsored beneficiary schools;
DOST Advanced Science and Technology Institute (DOST-ASTI), which will make STARBOOKS accessible through their LokaLTE and RuralCasting technologies in areas not covered and serviced by local telcos and internet providers; and
Turkish Cooperation and Coordination Agency (TİKA), which will provide solar-powered STARBOOKS to the most economically hit, geographically isolated schools in Palawan and Mindanao.
The STARBOOKS team sees itself continuing to collaborate with a broad mix of private and public institutions that share a common advocacy to uplift the status of Filipino students. STARBOOKS has linked with 34 partners since 2017, with more than Php 11 million in sponsorship funding received.
As the demand for information and service delivery continually evolves in numbers and complexity, the team is likewise committed to constantly improving the system performance and content development of STARBOOKS guided by the user feedback generated in its reporting facility for both offline and online platforms.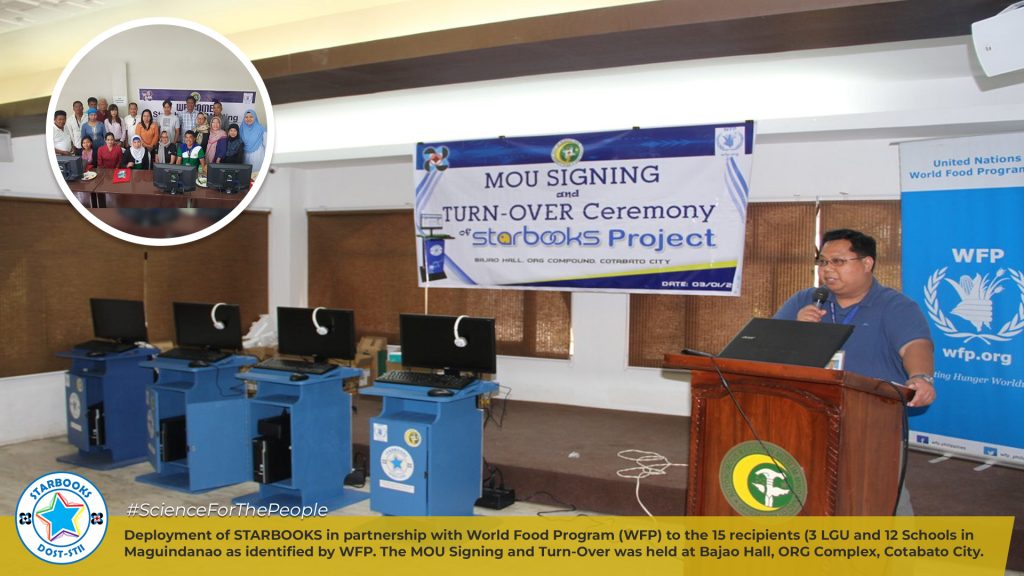 Milestones
STARBOOKS was awarded the 2015 Presidential Citation for Innovative International Projects of the American Library Association (ALA) in ceremonies held in San Francisco, California. The citation noted "its innovative use of ICT in bringing stand-alone, offline terminals preloaded with STEM content serving as alternative digital libraries in economically challenged communities."
In 2017, STARBOOKS received Gold and Silver Anvils at the 52nd Anvil Awards Night. It bagged the GoldAnvil for Public Relations Program: Directed at Specific Stakeholders, Students, Entrepreneurs, LGUs, Communities and Indigenous People, and the Silver Anvil Award for Public Relations Program: Directed at Specific Stakeholders, Students, Entrepreneurs, LGUs, Communities, and Indigenous People.
Also, in 2017, STARBOOKS was cited as a Finalist in the Government Best Practice Recognition of the Development Academy of the Philippines (DAP).
STARBOOKS was honored with a special award from the Presidential Communications Operations Office for its inclusion of important content and the latest updates on the Freedom of Information Act on the occasion of the 2019 Freedom of Information Summit.
In 2021, STARBOOKS was cited for Excellence in Government Communication Programs in the 18th Philippine Quill Awards for its impact in bringing knowledge on science, mathematics, and technical fields directly to the people.
Meanwhile, STARBOOKS has been part of the National Economic and Development Authority (NEDA) National Priority Plan (NPP) since 2017 and generated more than Php 12.7 million worth of donations for the private sector in six years. According to NEDA, STARBOOKS is deemed to be aligned with the zero to ten-point socio-economic agenda of strengthening basic education and promoting a science and technology culture and supporting the long-term vision of raising awareness and promoting a science culture.
In 2022, STARBOOKS was named a regional winner of the Presidential Lingkod Bayan Award in the 2022 Search for Outstanding Government Workers of the Civil Service Commission, thereby earning a berth in the national finals.
Testimonials
Before the pandemic struck, DOST-STII organized STARBOOKS national conventions to serve as a venue for its partners and stakeholders to share their expertise and testimonies.
In one convention, Mr. Darren Honrado, a teacher at Patong Elementary School in Bgy. Mikit, municipality of Baganga, Davao Oriental, expressed his profound thanks as the first-ever recipient of a STARBOOKS kiosk powered by solar cells in his area, which is accessible only on foot after a six-hour hike. In his own words, he said: "DOST did not just install STARBOOKS in our school; it also installed hope among the students of Patong."
Dr. Victoria B. Roman Memorial High School (DVRMHS) in Pilar, Bataan, was installed with a STARBOOKS kiosk in 2014. The school principal stated that STARBOOKS has been used by students for their assignment, and projects. Jillyn May N. Lagos, a Grade 10 student of DVRMHS, personally attested that STARBOOKS helped her in essay writing contest.
The Commission on Audit has also commended STARBOOKS for providing equal access to S&T information to economically-disadvantaged, geographically-isolated schools in the country.
In celebration of its 11th year, STARBOOKS compiled the stories from different stakeholders dubbed as "1storya ng 1nspirasyon". The stories narrate the tapestry of experiences from our regional deployment officers together with the uplifting testimonies of STARBOOKS beneficiaries throughout the archipelago.