Mayor Trina Firmalo-Fabic of the Municipality of Odiongan, Romblon, talked about Leadership on Local Government Administration amidst COVID-19 Pandemic during the 2021 APO Course on Development of Public-Sector Productivity Specialists on March 5, 2021.
The local government responded immediately by creating the Municipal Task-Force on Emerging Infectious Diseases and implementing the Guidelines on Handling the COVID-19 pandemic. She also highlighted the establishment of the Municipal Contact Tracing Team and working with the Department of Science and Technology to utilize FASSSTER and COVIDKAYA for more efficient and fact-based contact tracing.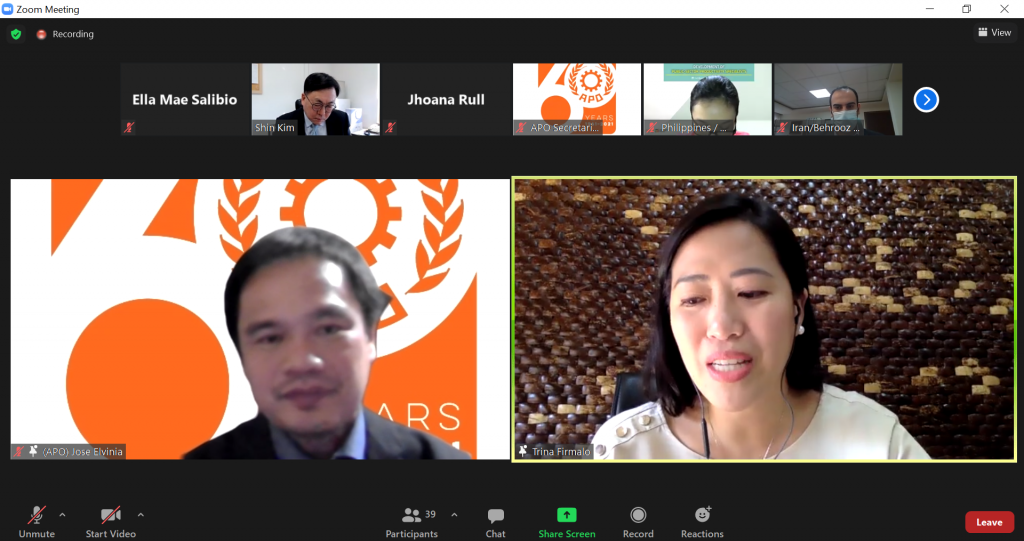 Mayor Firmalo-Fabic highlighted that the LGU provided COVID-19 updates consistently via live stream announcements on Facebook with simultaneous broadcasts on a local radio station and television channel and distributed flyers to make the citizens well-informed and assured that the LGU is working during the pandemic. Other initiatives include customized care packages for vulnerable sectors, a mobile lab for persons with disabilities and the elderly, a mobile library for children, psychological assistance, online consultations and prescriptions, and shuttle services for
front liners.
At the end of the presentation, Mayor Firmalo-Fabic emphasized that "during this pandemic, the local government learned to ensure a timely initial response, to mobilize the departments and the private sector towards a common goal, to treat the community equally and compassionately, to
maintain public trust through transparency and consistency, and to use creative solutions to transform challenges into opportunities."