Organization
Bataan General Hospital and Medical Center
Best Practice Focus Area/s
Strategy, Citizens / Customers, Operations
Year Implemented
2 July 2018
This is a Recognized Best Practice
Summary
Bataan General Hospital and Medical Center's Service Delivery Network (SDN) Online Referral System was developed to address the chronic problem of congestion of primary cases in Bataan General Hospital and Medical Center and maximize BGHMC resources intended for tertiary cases. Although SDN is a complex process, the development of Bataan-BGHMC SDN software started as a two-way online referral system piloted last July 2, 2018, in the three (3) District hospitals of the province and four (4) RHUs in the city of Balanga. The RHUs, District Hospitals, and even private hospitals should attend to both primary and secondary cases, which is essentially a gatekeeping process. If the service needed is beyond the competency of BGHMC, the patients will be referred to a more specialized level of care. Moreover, BGHMC involved a multi-sectoral group as its external champions in promoting the system and marketing its capabilities and services to improve the community's health-seeking behavior.
Service Delivery Network, now called Health Care Provider Network (HCPN), refers to a health service delivery structure composed of a network of health service providers at different levels of care. The health care providers are organized through SDN to attain quality and effective healthcare and services. It also serves as a tool to ensure that the primary health facility performs the triaging and treating of patients within their competence and capability; otherwise, the patient will be referred to the next higher facility.
Background and Problem
As part of the health system in the province, BGHMC is alarmed by health concerns such as the increase in teenage pregnancies and Cancer of different types, which is the leading cause of morbidity and mortality in the province. By virtue of Republic Act No. 8561, Bataan General Hospital and Medical Center, the only tertiary government hospital in the province of Bataan, is mandated to serve as the referral hospital of all district hospitals, RHUs, and other LGUS from neighboring towns and provinces. In the past, government hospitals were poorly trusted due to numerous internal and external factors. Internal factors include poor governance, lack of quality standards, lack of committed staff, lack of medicine, and lack of facilities and equipment with a perennial scenario of congestion of primary cases in wards and even corridors.
On the other hand, external factors include the absence of a service delivery network, poor gatekeeping, poor benefits package (PHIC did not provide an Outpatient benefit package), lack of essential primary health services, and preference for private hospitals. These private hospitals refer their patients to tertiary private or government hospitals outside the province. Private hospital accommodation is too costly for a family with meager resources. Their only source of livelihood, such as carabaos, farm lots, and tricycles, are being sold to cover their hospitalization expenses. Because of this, BGHMC took the initiative to start up an SDN to perform its mandated function as a tertiary hospital which should have the primordial task of providing health services to tertiary cases while local health facilities act as gatekeepers for simple or primary cases.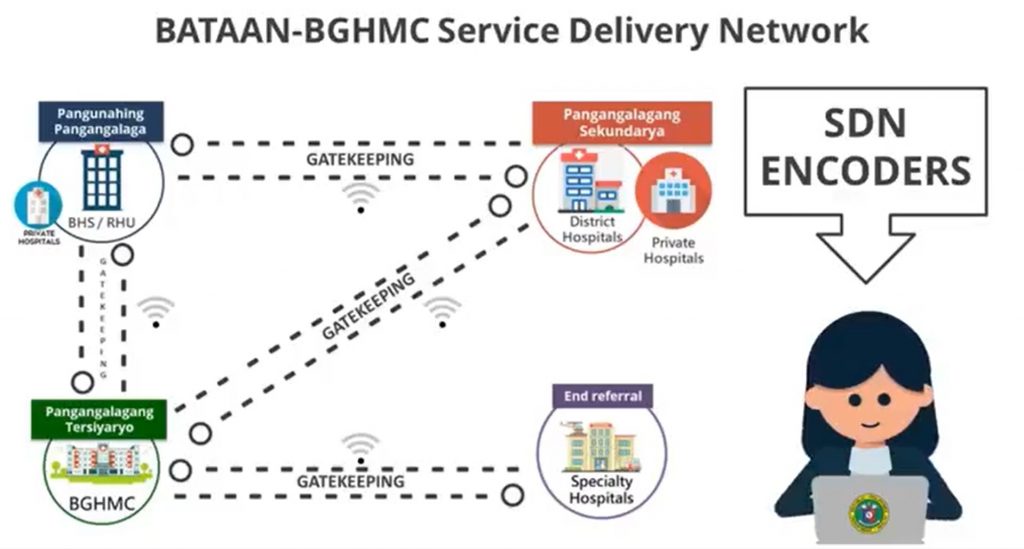 Solution and Impact
The initiative of BGHMC with Dr. Glory V. Baltazar as its author in establishing an Online Service Delivery Network in the province of Bataan through its creation of an online referral system was recognized by the Province Governor of Bataan, Hon. Albert Raymond S. Garcia and also by DOH Central Luzon Center for Health Development Director Cesar C. Cassion. Due to the success and buy-in of people involved in this initiative, Bataan province was also chosen as one of the Advance Implementation sites for Universal Health Care. The Bataan SDN manual includes BGHMC Online Referral System.
The Service Delivery Network seeks to strengthen the cooperation and oneness of health facilities and institutions in the province of Bataan. It aims to achieve the same goal of giving medical care and services to its widest extent. A functional Service Delivery Network is essential in achieving better health outcomes, attaining a responsive health system, and providing financial risk protection for the community.
This is how the two-way online referral system works. Primary cases shall be assessed and treated at Rural Health Units, while secondary cases will be handled at the District Hospitals. Those considered tertiary cases will be referred to BGHMC, wherein the online system enables the referral system. Lower health facilities use the online system to refer to the next appropriate higher-level health facility and vice-versa. The integral part of the online referral system is the feedback mechanism between and among key players involved. The said system has three (3) modules, namely: OPD, ER, and DR of BGHMC, while eleven (11) municipalities and one (1) city already had a Memorandum of Agreement (MOA) with BGHMC on the use of the online referral system in the province of Bataan.
On the other hand, BGHMC conducted a customer satisfaction survey to determine the patients' feedback referred to BGHMC using the online referral system. From January to December 2019, 3,857 clients responded to the BGHMC SDN Online Referral System customer satisfaction at the three areas of BGHMC, namely at OPD, Emergency Department, and OB-Delivery Room. It is interesting to note that 91% (3,509 clients) were Very Satisfied, 8% (308 clients) were Satisfied, and only 1% (40 clients) were Not Satisfied. As of 3 March 2020, 8,514 patients were referred to BGHMC using the online referral system. The average reception time was 38 seconds, and the average approval time was two minutes and 29 seconds, with an average total time of 3 minutes and 7 seconds. Likewise, the fastest recognition time was only 5 seconds.
Milestones/Next Steps
The BGHMC-SDN Online Referral System was officially launched on 2 July 2018 and piloted in three (3) District hospitals of the province and four (4) RHUs of Balanga. On March 18, 2019, the Sangguniang Panlalawigan of Bataan issued Provincial Resolution No. 146, authorizing the Provincial Governor to enter into MOA with BGHMC for a functional Service Delivery Network. On May 30, 2018, BGHMC secured a certificate for copyright registration for the said online referral system, which includes the software and its promotional video.
Aside from being an ISO 9001:2015-certified hospital, the BGHMC-SDN Online Referral System serves as one of the early wins of BGHMC as far as the Performance Governance System (PGS) is concerned. The Department of Health Central Office also tapped BGHMC to assist the Province of Palawan in creating their SDN on 23-26 September 2019. The hospital successfully hurdled the Proficiency stage during the Public Governance Forum on 28 November 2019. Furthermore, Dr. Glory V. Baltazar, Medical Center Chief II, is frequently invited by the Institute for Solidarity in Asia (ISA) to share the implementation experience of the hospital and for their best practices to be adopted by different hospitals and stakeholders in other parts of the country. On 4-6 March 2020, BGHMC was also tasked by the DOH Central Office to share this best practice with the province of Aklan to create and implement their SDN effectively.
The process of institutionalizing Bataan-BGHMC SDN is ongoing, which leaves more room for growth and improvement. The following objectives are what we expect to implement in the years to come:
Expand to other private health facilities for a province-wide implementation.
Upgrade and expand multi-specialty services
Harmonize Electronic Medical Records with the online referral system.
Strengthen gatekeeping as a tool for primary health care
Prepare the province for the full implementation of the Universal Health Care Act